The Illegitimate Father Athlete Hall of Shame
Athletes aren't just our heroes for signing multimillion dollar contracts for playing sports, they're also the subject of our envy for their ability to sleep with a lot of women. But then the trouble starts, because somehow sex leads to pregnancy which leads to child support. And then suddenly we wouldn't trade our own 9-5 jobs to be in their shoes because they wind up flat broke and behind bars. Okay, not all of them, but certainly some. Note that inclusion on this list doesn't necessarily mean that these folks are bad fathers, and we can never be sure the numbers of children and mothers are accurate, but we did use several sources throughout the Internet.
16
Charles Rogers
5 children with 4 women
An avid weed smoker, Rogers blew millions in a lousy career with the Detroit Lions. And if you were wondering, yes, he was Matt Millen's can't-miss pick.
15
Larry Johnson
5 kids by 4 women
Johnson, aka Grandmama, spent his pro career with the Charlotte Hornets and New York Knicks. In 2007, Johnson received a bachelor of arts degree in social science studies from UNLV. He's also answered the 6Q on Gunaxin.
14
Ray Lewis
6 children by 4 women
This longtime Baltimore Raven has been involved in charitable activities throughout his career and started the Ray Lewis 52 Foundation, which is a non-profit corporation whose mission is to provide personal and economic assistance to disadvantaged youth.
13
Marshall Faulk
Rumored to have 6 children by 4 women
While creating children, Faulk also likes to help underprivileged children. Check out his charity site.
12
Scott Skiles
6 children by multiple women
Let me be perfectly honest here. This list was expanded beyond the standard Top Ten to include Skiles, so racist dirtbags can see that having multiple children with multiple women is something anyone of any race can do.
11
Bennie Blades
6 kids, 6 women
Despite paying child support while working as a substitute teacher, Blades has been arrested for being a 'deadbeat dad.' Mothers have praised him though for being a good father.
10
Shawn Kemp
7 kids by 6 women (rumors put these numbers much higher)
This longtime Supersonic was never married and had a cocaine problem.
9
Derrick Thomas
7 kids by 5 women at the time of his death at age 33 in 2000
Thomas left no will, and his children's mothers filed suit with the probate court for a share of his $1.16 million in assets, touching off a lengthy court battle.
8
Kenny Anderson
7 children, 5 women
A few years ago, The Washington Post wrote an excellent article about how Anderson is doing what he can to be a good husband and father.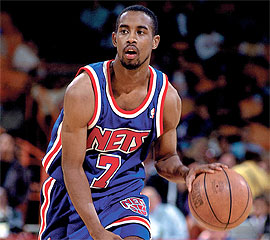 7
Mike Tyson
8 children by several different women
We'll give Tyson credit. Considering all of the problems he's had in his life and the trouble he's been in, we've never heard any accusations of being anything other than a good father.
6
Willie Anderson
9 kids by 7 women
He played for the Spurs, Raptors, Knicks and Heat. Not surprisingly, he's been in trouble for failure to pay child support.
5
Antonio Cromartie
9 children with 8 women in six states
Has been named in at least five paternity suits.
4
Jason Caffey
10 children by 8 women
Caffey was arrested in 2007 for failure to pay child support. He went to bankruptcy court seeking protection from creditors. A bankruptcy court judge rejected his claims, allowing an Atlanta family court judge to issue a warrant for his arrest for failure to pay $200,000 in back child support and legal fees to the mother of his six year old son.
3
Evander Holyfield
At least 11 children, 9 out of wedlock
Holyfield is a born-again Christian. And he kept reminding people of that as he continued having children. In 2008, Holyfield's $10 million Atlanta estate was to be auctioned due to foreclosure. Toi Irvin, mother of his son, filed suit for non-payment of two months child support (he pays $3,000 per month for this child). A Utah landscaping firm also has gone to court seeking $550,000 in unpaid debt for services.
2
Travis Henry
11 kids by 10 women
According to WGR 550 SportsRadio, the former Bills running back will serve ten years to life in prison for cocaine distribution and will have to pay $4 million in fines. And yes, he has been in big trouble for failing to pay child support. Also, we're told that two of the kids were twins, so he didn't necessarily sleep with the same woman twice.
1
Calvin Murphy
14 kids by 9 women
Murphy, who played guard for the Houston Rockets from 1970-1983, won a national championship in baton twirling in 1963, is in the NBA Hall of Fame, hosts ESPN Radio's "Calvin Murphy Show" and is involved in the NBA's mentoring program. But 14 kids by 9 women? Ick. Number one, for sure. Oh yeah, he was accused of, and acquitted of, molesting five of his daughters.
Bonus
Dominique Wilkins
It's rumored that Wilkins has a couple of handfuls of children.
Note: There are athletes, such as George Foreman, who have several children (Foreman has 11), but not necessarily with many different women.
Play Can you name the Athletes with the most (confirmed) Illegitimate children?!