Inside Toyota Motor Manufacturing Kentucky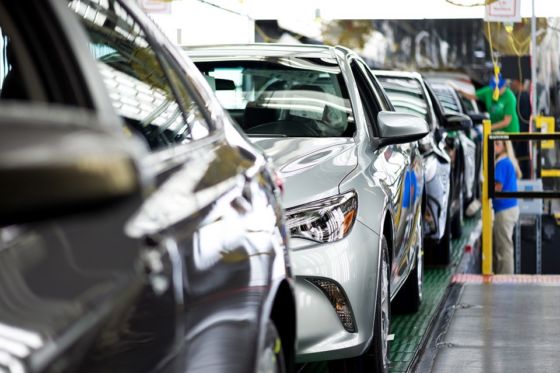 Toyota might be known as a Japanese Automotive Manufacturer, but their largest vehicle manufacturing plant in the world is located in Georgetown, Kentucky. The massive Toyota Motor Manufacturing, Kentucky (TMMK) complex is capable of producing 550,000 vehicles and 600,000 engines annually.
We recently were invited to a behind the scenes tour of the facility that has produced over 11 million vehicles since 1988. TMMK is currently working hard to build Camry, Avalon, Lexus ES 350, and their Hybrid variants. Beginning in January of 2020, it also expected to begin production of RAV4 Hybrid. Take a look at the video below for an introduction to TMMK :
In 2017, Toyota invested $1.33 billion in TMMK to introduce Toyota New Global Architecture and $120 million to expand 2.5- liter engine production. In 2019, $238 million is being invested to start production of new Hybrid models. Collectively, TMMK represents a $7 billion investment in manufacturing excellence right here in the United States.
Those investments translate into American jobs, now, and in the future. There are about 8000 team members employed by TMMK, earning about $600 million annually. That makes Toyota one of the largest employers in the state of Kentucky. These facts (like most) allude Donald Trump, who has repeatedly targeted Japanese automotive manufacturers with rhetoric and policy.
In a recent statement, Toyota set the record straight on its contributions to the American economy:
Toyota has been deeply engrained in the U.S. for over 60 years. Between our R&D centers, 10 manufacturing plants, 1,500-strong dealer network, extensive supply chain and other operations, we directly and indirectly employ over 475,000 in the U.S., and have invested over $60 billion in this country, including over $1 billion in philanthropic and community-outreach efforts.