Jim Benton and Happy Bunny
Jim Benton is one of the great success stories of the contemporary American pop art scene. He has created numerous hilarious bestselling books and his comics such as It's Happy Bunny have generated hundreds of millions of dollars. One of them has been adapted for television and his casual comics consistently make it to the front page of Reddit. Hopefully his agreement to let us interview him won't bring that all crashing down around him.
What was your first creative job?
JB: I painted some signs for a local Ice cream stand, and did some little illustrations here and there. But my first full-time gig was as an artist in a t-shirt shop.
What would you regard as your first hit property?
JB: The first ones didn't really have names. They were funny little animals on girls and juniors apparel. The first with a name was probably "The Misters". I was in People Magazine with that one.
What's the origin story behind the It's Happy Bunny property?
JB: I sketch a lot, and I pin up the drawings on bulletin boards in my studio. After a while they come down, unless there's something about them that makes me laugh. That one kept making me laugh, so it never came down. I started showing it to manufacturers, and eventually Hot Topic brought it in on stickers and tees. It did very well there, and other products and books and stores followed after that.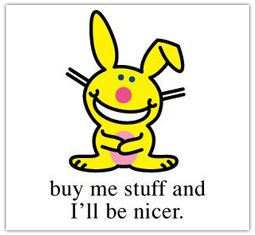 Were there problems with parents or other moral guardians because its tone?
JB: It's hard to do anything that works for everybody, and the crunchier the joke, the more people you rankle. Most people got that it was supposed to be funny, and the ones that wanted to make an issue eventually run out of steam and go bite on somebody else's ankles.
How did you feel about when Partnership for a Drug-Free America used the property for one of their campaigns?
JB: They came to me and asked me to do it. I told them the deal was that only I could write them, they could only thumbs-up or thumbs-down, and they could only be used for middle school. I also said that I used to smoke, and I still drink and I wanted them to know that in case that disqualified me. They were fine with the terms and I went on to win three Addy Awards and a governors award from it.
What inspired the creation of your bestselling book series Dumb Diary?
JB: No idea. I wrote four pages in that voice and Scholastic bought the series based on the four pages. I think the guy who wrote Diary of a Wimpy Kid and me may have started in the same month!
What are some of your favorite moments from writing that series?
JB: We did a made-for-tv musical based on it and I got to work with a personal hero, Jerry Zucker. I made the NY Times bestsellers list a couple times. Parents have emailed me telling me that I hooked their kids on reading. BUT hearing a kid just lose it over a joke is impossible to top.
And how about your bestselling series Franny K. Stein?
JB: I'm crazy about Franny. I created her for my daughter. I hope we can make a movie or a show one day, because that's the best way to reach kids. But there's not a lot of love for young girl protagonists.
How much did you have to bribe the National Enquirer to get her named one of the hottest hotties?
JB: I know, right. What a surprise! I had no idea until after it was printed. I called them and said, "You know that Franny's not real, right?" They said "Jim, look at the other woman on the list. A lot of them aren't totally real, either." (They didn't mean you, Gwen. I would have messed them up if they had said anything bad about you )
Of all the things that you've released, which one do you feel is the most under-appreciated?
JB: I did a book called Cherise the Niece. Very macabre little poems. Might remind you a bit of a Gorey or Addams vibe. Brad Pitt's production company considered her for a movie, but it never got off the ground. The books are still available. I really liked it but it sold like hotcakes with rat turds on top.
You're quite the regular at the subreddit /r/comics. What was the appeal?
JB: It's wiiiide open. I draw what I want, how I want, when I want. I post the cartoons and people either like them or hate them or ignore them. No money changes hands—it's all for the sake of doing it. The process comes with comments—anonymous to a great degree—and you have to be prepared for some abuse. But it's worth it.
What do you plan to do with all that karma?
JB: I'm sure it's probably worth a great deal of money. I suppose I'll just keep it in the bank and let it gather interest.
What can fans look forward to from you next?
JB: I have a book of cartoons coming out from NBM that we're launching at San Diego Comic Con, and you can preorder it on Amazon. I also have a kids' picture book called The End(Almost) and more Dear Dumb Diary on the way. Plus trying to sell a couple new movies. Any readers looking for a horror/comedy script with big ancillary potential?
See more of Jim Benton's work here:
· Twitter · Facebook · Homepage · Tumblr ·