Jack Klugman Never Survived The Twilight Zone
With the recent passing of Jack Klugman, there will be many web tributes to the legendary actor. However, here we would like to focus on one rather bizarre little fact about Klugman's career.
First, Klugman was tied with Burgess Meredith for the most appearances on The Twilight Zone at four. Second, Klugman could never seem to fully stay on the side of the living in every one of his Twilight Zone episodes. At the very least, Klugman had trouble staying alive. In one episode, as Miracle Max would say, he was only mostly dead. Now that Klugman has actually passed on, lets take a look at his problems staying alive in the fifth dimension.
A Passage For Trumpet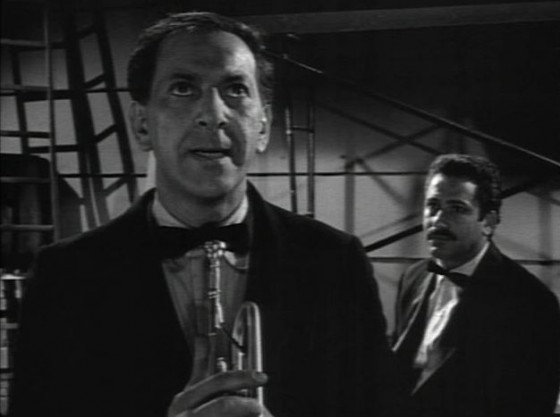 A Passage for Trumpet was Klugman's first foray into The Twilight Zone. Trumpet was episode number 32 and aired originally on May 20th, 1960. In the episode, Klugman plays Joey Crown. Crown is having about the worst day of his life. It might also be his last (for whatever that may be worth.) Crown is turned away from a job playing the trumpet for being a drunk, has to pawn his trumpet for money, and then gets hit by a bus.
The question becomes whether or not Crown should go on. After meeting a guardian angel in purgatory, Crown decides to trudge on, gets his trumpet back, and meets a girl. This would be the only time in the Twilight Zone where Klugman would successfully make it past death into life on Earth.
A Game of Pool
A Game Of Pool was the 70th episode in the original run of the Twilight Zone. The show originally aried on October 13th, 1961. Klugman plays pool player Jesse Cardiff. Jesse wishes that he had a chance to prove himself against deceased pool player James Howard Brown (known affectionately to his friends as 'Fats').
'Fats', played by Johnathan Winters, does in fact appear. 'Fats' challenges Jesse to a game in which the stakes are Jesse's life. Cardiff wins but Fats cryptically warns that Cardiff will one day discover the price of victory. In the final scene, Cardiff is in Heaven and has to play all the games that people request of him.
In the 1980s series, the remake shows the original ending. Cardiff loses and Fats tells him he will die. Fats tells him that the death will not come instantly though. Fats tells him that his life will be marked with an unknown grave. However, its Klugman and the Twilight Zone, so Klugman is shown in the afterlife.
Death Ship
You have to hand it to Klugman. At least in Death Ship, Klugman tried to avoid death as much as possible. On February 7th, 1963 Klugman returned to the Twilight Zone. In this episode, Klugman plays Captain Paul Ross of the space cruiser E-89. The crew of the ship E-89 is revealed to be already dead. However, Captain Ross refuses to accept that fate.
The crew is doomed to keep repeating the same events in perpetuity. For a guy who had faced death in the Twilight Zone two times in the past, you almost have to admire him for keeping two other souls in limbo while he tries to figure out a solution. Captain Paul Ross may die but that doesn't mean that he has to like it or accept it.
In Praise Of Pip
In Praise of Pip was the first episode of the last season of the Twilight Zone. The original air date was September 27th, 1963 and Pip was the 121st episode. Klugman plays small time bookie Max Phillips. Max has a grown son named Pip. Pip is currently serving in Vietnam. As Max notes at the time "There's not even supposed to be a war over there."
Young Pip is played by fellow Twilight Zone vet Bill Mumy. Max helps out a young man who bet money the young man did not have. For that, Max has incurred the wrath of the mob. In an amusement park, Max encounters a vision of his young son in happier times. In the end, Max offers his life for Pip's. The last scene show Pip coming home proud of his deceased father.
So, if you ever see what could affectionately be called Klugman's 'mug' on the Twilight Zone, safe money says he won't make it.