Jam Bands: Suck or Rule – Masters of None

[podcast]http://www.podtrac.com/pts/redirect.mp3/traffic.libsyn.com/mastersofnone/MON_5_2.mp3[/podcast]
Masters of None – 5.2
Download show HERE
Much like all types of music out there, Jam Bands and the music they play have a polarizing effect on people. Either you love it or you hate it. There literally is no in between. On the show this week we discuss the pros and cons from both sides of the fence live from the Rhythm and Brews festival at the Blue Point Brewery.
The arguments are all valid and the evidence could not be more prevalent. Here are just a few reasons why Jam Bands both suck… and rule.
Suck: Hippies
For those most part, hippies stink… literally. With their bathing allergy and their penchant for droning on and on about god knows what and their ultra liberal yet most times hypocritical views (I love mother earth, but do you have any SUV's for rent?)  – Hippies can be one of the worst parts about diving into the Jam Band lifestyle.
Rule: It's always a party
Outdoor Music Festivals are ALWAYS a party. A full day and sometimes weekend where the only thing you have to worry about is grabbing some food, grabbing some beer, and sitting back and listening to some music with friends. And if you're into things other than beer (nudge-nudge, wink-wink, hint-hint) you are literally no more than 10 feet away from the next level… in your MIND MAAAAAAAAANNNN!!!
Suck: Looooooong Songs
They say too much of a good thing is bad or don't beat a dead horse. Well if that's the case, then Jam Bands will not only beat the horse, but they'll break off pieces of it to beat to death other living horses. Not to mention taking the most basic of songs and dragging them out to a 45 minutes tribute that would make Buddhist monks want to light themselves on fire.
Rule: Promiscuous Women
I don't know what it is, but certain Jam Bands have some of the hottest women at their shows. Most of them are looking to have a few drinks, a good time, and maybe even a little action on the side. You may just be able to slip into a prime spot if you time it right, especially if Dave just launched into "Crash Into Me." That song is a musical pantie dropper.
But that's not all – Check out our show to see other reasons why Jam Bands suck and rule and find out what side we're on once and for all on this episode of Masters of None.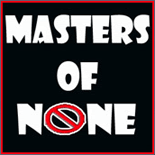 Gunaxin is proud to be partnering with Masters of None, and featuring their content here on our site. Masters of None are former radio guys Mike, Art & Jay, who debate and answer mankind's most important questions each week. Along the way you'll encounter unsustainable amounts of movie quotes, horribly tasteless jokes, TV references, offensive comments, old radio bits, biting insults, tall tales, unsportsmanlike conduct, raping and pillaging of all things pop culture. It's a comedy podcast that doesn't suck.
---