Live Your James Bond Fantasy with a Snowmobile Adventure in Montana
Post Sponsored by Montana Tourism
If you live in a climate where snow only covers the ground for a few days or weeks per year, then the prospect of riding a snowmobile may seem like some exotic activity that only happens in the movies. For many people, their only frame of reference for riding a snowmobile comes from watching James Bond movies.
However in Montana, it's a way of life for several months out of the year, which makes Montana the perfect place to live out your 007 fantasy! You don't need to be a British action star to hop on a snowmobile, you just need to travel to Big Sky Country.
There are thousands of miles of groomed and ungroomed trails to choose from in Montana, so you'll never run out of new places to ride. While the biggest thrills come from speeding through the woods and creating your own adventure, that can be dangerous for beginners. So we highly suggest you take advantage of one of Montana's numerous guided snowmobile rides for your first experience.
Visit Montana's Snowmobiling page has a list of eight locations where you can find numerous snowmobile guides and rentals. From Whitefish in the north, to West Yellowstone in the south, the primary snowmobile locations are largely located on the western side of the state. We think this resource is the perfect place to begin your adventure. In all, they list links to 21 different service providers that are ready to help you hit the snow safely, and know all of the best places to go for a ride.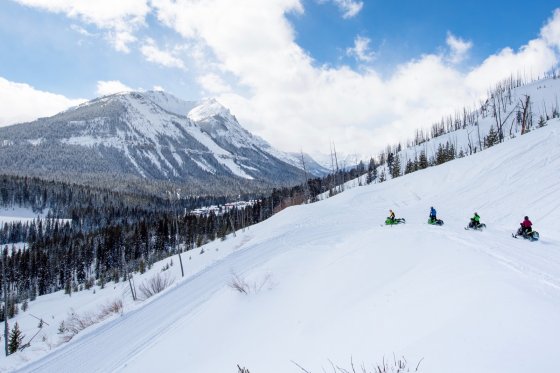 Snowmobiling isn't just about the adrenaline rush though. It's much more about connecting with nature and experiencing spectacular terrain, and you'd be hard pressed to find a location more spectacular than Montana. It's an absolutely stunning destination to visit for a winter getaway. Just imagine exploring some of the scenery like you see in these photos and encountering a herd of bison on your adventure. It really is the type of thing that most people only see in movies.
After you've had your fill of thrills and the long day out on the trail is done, it's time to retreat back to the lodge to warm up with some hot cocoa by a crackling fire and cuddle with your snow bunny. A James Bond inspired adventure wouldn't end any other way, would it?
Among the other winter activities that Montana has to offer are skiing, snowboarding, dogsledding, sleigh rides, snow coach tours, snowshoeing, ice climbing, skijoring, fishing, mountain biking and more. You can get much more information about snowmobiling and other winter activities in Montana at Visit Montana.
Finally we'll leave you with this snowmobiling video to really get you in the mood for your adventure in Montana this winter :