Jim Beam Apple Bourbon
Ten years ago, making fine Kentucky Bourbon was enough to appease the whiskey-loving public. Jim Beam made a name by producing consistently excellent bourbon with a signature, sweet taste. Today, however, younger drinkers expect more pizzazz in their booze and to keep up, traditional makers have been turning to flavor infusions set to rival the custom bar mixes that have become popular.
Not to be left behind, Jim Beam has offered several infusions from Honey to Cinnamon. Now comes apple, but not just any apple. Unlike other whiskeys we've tried with apple infusions, this Jim Beam Apple Bourbon is far more palatable. It's a mixture of things going on in this new flavor.
It starts with the apple itself, which is actually sour apple cider rather than just straight apple juice. The cider adds a great sour note to the sweet, four-year Kentucky Bourbon that Jim Beam is well-known for.
Together, this is a great combination that really slides over the palate. It's also a bourbon made for mixing, and we've found that a few of the recipes Jim Beam offered for us to try are easy at-home or on the deck party mixes that are quick and require little preparation.
Apple Highball
Perhaps the simplest is this great mix that requires only a highball glass, some ice, and a few key ingredients to enjoy in the early fall chill while hanging with friends on the patio.
Mix the following into a highball glass with ice:
2 dashes Angostura Bitters
1 part ginger ale
2 parts Jim Beam Apple
Garnish with a lemon wheel
Ginger Cider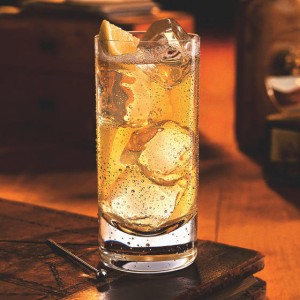 This is even easier than the highball, requiring the same glass and ice to start.
1 part Jim Beam Apple
3 parts Ginger Ale
Lemon wedge for garnish.
Hot Apple
For a more festive, cold-weather option, try this mix for an apple-infusion to lift the spirits. Simply take a mug, add a couple of shots of Jim Beam Apple and fill the mug to two thirds with hot apple cider. Finish with whipped cream and enjoy. Candy canes can make a festive garnish here if desired.