Jurassic World: Dominion – Review
The legacy of Steven Spielberg's 1993 blockbuster Jurassic Park gets more and more tarnished with every subsequent sequel. His own 1997 sequel was one of that year's biggest summer disappointments (anyone remember Speed 2: Cruise Control and Batman and Robin?), followed by a so-so trilogy closer and the Jurassic World trilogy. As it stands, the franchise is one year away from 30, and it is wearing those years rather haggardly.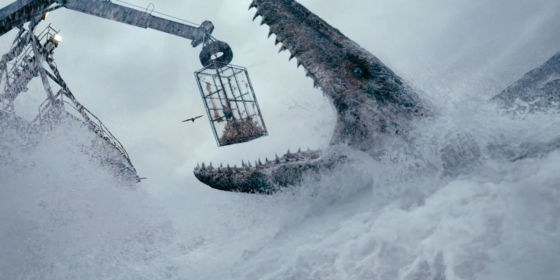 So much so, they've decided to go all-out with fan service, which also has the unfortunate consequence of turning Jurassic World: Dominion into a near-remake of the 1993 original. And to paraphrase what Dr. Ian Malcolm (Jeff Goldblum) said in that film, "Universal Pictures was so preoccupied with whether or not they could that they didn't stop to think if they should." Even Goldblum's nostalgia button-pushing involvement – as well as that of original stars Sam Neill and Laura Dern, reprising their roles as Drs. Alan Grant and Ellie Sattler – gives way to moments culled straight from Jurassic Park itself.
With these three competing for our attentions with Jurassic World trilogy heroes Claire Dearing (Bryce Dallas Howard) and Owen Grady (Chris Pratt) – who are now raising Maisie Lockwood (Isabella Sermon) as their own – there's a lot going on in Jurassic World: Dominion. Returning director Colin Trevorrow (who relinquished directing duties to J.A. Bayona for Jurassic Park: Fallen Kingdom) keeps the film churning with an action scene almost every five minutes. His north star seems to be: "If there isn't a chase happening or a dinosaur on screen, then we need to bug the audience out with some kind of tension."
Unfortunately, that doesn't give us any time to be at home with the characters. The five previous films were only a lead-up to this, which takes off running and doesn't stop, choosing to focus on excitement in place of any meaningful kind of setup or development before turning into… well, more of the same. When the film features lifts like Drs. Sattler and Grant meeting at a Utah desert dig, an extended power rebooting sequence, Dr. Malcolm using fire to distract a dangerous predator, and an almost shot-for-shot emulation of Dennis Nedry's dilophosaurus attack (among many, many other grabs), it's not homage and it's not an in-joke. This is theft on a grand scale, ultimately showing why this franchise needs to go away.
It's the ultimate in pandering – especially seen in the effort taken to recreate the Jurassic Park dinosaur-in-the-circle logo, proof of this film's intent – and we're given action by the boatloads to cover it up. Truth be told, the action delivers with all the requisite thundering bombast, with thrills aplenty and tension galore. On this level, Jurassic World: Dominion does its job of being entertainment fodder, something you might not turn off if you catch it on some cable channel (I'm showing my age here, folks) or catch at a matinee on a rainy Saturday afternoon.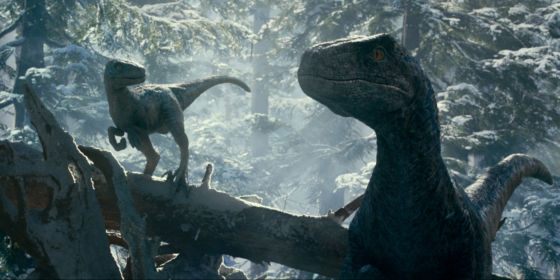 Shove all that aside and you'll find that this film belongs to Maisie, revealed in the previous film to be the cloned child of a brilliant scientist. It's her story we're interested in, partly because we're honestly not made to care about anything in the adults' world. Sure, alarm is raised over a swarm of gigantic locusts ravaging the American Midwest, destroying organic crops and threatening the world's food chain, but it's just an excuse to bring Drs. Sattler and Grant back together after a long absence. And the danger presented by dinosaurs becoming part of society, as hinted at in Jurassic World: Fallen Kingdom's post-credits scene, gets handwaved away by film's end.
As the first film belonged to Claire and the second to Owen, this film firmly belongs to Maisie, whose preteen struggles are compounded by being cut off from the world and made to live with her adoptive parents in seclusion, trying to figure out who she is other than the person from whom she was cloned, and dealing with parents who don't really know what they're doing. When she's kidnapped and brought to a genetic laboratory for study, we sit up and listen to the story she's told, especially because of who's telling it to her. And it is her we're rooting for – not just to survive the film, but to be able to finally break free of what she believes of herself.
Her kidnapping brings Sattler's faction, Claire, Owen, and rogue pilot Kayla Watts (DeWanda Wise) together to fight this film's "evil empire," Biosyn Genetics, headed up by none other than Dr. Lewis Dodgson (Campbell Scott). You might remember this character as the red-shirted guy who gave the ill-fated Nedry the can of Barbasol shaving cream in the first movie; now, he's a genetics tech giant, using dinosaur DNA and research for benevolent purposes… y'know, when he's not purposely releasing gigantic locusts in an attempt to control the world.
Scott plays Dodgson as a caricature of the idiosyncrasies made popular by similar real-life analogs, alternating between self-assuredness and throwing flailing tantrums when something doesn't go his way. Dodgson's the kind of character who doesn't care who he rolls over in his quest for control; he acts like a meek billionaire, but at the heart of it, he's a slimeball who thinks he's too good to be considered one. Aside from Isabella Sermon's plucky turn as Maisie, Scott is the other lightning rod of the film; they're both given time to dig in and make something of their characters, which also gives the audience a reason to care one way or another about the film and its outcome.
The rest of it? Non-stop action and screaming. There's no ebb and flow to Jurassic World: Dominion; it's all GO from the first second. Real-world parallels can be drawn to the behavior of the billionaire class, the response to COVID-19 (dinosaurs now inhabit our world and we're forced to live with them, even if they kill some random passerby on the street? Go figure), and the whole "create the problem, sell the solution" business model, but the commentary is lost under the constant motion and the tiresome visual and dialogue nods to the series originator.
What this movie wants to be is the thrilling climax of a spinoff trilogy that started seven years ago. Yes, it does thrill, but with all the depth of an amusement park roller coaster. It'll shake you around, throw you for a loop, and make your hair stand on end, but as soon as you step off the ride, you're already looking for the next thing. Jurassic Park: Dominion serves as entertainment, but not a whole lot else; its nostalgia hooks can't cover for the lack of depth and meaning which should tie us to these characters and their situation. We're in it just to see the end, to see the heroes conquer and the villains vanquished; hoping for anything more would be a tyrannosaurus rex-sized mistake.
MPA Rating: PG-13 for intense sequences of action, some violence and language.
Running time: 146 minutes. (No post-credits scenes.)
Released by Universal Pictures.
Jurassic World: Dominion
At its very best, Jurassic World: Dominion serves its purpose to entertain; hoping for anything more would be a tyrannosaurus rex-sized mistake.