Justice League : Review
(WARNING! Please take this as official notice that a stray spoiler or two from Batman v. Superman: Dawn of Justice lies within. No spoilers for Justice League itself, though.)
The DC Extended Universe (DCEU) has had a fantastic 2017, delivering a highly-anticipated, yet unexpectedly effective one-two punch. The first strike landed in June with the startling Wonder Woman, and a knockout blow has landed with the pre-Thanksgiving offering Justice League. Fast, loose, and surprising, Justice League churns with an effervescent brio not seen from Zack Snyder since his 2004 reimagining of the late George A. Romero's 1978 classic Dawn of the Dead.
Gone are the over-dramatic slow-motion gratuitousness and bloat which often plague his films. Thankfully, due to the subject matter and the amount of characters involved, Snyder simplifies his approach to the material and lets the story tell (and sell) itself. Aided by a bouncy script by Chris Terrio – with post-production rewrites and reshoots by Joss Whedon – Snyder engages us right from start, giving us exactly what we hoped for: a slugfest between the forces of good and evil.
It's a fight which asks a larger question: in the absence of a God-figure in Superman (Henry Cavill), what can people do when the bad guys are knocking on the door? In the cities of Metropolis and Gotham, and cities all around the world, crime is on the uptick in the wake of Superman's death, leaving Batman/Bruce Wayne (Ben Affleck) and Wonder Woman/Diana Prince (Gal Gadot) to pick up the slack. It's not a war normal humans can wage, as seen by Wonder Woman's harrowing introduction.
Consider this: the most "normal" of the Justice League is a privileged multimillionaire playboy who side hustles as a crimefighter. And the next threat coming to Earth – a New God named Steppenwolf (Ciarán Hinds) – isn't a problem Wayne's money or technology can solve. Steppenwolf and his flying minions are bent on retrieving ancient relics capable of delivering Earth into his hands, leaving him free to reshape or destroy the planet any way he sees fit.
Steppenwolf and the threat he presents aren't the focus here, although it is what drives the need for the Justice League to assemble. No, what we're all here to see is Batman, Wonder Woman, Aquaman/Arthur Curry (Jason Momoa), Cyborg/Victor Stone (Ray Fisher), and The Flash/Barry Allen (Ezra Miller) getting together. Justice League doesn't disappoint in giving us a hell of a time with all five of them.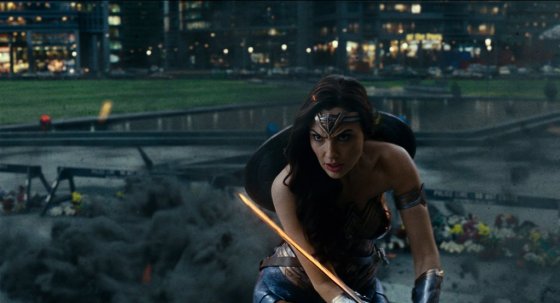 Each of them represents a different ideal and maturity level. There are the men of action (Batman and Aquaman), the brains (Cyborg), the comic relief (The Flash), and the heart and conscience (Wonder Woman). Each of them has something to offer besides their brawn and metahuman powers, and it's a joy seeing it all coalesce into one unit.
Batman v Superman: Dawn of Justice and Wonder Woman solidified Affleck and Gadot's places in the DCEU, and Snyder gives every chance to Momoa, Fisher, and Miller to do the same. Momoa's take on Aquaman is oddly twofold; he's initially established as a stalwart defender of the little fishing village he calls home, but takes on a more joking tone as the film progresses. He's fun to watch, and a force to be reckoned with in battle, even though yuks are had about him bringing "a pitchfork" to a fight.
The Flash gets brief, poppy moments as the kid who knows he's in over his head, but is trying to have fun with it. He's painted as an awkward millenial who doesn't quite know what to do with himself, other than visit his father Henry (Billy Crudup) in prison while swanning between odd jobs. However, Miller fills the role with an ebullience and earnestness which almost makes you forget he's a Speedster tasked with saving the world. There's a willing energy Miller gives throughout which threatens to steal the entire film from the top-billed actors.
As the high-school accident victim forever changed by one of the relics Steppenwolf is seeking, Cyborg gets the most to do out of all of the League. He not only has to come to grips with his ever-evolving body, he also has to acknowledge the threat he's becoming to the world. At any minute, due to his robotic side's sense of self-preservation, he could kill even those he loves. He's on the good side, but he's got a war within himself, a struggle which Fisher emotes with deftness and solemnity. Fisher's the surprise of the whole bunch, and Justice League serves as a terrific springboard from which his character should develop.
Snyder has chosen a taller 1.85:1 aspect ratio for this film over his usual wide 2.35:1 frame. Maybe it's so the film will play on IMAX screens easier; maybe it's to be sure to capture the film in ways the wider frame cannot. Coincidentally, Joss Whedon – who took over postproduction and reshoot duties for Snyder after a family tragedy – framed his big superhero get-together Marvel's The Avengers the same way, and both films bear striking similarities. Not saying it's intentional, but it's a little curious.
Justice League may not be the most perfect film, but it's a hell of a lot more engaging and thoughtful than last year's DCEU entry, Suicide Squad. Whereas David Ayer held the audience at arm's length and barely scraped the surface of what drives his characters, Snyder takes the opposite tack and makes us ride shotgun with them. We're not just invested in the characters because they're the good guys; we're invested in them because they're interesting and deserving of our attentions. The DC Extended Universe has struck gold with Justice League, and the film leaves us satisfied and eager for the next one.
MPAA Rating: PG-13 for intense sequences of sci-fi action and violence (also contains some language).
Mid- and Post-Credits Scenes? Yes.
Running time: 119 minutes.
Released by Warner Bros. Pictures.
Justice League (2017)
The DC Extended Universe (DCEU) has had a fantastic 2017, with the one-two punch of Wonder Woman and its newest offering, Justice League.