A Kia Niro Runs Through It
Twenty-five years ago, the movie A River Runs Through It was released bringing national attention to the timeless sport of fly fishing and Montana's many world-class streams filled with trout. It is an iconic movie mixing love for outdoor sports with tails of families' triumphs and tragedies. Set in the early 1900s, the film also shows how early automobiles like the Model T were changing everyday lives.
Flash forward to today and once again technology is changing our daily lives. A recent trip to fish the Lower Madison (one of the three rivers used in the film) with Kia shows just how much things have changed and yet has remained the same. The rivers still wind their way through the rolling landscape and the rhythmic art of fly casting hasn't changed, yet the cars are once again pushing new frontiers.
I experienced this new frontier with the 2017 Kia Niro, a hybrid-powered compact crossover, only available in this one engine configuration. This powertrain was essentially unheard of just a few years ago and in Montana, where time moves slow and old traditions die hard, the Niro is an interesting juxtaposition against the rolling farm landscape.
Growing up within a few hours of Detroit, I never thought much of the West or Montana beyond the comic books showing high noon shoot outs. It was understood that if you wanted to go hunting and fishing you didn't need to head West; you simply needed to go outside. For the really good hunting and fishing you headed North like everybody did and dealt with the hours-long traffic jam on the way home Sunday night. That's what you did. Back then, if you wanted to buy a car, you bought a Chevy. We were a GM family after all and everybody in Michigan supported the local Big 3 automakers.
After high school graduation, I had the urge to explore like Norman Maclean, the narrator in the movie, who moved east to Chicago for college. Unlike Norman, I had seen the busy city life and did the opposite – I moved west to Colorado and eventually attended college in Denver.
Leaving Michigan behind, I was shocked to find other car makes existed and actually were quite popular. For example, Subarus dominate the Colorado highways and off-road Toyota pickups were on every trail. I spent more than a decade in various parts of Colorado and owned many different non-Chevy vehicles expanding my understanding of the automotive market and the world.
Through the years, I eventually headed a ways north to discover Montana and its amazing beauty. For as large as it is, it is still a hidden gem in this country with lots of room to spread out and roads to explore. However, it is still a land dominated by trucks and large SUVs ready for the winter snows sure to come. Could a small crossover like the Kia Niro survive in such an environment? This was a big question and one our group sought the answer for.
Driving a 2017 Kia Niro up from western Nebraska to Bozeman, Montana in September was not at all foreign adventure to me as it might have been some 20 years ago. Heading through Wyoming and catching I-90, I pointed the Niro west and put the pedal down. And kept the pedal down for most of the journey since much of Montana has a 80 miles per hour speed limit. The hybrid Kia Niro mustered all it had to keep pace with both my spirited driving and the speed limit.
A hybrid is an interesting powertrain development of the last decade. It marries a small displacement engine with an electric motor drawing power from a battery which collects energy expended from the vehicle. In the case of the Niro, it is a 1.6L four-cylinder 139 HP gasoline engine with the aforementioned 43 HP electric motor mated to a six-speed dual-clutch automatic transmission. This powertrain is sufficient for the 3,106 pound vehicle for most driving situations and if driven less spirited can return an EPA estimated 46/40/43 city/highway/combined. Needless to say I didn't quite hit those marks. Instead I rolled into Bozeman, MT with a combined 38 MPG. Not exactly the hybrid's fault with the rolling terrain and high speed limits which would tax any vehicle's powertrain. It also probably didn't help I went a bit faster than the speed limit.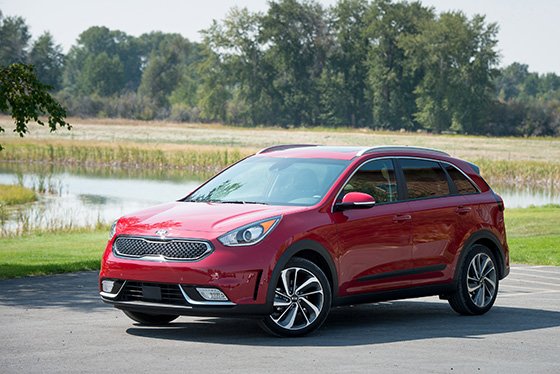 With sloping side character lines and a well-designed front-end, the Kia Niro is a good looking crossover and its styling didn't bore after a few days with it. As I reached Bozeman, MT, after a 7-hour journey, I began to really see where the Niro excelled. Around town the crossover Niro had a smooth ride and returned decent handling for its small size. While it certainly isn't quick, it is easy to maneuver and although I spent most of the day in the seat, I didn't feel it.
Inside the cabin, Kia has really stepped up their game as of late with a good layout of dials and controls along with a very easy to use infotainment screen. There is plenty of space for two to ride comfortably in the front and Kia has designed the seating and pillar placement to eliminate blind spots. While it isn't a luxury vehicle by any means with a starting MSRP of $22,890, the mixing of different materials and colors dresses up the cabin. Our test model was the highest trim Touring edition starting at $29,650 with various upgrades like the 8" UVO touch-screen display (versus the 7" in lesser trims), upgraded 8-speaker Harman/Kardon speakers, leather-seat trim, 10-way driver's seat adjustment with 2-way lumbar, heated/cooled seats and steering wheels and a host of standard safety equipment.
Also, it offers two-rows of seating for a max of 5 passengers (small passengers) and has decent trunk space capacity. It is not likely going to be the car of choice to haul 5 passengers on a family trip, but it is good for a few people or trips to the store.
Heading back home after a few days catching (and losing) many fish, I loaded up the rear of the Niro and headed south through Idaho and the Grand Tetons National Park in Jackson Hole, Wyoming. Pushing the Niro to climb up and over the Teton Pass, the high mountain pass connecting Victor, Idaho with Wilson, Wyoming, the powertrain was again taxed with the max grade of 10 percent over the 7 mile pass. Down shifting through the gears, I was able to crest the pass without white knuckling the drive; however, some additional power could do wonders for the crossover.
Coming down the mountain, the Niro navigated the corners well and although I didn't make it home that night thanks to a freak hail storm, I never worried about the car. The truth is, I might not have thought much of foreign cars growing up, but I do now and the Kia Niro is a solid crossover that could work well in the West. As a truck guy, I may have reservations about the snowy days and the lack of ground clearance, yet if the roads are plowed, the front-wheel drive crossover will get you home. And you might even enjoy the driving experience from a non-traditional U.S. automaker. Turns out these Kia engineers know a thing or two about building a car.
Editor's Note : We're surprised Tim didn't compare himself to Brad Pitt in this feature. Check out our full review on the 2017 Kia Niro Hybrid for more info.