Meet the Racing Kia Optima Turbos
In 2012, Kia began racing a pair of Optima Turbos in the Pirelli World Challenge Championships (GTS). Up against stiff rear-wheel drive competition with more established racing traditions, Kia hasn't just turned heads, they actually won the Manufacturer's Championship last year. We first introduced you to the Kia Racing team after our ride-along experience at SEMA and in June we were invited to join the team at the Road America Race for the Kia Turbocharged Weekend with MenWhoBlog. Today we'd like to tell you more about those awesome race-cars and the men who drive them.
Kia Racing Paddock
The paddock is essentially the track side garage for a racing team, and in a series like the Pirelli World Challenge, it's a rather accessible place for race fans and families. It's the center of much activity as mechanics work to get the cars ready, and the drivers discuss race preparation and strategy with team officials. A paddock is also a marketing activation for the brand, where they can host VIP guests and introduce race fans to the brand. Kia is still relatively new to racing, and while we certainly heard a couple of rude comments from passing race fans, we also witnessed many fans stop in and talk to the team about previous races, or their own Kia vehicles. The drivers are more than happy to sign autographs, and just being present at the track helps to build the brand's reputation.
However Kia isn't satisfied just to make the starting grid. Their original goal was to make sure they finished every race, as seeing Optimas struggle to complete a 50-minute race wouldn't do much to help the brand. As we already mentioned though, the Kia Optima Turbos do much more than just finish, they've won races and championships in their short time in the sport. And the race-cars very literally rolled off the same assembly line in Georgia where your neighbor's Optima was manufactured.
There is some modification happening before that Optima Turbo becomes a race-car though, most notable are the changes to the transmission and brakes. After the conversion it weighs in at 2,950 pounds and is powered by the 2.0 liter turbo inline 4-cylinder engine that generates 368 horsepower and 300 lb-ft of torque. It reaches 0 to 60 mph in 4.7 seconds and has a top speed of 160 mph. We didn't ask about fuel economy, but it's able to consistently finish the 50 minute race without making a pit-stop.

The biggest challenge for the Kia Racing Team is running a front-wheel drive car against a field full of rear-wheel drive competitors. Front-wheel drive is a handicap in the world of racing, as it puts the burden of both pulling and steering on the front tires, while every other vehicle in the field can separate those tasks between front and back. It forces the drivers to manage tire wear throughout the race, in order to stay competitive.
Canadian Mark Wilkins has been driving the #38 B.R.A.K.E.S. Kia Optima Turbo since 2012. Mark finished third in the GTS Driver Championship in each of the past two years. "Winning the Manufacturer Championship for Kia last season was a true high-water mark for me professionally. I fell short of my personal goal of winning the Driver Championship, however, and that's what every driver wants," said Wilkins.
"B.R.A.K.E.S. (Be Responsible And Keep Everyone Safe) is dedicated to helping teens make safer decisions while on the road and preparing them for the hazardous conditions they will inevitably face," said Doug Herbert, National Hot Rod Association (NHRA) Top Fuel drag racer and founder of B.R.A.K.E.S. "Kia's support of B.R.A.K.E.S. has helped us expand our training efforts and reach teens in new cities. Working together, we aim to reduce the number of teen deaths as a result of automobile accidents by simply providing teens the tools they need to be safe on the road."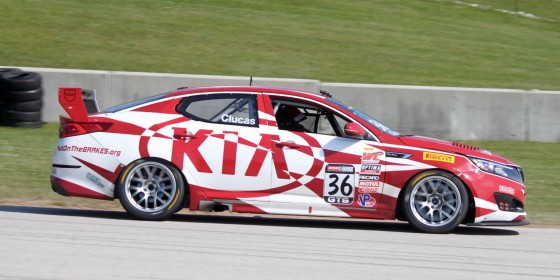 Englishman Ben Clucas joined the Kia Racing team for 2015 and drives the #36 DonorsChoose.org Optima Turbo. Clucas has been racing professionally for more than fourteen years. "I'm really excited for this opportunity to work with Kinetic Motorsports again and have a chance to drive this awesome Kia Optima," said Clucas. "It's an honor to represent Kia and their very worthy charity partner DonorsChoose.org."
Founded in 2000, DonorsChoose.org makes it easy for anyone to help a classroom in need. Public school teachers from every corner of America create classroom project requests, and you can give any amount to the project that inspires you. "Kia's support has helped bring books, chess sets, butterfly gardens, guitars, basketballs, microscopes, and many more resources to America's high-need classrooms," said Charles Best, founder and CEO of DonorsChoose.org. "DonorsChoose.org is grateful for Kia's renewed commitment to helping thousands of students access the materials they need and the quality education they deserve."
Results
Currently Kia Racing is not on pace to defend their 2014 Manufacturer's Championship in GTS, after a format change to the class this season. The race team was however relatively successful on the weekend we spent with them at the track. In the first race, Mark Wilkins was able to move up the field late and secure a 3rd place podium finish. After we stoked some competitive fires at dinner that evening, team member Ben Clucas was able to come back the next day and do even better, finishing 2nd while Mark dropped to 4th. We wish both drivers continued success, and applaud Kia for turning the focus towards their charity partners while they simultaneously demonstrate their quality products.