Kia Stinger GT : Long-Term Test Drive
We've loved the Kia Stinger ever since we saw it unveiled at the Detroit Auto Show (NAIAS) two years ago today. We loved it when we drove it on a roller coaster autocross course in California. We loved it when we drove it at the Stinger Experience in Washington, DC. We loved it when we drove it on an ice track in Colorado. We loved it so much that we named it our 2018 Gunaxin Car of the Year. Then our friends at Kia came to us and suggested we drive one for a full year, and see if we still love it. That was 8 months ago, and the short answer is YES, we still love the Kia Stinger GT.
We've been driving a 2018 Kia Stinger GT2 RWD in ceramic silver with red leather interior as our daily driver since May of 2018. In that time we've driven it on long road trips, and short trips to the store. We've driven it to car shows and to the beach. We even drove it through an animal safari. See a video preview of our long-term Kia Stinger loaner below and continue reading to see all of the places we've taken the Stinger, along with our observations from living with it.
Exterior
The Kia Stinger turns heads wherever we go. Seriously. We catch people looking at the Stinger whenever we drive it. People honk at traffic lights, ask us about it at the gas station, or complement us in the mall parking lot. We've driven plenty of nice cars in the past, but none has attracted more attention or created more buzz. Besides the general, "Nice looking car!" we hear four very distinct comments repeatedly, nearly every time we drive it.
"That's a Kia?!?"
This comes from the group of people who apparently haven't been paying attention. They didn't know the Stinger was a thing, and they've probably never seen a K-900 or Cadenza either. When we hear this comment, they're always impressed, and then the next question inevitably comes, "How much?". We generally answer that question with the price range of $33k – $50k, which never fails to drop jaws as well.
"Love that color!"
People really dig the flat grey color, we assume largely because it's unique. There are a few other vehicles on the road using a similar color, but in general flat grey is still pretty rare, and its surprisingly eye catching. While we still prefer the Sunset Yellow version of the Stinger, the grey is much more understated and classy. The color of our long-term loaner inspires nearly as many comments as the badging.
"Nice Wheels / Tires / Brembos"
The premium 19″ wheels with Michelin Pilot Sport 4S tires and Brembo disc brakes are a common object of attention when people admire the Stinger. We assume the bright red calipers really catch their attention at first, and then they take in the entire package. It's sharp looking (and they perform well too) and really designed to be on display. Which is why the rust is so frustrating.
Yes, we know that most rotors rust, and that it's usually just surface rust that scrapes off after a short drive. Maybe it's just the openness of the wheels, but we noticed that these rotors rusted up very easily, even with just damp air and no rain at all. Since they are so prominently on display, we really wish Kia had gone the extra step to utilize one of the rust-free solutions.
"Nice Lights!"
We may have overlooked this the first several times we drove the vehicle, because it was always during the day. But the lighting package on the Kia Stinger GT looks absolutely fabulous, and none of our photographs really do it justice. While the vehicle looks great in the daytime, we noticed it looked even sharper at night.
"Dat Ass!"
We never heard this one from the general public, but it's something we noticed while photographing the same vehicle repeatedly over the past 8 months. We really enjoy the 3/4 rear view of the vehicle, and have photographs from up and down the east coast to show you what we mean. There are many fine angles on the Stinger, but this is clearly our favorite.
Interior
We've spent many miles and hours behind the wheel of the Kia Stinger GT and still really enjoy the interior. Admittedly is a bit more challenging to get in and out of than a vehicle that rides higher, but once inside we find the seats to be comfortable, and the interior has nearly every feature we could ask for.
We love the styling of the center console, especially the three vents and the metallic buttons underneath. We're especially fond of the dual climate zones and the touch screen. The Harman Kardon Quantum Logic Surround Sound System is absolutely fabulous, however we found the low-level volume settings didn't provide enough variety. It was difficult to find a good conversational volume level as it goes from too soft (1) to too loud (2) very quickly. However once the guests are out of the car, we crank up the volume and really appreciate the 720-watts and 15 speakers.
The red leather interior is by far our favorite offering on the Kia Stinger, and it never fails to impress as people joined us for a drive. It really goes well with the black and silver accents in the car. It's still early, but in our time driving, the interior has held up well, with no signs of wear showing up any of the common places you see on some vehicles.
The heated and ventilated front seats work very well, and we're glad to see that rear heated seats are new for 2019 in the GT2. Those would have been a welcome addition to our back-seat guests during some recent holiday driving.
As mentioned before, the Safari Park was one of our destinations with the Stinger, and we're working on a fun video from that experience. The animals loved the Stinger so much, they may have licked the interior a few times.
We didn't see anything about animals on the waiver, so hopefully Kia isn't too upset that we let this guy check out the car. He was quite gentle, but his long-horned buddies (left) had us a bit concerned.
The automatic rear hatch proved to be very useful both in our travels and trips to the store. We were also quite impressed at the amount of cargo space available, especially when we folded down the rear seats to accommodate these patio chairs that we purchased at Costco, as one does. Unfortunately we noticed a bit of a rattle coming from the rear hatch, but we understand this is a known issue that Kia has identified and will fix for free at the dealership.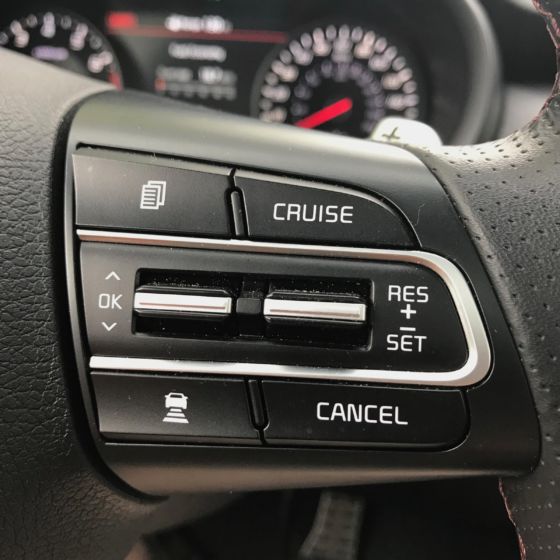 Our favorite feature of the Kia Stinger GT is the adaptive cruise control, which we used often on long road trips. It allows you to set a speed and a trailing distance, and then the car with automatically slow down and speed up as needed depending on the car in front of you and the settings you choose.
Above you can see it in action as shown on the Heads Up Display (our second favorite interior feature of the Stinger GT). You can see the speed limit is 55, we have cruise control set to 65 (don't tell anyone!) and distance set to 2 (we believe this is seconds, so the distance changes depending on speed). The car in front of us is going 59, so our vehicle follows at the same speed. You can also see on the right that we are due to take an exit in .4 miles, as it also will show you turn by turn directions in the heads up display.
Performance
The twin-turbo V6 engine with 365 horsepower and 376 lb.-ft. of torque is still the big story with the 2018 Stinger GT. We have the RWD model, and are really getting good at letting the ass slide out when we want to. With 0-60 mph times as low as 4.7 seconds, the Stinger has plenty of power where it counts. It's honestly a bit much for daily driving, especially in Sport mode.
So we've found ourselves reserving Sport mode for when we really want to have some fun (on dry pavement), and doing most of our daily driving in ECO or Comfort mode. They're still plenty powerful and fun, but are softer on the wallet and stomach. However it's just a quick dial turn to change driving modes if you want to get off the line quickly, change lanes in a pinch, or scare the crap out of your wife by drifting around a turn, you can do it with ease.
In ECO mode, we have achieved as high as 29 mpg on the highway, but normally average between 24-26 mpg on shorter road trips. If you drive around in Sport mode all day, we think you'd probably be lucky to get 18 mpg.
We've had no complaints about driving the Stinger, it's just as much fun now as it was the first time we got behind the wheel. The only thing that took us a little while to get accustomed to is the shift-by-wire gear control. Pushing forward for Reverse, and having a separate button for Park is a bit of an adjustment, and one that we have to relearn whenever we drive another vehicle for a few days in between getting back into the Stinger again.
Overview
Now that we've lived with the 2018 Kia Stinger GT2 for 8 months, we love it even more than the first day we saw it unveiled at the Detroit Auto Show. There are a few small things that annoy us as mentioned above, but overall it's a compelling combination of performance, style, and technology for a competitive price. We understand that Kia sold 16,806 Stingers in 2018, so we look forward to seeing more of them on the road. Currently it's still a fairly rare occasion, but by the end of the year we were starting to see 1 or 2 other Kia Stingers on the road per week. Ours is probably the only one posing for photos in front of the Biltmore though.