Lance Armstrong = Giant Douche?
Let me preface this article by saying that I know it will come off as anti-Lance Armstrong. For that reason, I'm sure some will hate the article, and by extension me. But the main point of the article isn't to attack him, as much as it to present a more neutral viewpoint of recent events and examine why we root for athletes.
I. Introduction
Cycling, for most Americans, is not at the forefront of the sports consciousness. Many of you may or may not be aware that the 96th running of the Tour de France, cycling's crown jewel, was just completed. A race that Lance Armstrong placed 3rd overall in. That was a pretty impressive feat given the fact he is 38-years-old and three years removed from competitive cycling. However, despite the sport's popularity overseas, coverage by the major American sports outlets amounted to little more than Armstrong updates. For example, if you happened to surf on through ESPN.com on any day during the three week Tour, the headline of the day ended up being very Lance-centric.
II. Cycling Coverage
It's a bit disappointing from a fan's perspective to see such appeal to the lowest common denominator by the networks. There's a lot more excitement going on than just Lance, but you never get to hear about it. Why? For the same reason people complain that ESPN is just about the Yankees and Red Sox. Ratings. Everyone is out there trying to get ratings to push sponsors and more money into their pockets. And there's no denying that Armstrong's presence dramatically boosts ratings. Not only is he a lightning rod for controversy (the French press have notoriously hated him), but he's the one individual that sparks American interest in the sport simply because of the fact he was born inside of America's borders. Americans root for Lance because he is American.  This simple fact poses two issues.
First, most of the coverage not only is about Lance, it is very pro-Lance. It's not exactly an unbiased opinion. If you ever watched a Chicago White Sox game called by Hawk Harrelson, you get the general idea. In fact, most local announcers, no matter the sport, have their own hometown bias. And coverage of Lance Armstrong is no different, except instead of rooting for a specific team, there seems to be rooting for a specific person/country. It also doesn't help that the main coverage of the Tour is done by Versus and all the major personalities involved have had long personal relationships (and in some cases business relationships) with Armstrong. You can imagine their reluctance to speak ill about him, both from a personal and professional level.
The second issue is the question: why do Americans root for Lance? Probably because we come from the same country. I'll admit I root for Lance. I've followed the Tour de France since I was a kid, and even remember seeing Greg LeMond capture the 1989 Tour by 8 seconds on a final stage time trial in Paris. I like to see the American riders do well. Due to the fact television coverage of the Tour was not easy to come by, I instead kept up with the standings in other ways. In recent years, cable television and coverage on OLN/Versus ultimately expanded my opportunity to watch and follow the cycling. And I could continue to root Armstrong on against his rivals, riders like Jan Ullrich and Ivan Basso. But why did I do so? I'll let Chuck Klosterman explain this phenomena…
III. Why We Root for Athletes
Klosterman has come to the conclusion that events like the Olympics are designed for people who want to care about something without considering why. The idea can be expanded to many typical sports enthusiasts. Which is the concept of rooting for a team (or individual) without justification. For many, this kind of support is considered mandatory to be a traditional, loyal, and "true fan." But in Klosterman's view, all it proves is that one is ridiculous, and that one doesn't consider the motivations that drive one's emotions. Instead, geography and the color of the uniform are more important factors than anything else.
To prove his point, Klosterman states that he adored the Boston Celtics in 1986, but is wholly ambivalent towards the franchise today. Why? The current Celtics have different players, a different coach, a different offense, different management, different ownership, and they play in a different arena. The only similarity between the current incarnation and the '86 squad are that they both wear green and they both use the same parquet floor. But Klosterman is not rooting for flooring.
Klosterman goes on to point out this is exactly what the Olympics, or any international sports, asks us to do. They ask us to support athletes solely because they happen to stand on U.S. floors when they pay their federal income tax. But he doesn't want to blindly root for a bunch of serial killers that simply wear American uniforms. He wants to root for Americans because they are worth rooting for. Which brings us back to Armstrong. Is he worth rooting for? Recent evidence tends to suggest no.
IV. A Cycling Primer
To understand the problem, you have to understand cycling a little. The Cliff's Notes version is this. While cycling is done in teams, it is each team's goal to work to the benefit of the team leader. The team leader is the best rider, and it is his job is to do as well as he can in everything that he does. Win stages, win races, win entire Tours. You get the idea. The rest of the team sacrifice themselves to set-up the leader for success. No one knows this way of life better than Armstrong, who in his heyday hired some of the best riders in the World to work and sacrifice their personal goals for his benefit. They did so for the greater good (and in many cases a lot of cash).
Working in tandem with the riders is the team director. The Director is essentially the coach, laying down the strategies, picking the riders who compete in specific races, and so forth. In Armstrong's seven Tour victories, he had one man, Johan Bruyneel, as team director. Armstrong not only has maintained a great business relationship with Bruyneel, but also maintains a close personal relationship.
V. Don't Call it a Comeback
When Armstrong announced his return to cycling nearly a year ago, he wanted to ride for Bruyneel. Problem was that Bruyneel already had a job, directing Team Astana.  Astana also happened to be the world's best cycling team (and by a healthy margin). If that wasn't enough, Team Astana also employed the world's best cyclist, Spaniard Alberto Contador. Contador had won the 2007 Tour de France riding for Bruyneel, and when Astana was excluded from the 2008 Tour, Contador won the other two Grand Tours of cycling, the Giro d'Italia (Tour of Italy) and the Vuelta a España (Tour of Spain). This made him one of only five cyclists to have won all three of the Grand Tours during their career (joining all-time greats like Jacques Anquetil, Bernard Hinault, and Eddy Merckx). In short, Contador is very good and still only 26.
This presented a problem for Armstrong. He wanted to ride for Astana and Bruyneel, but the team already had a team leader in Contador. How would Lance's presence affect the team leadership? Would he be willing to ride in support of Contador? If not, who would the team ride for? Contador or Armstrong?
Bruyneel went ahead and signed Armstrong anyway, which many in the business thought would create problems and upset team balance. More questions began to crop up. Could Bruyneel effectively control his team? Would loyalties among the riders be split? How could Bruyneel plan a race strategy that benefited both his top riders? Contador made his name as a climber in the mountains, where as Armstrong's biggest strength were the individual time trials. How would this all play out, particularly with two top riders going for the same overall goal through different methods?
VI. The 2009 Tour de France
These aforementioned issue were the big buzz before the start of this year's Tour. If you followed the race at all, or Lance's constant twittering of it, you might have remembered two things. Lance and Bruyneel's public comments against Contador and the bickering that went on between the two after the Tour was over. Those were the two big stories. Not the race on the road.
In the aftermath of the final day, Contador made the follow statement at  press conference, "My relationship with Armstrong is none-but independent from his personality, he's a great champion, has won 7 tours and done a great job in this one, but on a personal level (referring to his personality) I haven't had a great admiration towards his, and never will, but again-as a rider-he's a great champion." Actually he spoke in Spanish, so the above is a translation. You can imagine certain news outlets had a field day with this.
Whatever coverage American networks gave to the events painted Lance as the one in the right. Versus coverage backed him up. And yet, other international publications told a completely different story. So what's the truth? Who was in the right? Who comes off as the douche? Truthfully, I can't say for sure. I wasn't there in the race. I wasn't privy to private Astana meetings. I don't profess to know the truth behind any of what has been reported in the media. And realistically, I don't know if there is a right in this kind of situation. I do know of certain facts, but ultimately one has to rely on circumstantial evidence and some speculation to get a better picture of the whole situation. A recent article by El País, the biggest newspaper in Spain, paints an much different Armstrong then portrayed by American networks.
VII. The El País Article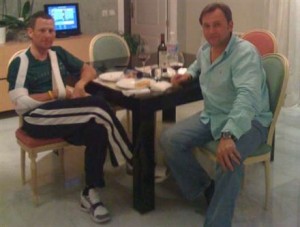 It paints a guy who leveraged his personal friendship with Bruyneel to the professional detriment of Contador. Its about a guy who leveraged the economic opportunities he is able to offer as the boss of a new team to isolate Contador. And it shows a guy who essentially practiced psychological warfare against his own teammate in an effort to win at all costs. But not just a war of words, there are a few dirty tricks mixed in as well. In short, Armstrong, together with Bruyneel, set a "team strategy" that was counterproductive to Contador's strengths and capabilities. Is this the real Armstrong?
The El País article mentioned six specific points that I'd like to address and comment on. They are summarized as follows:
1. Armstrong's Plan and Revised Plan on Camarga
"If I would've had gotten the yellow, I wouldn't have had to relinquish it. I would've defended it," Armstrong had said. According to El País, acquiring the yellow jersey in the first week of the Tour was a priority in Armstrong's strategy. The idea was that having yellow would paralyze any initiative that Contador might have had to establish his own hierarchy in the team. However, due to a poor Stage 1 time trial in Monaco, Armstrong was not in a position to execute his plan. In fact, he was 22 seconds behind Contador (who was second overall), a mild surprise. That was until a fortunate change of the wind on the Camarga. The main group of riders split, and a small select group, including Armstrong, were able to gain 41 seconds on the main field. After the stage, Armstrong climbed from 10th to 3rd overall. And in the process, jumped ahead of Contador. In theory, the move allowed Armstrong to recover the leadership of Team Astana as the top placed rider. The team time trial followed on Stage 4, and after the team time trial, Contador was left at the back of the peloton(the main group of riders) on Stage 5, being beaten up by the wind from the coast without any teammates with him.
Comments: Given Armstrong's historic time trial strength, getting yellow early on not only seemed like the plan, but what most experts expected to happen. And certainly having Armstrong in the yellow jersey would have made it harder on Contador for a number of reasons. That is if Armstrong showed he was the Lance of old. Unfortunately he was not, and finished 10th behind three teammates in the time trial.
That was at least until the surprising 41 second gain on Stage 3, which catapulted him to third overall and ahead of all the other major contenders. A real conspiracy theory is that the peloton split was intentionally caused by Team Astana. In truth, two Astana riders did cause the split, but there's no evidence to support it was intentional. I also can't say I have any verification of the Stage 5 claims on the team leaving Contador out to dry (and for what reason I have no idea).
2. Arcalis
In the Tour de France, overall contenders generally only gain time on two types of stages, mountain stages and time trials. Arcalis was the first mountain stage of the Tour, and the only real difference making stage since the Stage 1 time trial. It would also be the only place to gain any real time on contenders for the next week of racing. Astana team orders were not to attack, but Contador made a very late move with 2 kilometers remaining. No one went with him, and he ended up gaining 21 seconds on all the main contenders. It also put him two seconds ahead of Armstrong. Afterwards, there was a "team meeting" where Contador got chewed out.
Comments: Most experts will tell you to never leave time on the road, and Contador won the 2007 Tour by only 23 seconds. So gaining 21 seconds on everyone, not just Armstrong, was very useful. It seems weird to criticize a guy for doing his job well, but that's just what Armstrong and Bruyneel did. I can't think of one logical reason why it was bad for Contador to do what he did, in fact the move was fortold by the great Bernard Hinault. Is it not perfectly acceptable for Contador to exploit his competitor's weaknesses and attack the way he did? As the team leader, his team should applaud his success.
3. No English
Contador hails from Spain, but can speak at least some English. Exactly how much is a matter of debate. Still, his press releases were in Spanish only, with translations in French. This allowed Armstrong to dominate the English-speaking press. And dominate Armstrong did, criticizing Contador during the race and even announcing his new Radio Shack team during the Tour's final week when Contador's victory looked pretty assured and the attention began to focus off Armstrong and on to Contador. Beaten on the road, Armstrong turned to the battle of the images.
Comments: Announcing a new team while still riding in the biggest event of the year for your current team is a dick move. It would be like a player announcing at halftime of the Super Bowl he would leave his current team at the end of the game.
4. Armstrong steals the car
In the time trial, riders go individually and start in reverse order of standings. As a result, it is expected that each rider leave the team hotel individually in anticipation of their respective start times. Contador, as race leader, would be the last to start in the entire field and last to leave the hotel. After training and warm-ups, Contador requested a team car take him to the start of the Annecy Time Trial. Except there was none. Armstrong made sure all the cars were used to pick up his family and friends upon their arrival that day in France. Contador ended up calling his brother to pick him up in order to make his start time. And it wasn't an isolated incident. It happened a few days later on Mount Ventoux. Contador came to the press hall with his brother, because the team cars had left him on the top of the mountain.
Comments: This has been reported in many places, but not verified. If true, a very childish move on behalf of Armstrong.
5. The Grand Bornand attack
Le Grand-Bornand was one of the big stages of the Tour, and in retrospect the final major sort out of the overall contenders (there was still two major stages to go, but they ultimately were not huge factors in the overall standings). A lead group of four riders emerged. Contador and teammate Andreas Klöden were in the group. So too were the Schleck brothers, Andy and Fränk. Andy Schleck was considered by many to be the biggest threat to Contador's overall victory.
The Schlecks relentlessly attacked on the stage, dropping Armstrong and all the other main contenders except Contador and Klöden on the penultimate climb. With 18 km to go to the finish, Contador decided to throw in his first attack of the day. The Schlecks both covered, but Klöden did not. In fact, Klöden completely fell apart, and was dropped like a hot potato. He was roughly two minutes ahead of the Armstrong group when he cracked, but would get caught and passed by both Armstong and Italian Vincenzo Nibali. Following the stage, Armstrong's twitter lit up with criticism. Bruyneel piled on, claiming that Contador ruined the Astana sweep of the podium (Top 3 finishers).
Comments: Contador's tactics have been questioned, and there is at least some debate as to what he did was right or wrong. But whatever criticism he receives seems to be horribly blown out of proportion. In his defense, I'd state these retorts:
(1) Contador's the team leader and his sole job is to worry about himself. He can do whatever he can to win, be it gaining time on his rivals or winning stages. He shouldn't ever be worried about Klöden's interests. No one should know this better than Armstrong, who repeatedly asked some of the world's best riders to sacrifice individual achievement for him.

(2) Contador's acceleration was actually very brief and fairly tame. Still, Klöden lost ground hard and fast. Contador tried to wait up, but ultimately stuck with the Schlecks as Klöden faded into the horizon. The idea that Klöden would have remained with the leaders absent the Contador attack (and stuck with them for an additional 18 km) seems like wishful thinking. Klöden looked absolutely spent and faded so bad that he was caught and passed by others further down the road.
(3) The idea of an Astana sweep of the podium is a myth perpetrated by Bruyneel and regurgitated by the media. Even assuming Klöden does stick with the Schlecks on Stage 17, he rode a substandard time trial and lost even more time on Mont Ventoux (a stage Contador and Andy Schleck basically cruised through with nothing to gain). There's no argument that three Astana riders could beat Andy Schleck. Heck, even giving Klöden two minutes and fifteen seconds back, he still doesn't beat Schleck. And there's really no argument Armstrong could either. Andy beat Lance fair and square. Contador had nothing to do with that. And you cannot fit three Astana riders in the same podium if Schleck is on the second step. Although seeing Bruyneel blame Contador for Klöden losing time is the height of hypocrisy, considering it was Klöden who sacrificed time (probably at Bruyneel's orders) on Verbier dragging Armstrong up to the finish. The irony of all of this is that Armstrong possibly got his 3rd place thanks to Alberto dropping Klöden.
(4) By all accounts, Klöden was on board for Contador's attack, and such an attack may have dislodged either Schleck brother. Something that would have been quite beneficial to Astana, and Contador and Klöden in particular. Because an attack failed, doesn't mean it was automatically the wrong tactic to try.
6. Water on Ventoux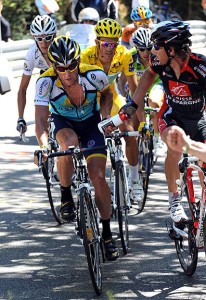 Ian Gutierrez, a Spanish rider from Caisse d'Epargne, tried to give Contador his water bottle after he was caught following an early day breakaway. Gutierrez stated that he, "offered him (Contador) my bottle because I saw that he didn't have any water and I am his friend." But Armstrong intercepted the attempted pass. To add insult to injury, after Contador locked in the victory in the Tour at the stage's end, Armstrong didn't bother to attend the celebratory team dinner that night.
Comments: This actually did happen, although why Armstrong took the bottle is unclear. His intention could have been innocent, although I wonder how often Armstrong takes water bottles from riders on other teams. Also, not showing up for the team dinner was pretty classless.
VIII. Conclusion
Armstrong's results in this year's Tour de France were remarkable considering his age, fractured collarbone, and time off during retirement. However, making the Astana in-fighting public, his twittering, announcing Team Radio Shack when he did, and his immaturity in his response to Contador's post-Tour press conference has detracted from his achievements this year. If he had shut his mouth and stopped twittering, then more people would likely be complimentary rather than antagonistic of him.
To some extent, it seems like it was new territory for him. Contador had the audacity to be better than him at the one event (other than cancer) that defines who he is today. Most highly successful individuals are extremely competitive and usually a bit narcissistic. When things go well, great. But when they don't go as planned, it seemed Armstrong couldn't act appropriately or follow a scripted behavior. Armstrong has tweeted "there is no I in team", but by his own actions he certainly has shown that there is a "me."
My guess is the real reason Contador rode the way he did is that is the way he wants to ride. He may not be content to sit on the wheels and let someone else take the stage win while he waits for Paris, he (shock, horror) may actually like winning stages and may actually enjoy going on the attack. He rides the way he does, not as some grand plan to debunk the Church of Lance, but because he likes racing. And I think that's a good thing that, unfortunately, we don't see more of.
The real question is why didn't Bruyneel have control over his team? He apparently just couldn't say no to Armstrong, and the team suffered. It was clear before the Tour who had the best chance of winning. Not just within Astana, but overall. It was crystal clear by the time Stage 1 was done. Contador had ridden better throughout. And yet, it seems apparent that Contador held back, and was held back, many times during this Tour. It also seems apparent he did not trust that Armstrong or Bruyneel had his best interests in mind. The attack on Arcalis could have been an attempt to put an end to the shenanigans. But it didn't. And instead we get bizarre Twitter fights.
One thing is for sure, no one is coming out well with these personal attacks.