Last Free Agent Standing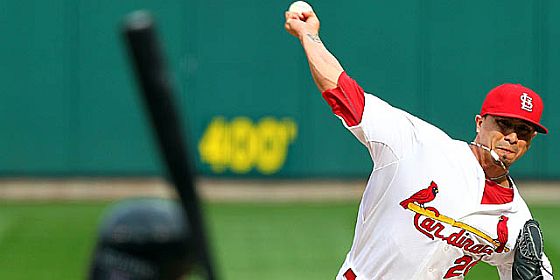 Three times this offseason we've taken a look at baseball's free agent class, giving you a look at the best hitters and pitchers on the market. As our initial lists dwindled we took one last look at free agency a month ago, looking at the best players still on the market. With all teams having kicked off spring training there is only one player from our original list still on the market; Pitcher Kyle Lohse.
Here's what we said about Lohse in November:
Outlook: Lohse had the best season of his career at 33 years old, leaving many to question if it is an anomaly or a sign of genuine improvement. After posting such an impressive campaign Lohse is likely to be looking for a long-term deal with a significant raise from his $10m/year average on his last one. His age and history (he posted an ERA+ of 86 and 59 in the first two years of his deal) will turn off most teams. Big spenders looking to contend in the short-term should make up most of his market.

2013 Prediction: The Dodgers look like the favorite year, with a 4 year/$55M contract. Look for Lohse and the team to put in inning related guarantees for a 5th season.
When the Dodgers locked up Zach Greinke we figured they would go elsewhere.
In January we updated our take on his final destination.
Outlook: Lohse remains on the market thanks to the combination of his age (33) and a qualifying offer that will cost the team that signs him a draft pick. With rookies Shelby Miller and Trevor Rosenthal ready to crack the rotation there is no longer a place for him in St. Louis.

2013 Prediction: Texas saw its top target (Greinke) go elsewhere, and lost their own star player (Hamilton) as well, so is looking to upgrade and has the budget to do so. We expect them to sign Lohse in the coming weeks, especially with former teammate and new Ranger Lance Berkman campaigning for him.
Another month has passed, and Lohse remains stuck in limbo with teams already setting up their spring rotations. Texas hasn't supplemented their rotation, having only brought in relievers Joakim Soria and Jason Frasor, but seems unwilling to sacrifice the pick after their recent draft success. St. Louis announced that Chris Carpenter wouldn't be ready for the season, but seem to be set on going forward with their youth movement.
Baltimore and Seattle have joined Texas as teams rumored to be interested, but all three clubs play in ballparks where Lohse's fly ball tendency would be a vulnerability. Teams interested in giving the 34-year-old a short-term contract are likely scared away by the draft compensation required.
These problems likely limit Lohse's potential suitors to two teams, the Yankees and the Nationals. The Yankees seem like the top option, holding an extra first round pick after losing Nick Swisher to the Indians and with a major question mark at the back of their rotation. David Phelps and Ivan Nova have both shown some potential, but neither are sure things, and the Yankees have few options in the farm system.
For the Nationals, it's injury and a potential suspensions for Gio Gonzalez that could open up a rotation spot. Having already sacrificed their first round pick to sign Rafael Soriano the Nats would only have to give up a second round pick to add Lohse. While Dan Haren was brought in to replace Edwin Jackson, the Nationals may be willing to pay to add Lohse as a contingency plan in case they lose Gonzalez or if Stephen Strasburg has any injury setbacks in his second year back from Tommy John surgery.
Wherever he lands, Lohse is unlikely to start the season on the sidelines. Having recorded a sub 3.00 ERA over 33 starts in 2012, Lohse would mark a significant upgrade to whatever team eventually signs him.
For more information on the Nationals you can visit our new brother site Nationals Outsider.