Cool Texas Chainsaw Massacre Leatherface Stuff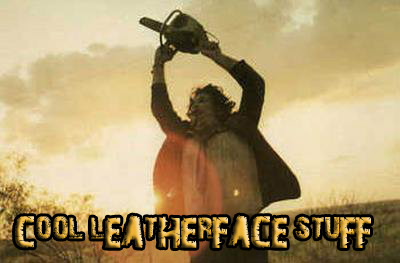 I've never understood the cult appeal to Leatherface. He's a deformed, retarded idiot who kills people because he doesn't know better. Since when is that cool? And he's based on Ed Gein, the killer who dressed like a woman and inspired Norman Bates and Buffalo Bill of Silence of the Lambs.
But he's been immortalized as an action figure and statue several times over. Here are some of those items available. But first, let's refresh our memory of what exactly happened in Texas.
Statues,
Dioramas
and Action Figures
Leatherface 12 inch Figure

Leatherface Cult Classics Series 2

Cinema of Fear 2 Leatherface Figure Night Variant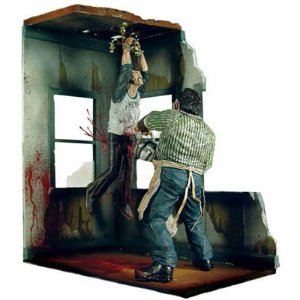 Texas Chainsaw Massacre: The Beginning Action Figure

Movie Maniacs Series 7 > Leatherface Action Figure

Cult Classics Hall of Fame Series 2 Leatherface the Beginning
For the Wall
Texas Chainsaw Massacre Leatherface Wallbreaker

Even More Retarded Leatherfaces
Mezco Toyz Cinema of Fear Deluxe Plush Series 2 Leatherface

Mezco Toyz Cinema of Fear 9 Inch Stylized Leatherface

Leatherface Busts
Gentle Giant Texas Chainsaw Massacre Leatherface Bust
Dress Like Leatherface
Texas Chainsaw Massacre Leatherface 27

Texas Chainsaw Massacre Buffet Platter

Texas Chainsaw Massacre Child's Leatherface Costume, Large

Texas Chainsaw Massacre – Miss Leatherface Adult Costume