How LeBron Becomes the Greatest
As we enter the NBA season, the inevitable comparison and debate will start between Michael Jordan and LeBron James, again. A few years ago in the bad teacher movie starring Cameron Diaz, the argument was successfully made that the argument should not even start until James won a title. The subject turned to championships. The kid asked "Is that all you got?" The response was "That's all I NEED." LeBron now has two titles and a nice little decade to call his own. How can LeBron challenge and overcome Michael Jordan? Here is a road-map in which the argument might be a little bit more palatable.
1) Challenge the Mythology
Everyone has heard the story by now. Jordan was initially told that he was not 'good enough' to be a starter at Emsley A. Laney High School in Wilmington, North Carolina. As a sophomore, Jordan was disgraced by being sent to the junior varsity squad. Fueled by this snub, Jordan made the varsity team and then became a star of the highest order. They forget to mention that Jordan was also a star football and baseball player at the time. They also forget to mention that there was only one sophomore that made the varsity team. Jordan was not originally on the varsity team because he was 5'11.
On the junior varsity team, Jordan scored in several games over 40 points. Jordan grew about four inches over the summer. Two years later he was at the University of North Carolina at Chapel Hill. Jordan was put on the junior varsity team to get a chance to shine. Someone who can score 40 points in any game would indicate that they can play. His coaches were not stupid. They simply put him in a position to be in the best opportunity to succeed.
It is like the legend of Albert Einstein failing math. It is better to say that it is you against the world than the coaches were really maximizing each player. To say otherwise is the same as Drake saying he is a self-made man when he was actually a child actor with an agent. LeBron was anointed as the 'chosen one' from a young age and lived up to it. LeBron should work (as hard as it may be) to set the record straight on Jordan's high school experience.
2) Complete The First Three-Peat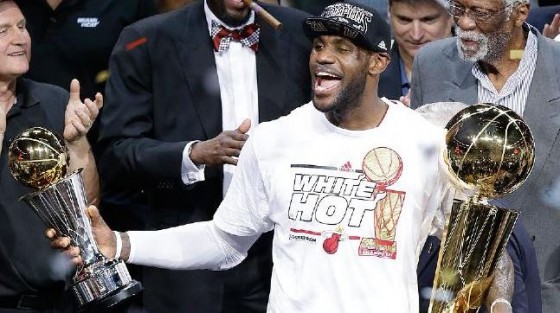 This one may sound like a no-brainer, but it is essential. James has to complete his first three-peat with a win for the Miami Heat in 2014. Jordan won two different three-peats for six titles total. James is currently four titles short, but the important thing is that the titles are in a row. We have some theories on what James should do after the season, but James needs a third title in a row. In the '90s, Jordan won his first three titles in '91, '92. and '93. James' title would come in '12, '13, and '14. This of course brings up an interesting point which James can fully exploit as far as his legacy is concerned.
3) Don't Quit
It may sound a bit cruel, but it is important that LeBron James not lose his heart for the game. After all, Michael Jordan retired… twice. The first retirement came after the first three-peat. The second retirement came after the second three-peat. If LeBron has a continuous career, then he might not point out Jordan's multiple retirements but others will when arguing James' legacy. After all, the lingering question would be 'How can you really be the greatest of all time if you were able to leave basketball… twice ?'
4) Go Back to Cleveland
The Decision 2 should be as calculated as the original Decision. Going back to Cleveland would accomplish several things for James. First of all, it would be a feel good story of the prodigal son coming home. If you want people to argue that you are the best of all time, it might be good to have back your entire original fan base.
Second, Cleveland will be the better as well as younger team with James. The Heat were shaky as a playoff team before James came down there. The sad fact, and one that Dwyane Wade does not really want to admit, is that the Heat are starting to age. Wade is also only the player that he once was.. when healthy. The 'when healthy' thing is a very important distinction. Chris Bosh's contribution can be made up in other areas.
The Miami Heat do have one good run left in them, but it can be argued that they only have one good run left in them. The Cavs have two recent number one picks that they are sitting on. Regardless of what happens with Andrew Bynum this season, going back to the Cavaliers is not only the right decision for public relations but also for basketball reasons.
5) Win a Three-Peat with Cleveland
At the end of Michael Jordan's career, he could not even lift the Washington Wizards to the level of a playoff team, much less win titles with them. The argument that James supporters would be forever able to make is that James not only one six titles but did it with two different teams. Remember, Jordan rose to fame but never actually won any titles in the 1980s. If James goes back to Cleveland and wins three straight titles before the end of this decade without quitting once, then you would have an argument which could rage for all time on who was really actually better. The way is set before James now. The good news is that he is almost 40 percent of the way there.