LeBron James : The Best Ever?
When Michael Jordan retired in 2003, he closed the book on a decade, the '90s, that gave us some of the most legendary players in NBA history. From Hakeem Olajuwon to John Stockton, the NBA saw an influx of future Hall of Fame players who would change the way the game was played and bring in an entirely new fan base.
Then came LeBron James, the NBA's newest 3-time NBA Champion. The 2003-04 season was the rookie season for the future star of the league. It might have been the real reason Michael Jordan hung up his shorts, out of respect for the game. Or maybe he just did not want to be compared to a kid when he was about to be 40 years old.
It did not seem to distract LeBron James as he averaged 20.9 points, 5.9 assists, 5.5 rebounds, and 1.6 steals on his way to the Rookie of the Year award. He also helped lead the Cleveland Cavaliers to a 35-47 record and 9th place finish in the Eastern Conference. It does not sound that amazing but when you see that it had been 6 seasons since they won more games and were coming off a 17 win season the previous year, it lays the foundation for a future of one of the NBA's best players ever.
But is he? What is the measure of success that determines who is the greatest player in NBA history? Let's take a look at some arguments that he is the best player of all time, regardless of how many titles he has won.
The High School Years
At the age of 15, LeBron James led the Varsity team at St.Vincent-St.Mary's High School to their second state title in the school's history dating back to 1972 when the two schools merged into one. How many 15 year olds do you know? Do you honestly think they could run a Varsity basketball team and drop 29 points in the State Championship game?
He followed his amazing Freshman season with an even better Sophomore campaign where he led them to another title while watching his averages jump a considerable amount. By this time, every fan of basketball had heard about this kid from Akron, Ohio who was quickly becoming the greatest high school player in America, possibly ever.
Over his entire four-year high school career, LeBron James brought the Fightin' Irish to four consecutive State Championship games, winning three of them. He was also named Ohio's Mr.Basketball by two publications, OHSBCA and AP, for three straight years, a state record.
Awards & Achievements
2003 National Champion
3x State Champion
3x Ohio Mr.Basketball
3x USA Today All-USA 1st Team
2x Gatorade National Player of the Year
2x USA Today High School Player of the Year
2x PARADE High School Player of the Year
2x 1st Team PARADE All-American
Naismith Prep Player of the Year
McDonald's National Player of the Year
McDonald's High School All-American
1999-03: High School Stats

Total Points : 2,657
Total Rebounds : 892
Total Assists : 523
The NBA Years
The 2003-04 NBA draft proved to be one of the best drafts in NBA history thanks to the incredible number of future all-stars that came from that year including players like Carmelo Anthony, Dwyane Wade, Chris Bosh, David West, and LeBron James. After his amazing high school career, it was only fitting that James would be drafted by the team he grew up watching on TV, his hometown Cavaliers, just minutes down the road from Akron, OH.
2003-10: Cleveland Cavaliers, The First Run
LeBron James easily won the Rookie of the Year award becoming the first Cleveland Cavalier to win the award by finishing with an average of 20.9 points, 5.5 rebounds, 5.9 assists per game. He earned respect from day one when he dropped 25 points in his first NBA game. He added 9 assists, 6 rebounds, and 4 steals too. It was a wake up call to the NBA that he had arrived.
He holds the record for being the youngest player in NBA history to achieve multiple awards including becoming the youngest player ever to be drafted #1 overall (18) and win the Rookie of the Year award (19). In just seven seasons with Cleveland, LeBron James brought them to new heights that they had never seen before he showed up. The Cavs had previously come close to the NBA Finals twice, losing in the Eastern Conference Finals both times. (1976, 1992)
But in 2006-07, LeBron James led the Cavaliers to their first ever NBA Finals, too bad it was against the ageless San Antonio Spurs. He was just not ready then and it showed. He was 22 years old and was leading a roster of players that would not have been able to get there without him. The pressure was too much and he tried to do too much leading to one of the worst shooting performances in postseason history by a star.
During his first run in Cleveland, he ended up leading them to some sick numbers for a perennial loser of a franchise in the NBA:
Six straight winning seasons
4 seasons of 50+ wins
2 seasons of 60+ wins
349 Wins (.608 pct)
1st NBA Finals Appearance in Franchise History
2 East Conference Finals
5 Straight East Conference Semifinals
2010-14: South Beach Titles, Miami Heat
It wasn't until he took his talents to South Beach, that LeBron James was able to reach the pinnacle of his career. With his pals, Dwyane Wade and Chris Bosh, by his side, LeBron James helped the city become a destination for entertaining NBA basketball. He spent only four seasons in Miami but he ended up appearing in the Finals each year, winning back to back titles in 2012 and 2013. It was finally time for him to celebrate and start planning his next move.
Statistical Averages in Miami
294 Games Started
26.9 points, 7.6 rebounds, 6.7 assists, 1.7 steals
54.3% FG, 36.9% 3-pt, 75.8% FT
4 Consecutive NBA Finals
2 NBA Titles
2 NBA MVP Awards
2 NBA Finals MVP Awards
2014 – 2018: Returning Home
In only his second season after returning to Cleveland, Lebron James brought the city its first ever NBA title in one of the most dramatic Finals in NBA history. After trailing 3-1 to the defending champion Golden State Warriors, all hope was starting to fade and the fans began to grumble. However, following back to back 40 point performances, the Cavs tied the series at 3 games apiece.
Then, after a slow start, the Cavs ended up winning and LeBron claimed his third title during his six straight NBA Finals appearances. The dramatic fashion in which he did it made the victory even sweeter for a team that was in desperate need of one. He also finished the NBA Finals with the most points, rebounds, assists, steals, and blocks from either team, a feat that has never been done in the league before.
By the age of 31, he had one more MVP award and 3 more NBA Finals appearances than MJ did at the same age.
So maybe it isn't fair to compare a man who has several more years left before he retires to all the other players who have long since retired. Not yet at least, but he's certainly trending in the direction of being the best player in the history of the game.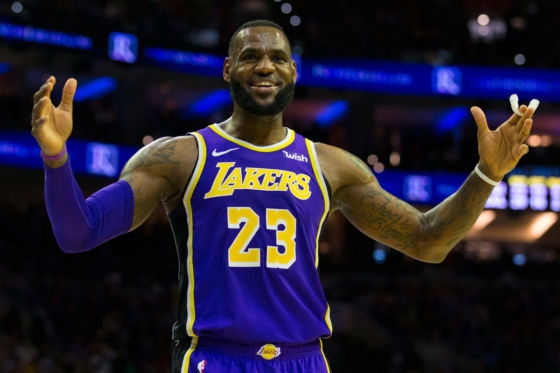 2018 – Present: The Final Chapter?
Despite winning a Championship in Cleveland, Lebron failed to deliver victory in 3 of 4 years against the Golden State Warriors in the Finals. So when his contract was up, he packed his bags and headed out to Los Angeles to play for the Lakers. He has a four-year deal, which could potentially be the last of his career. While his tenure in Los Angeles hasn't begun well with the Lakers likely to miss the playoffs, Lebron James did reach an important milestone tonight when he passed Micheal Jordan in career points. Is that what it will take to finally be seen as the greatest, or will he need to win more Championships?