Les Grossman Gives Robert Pattinson Styling Tips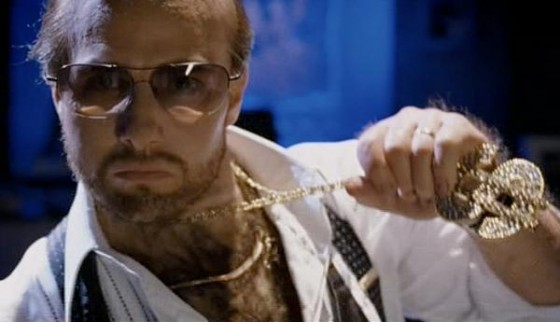 Tom Cruise is a lot of things: A-list movie star, box office champ, loving husband and father, nutjob Scientologist. He's also pretty damn funny when he wants to be. Look no further than his foul-mouthed turn as the hirsute Hollywood exec Les Grossman in Tropic Thunder. In my mind, he was the best thing in the movie.
Well, MTV recognizes talent when they see it, or at least they used to back when they actually aired music videos. But that's another story for another day. Point is MTV was smart enough to get Cruise to revisit his famous character to help promote its annual Movie Awards telecast, which airs Sunday night at 9pm.
I had no idea the MTV Movie Awards still existed, but word on the street is they do. I wonder if they ever found a decent substitute for the ridiculous golden tub of popcorn statue? At any rate, TC donned his bald cap and bling and had some fun with everyone's favorite shiny vampire Robert Pattinson for a recent promo:
Ah yes, the ladies love the greasy, I Don't Give A Shit look when it comes to hair. At least adorable little pothead Kristen Stewart does.
To summarize, Les Grossman rules and Robert Pattinson is dreamy. And don't forget to watch the Movie Awards this Sunday night. I know I will.