Lexus LF-CC Concept Car
Who doesn't love an amazing new concept car? Well the good folks at Lexus have just unveiled their latest and greatest, and just like every other concept car we've ever seen, we want one now. Above is the Lexus LF-CC, a mid-sized coupe concept, which will make its World Premiere at the 2012 Paris Motor Show later this month. This is the follow-up to the award-winning hybrid 2+2 sports coupe concept, the LF-LC which was unveiled in Detroit, pictured below :
Yeah, we'll take one of each, please. Here is what this sexy LF-CC looks like on the inside, where it steals our heart with that orange interior :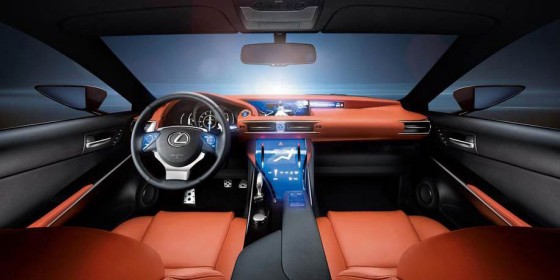 The aerodynamically sculpted body demonstrates the evolution of Lexus' design language and bold spindle grille, while the LF-CC's interior hints at the progressive luxury of a future Lexus model cabin layout. The LF-CC is also equipped with an all-new, highly efficient, full hybrid powertrain that will be introduced into the Lexus model range in the near future. The launch of this concept car reinforces Lexus' commitment to create more engaging, inspirational vehicles through attractive design, a superior driving experience and advanced technologies. It also announces the future market launch of a mid-size Lexus coupe.
Check out the video below and a full article at Motor Trend, for a more complete look at this awesome new concept car from Lexus :