Lightsaber Candlestick Holders and Other Star Wars Gifts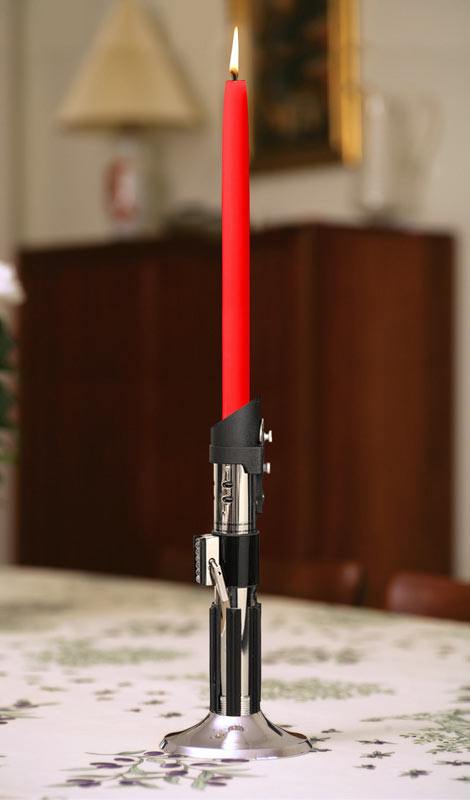 Gunaxin has already shown you some awesome Christmas-themed Star Wars material, because nothing says Noel like things from a galaxy far, far away. Here we've got more Star Wars-licensed items, out just in time for the holidays from ThinkGeek.
What I like about this is that it has practical use on the dining room table. You know, for Star Wars-themed formal dinners. It comes with a lightsaber handle, a detachable base, and three candles (which are standard size, so you won't have any problem finding extras). It comes in a very nice box. One bit of advice: Get two of these. It just won't look right as a single on the table. And you'll need red vs. green, obviously.
I'd like to meet the guy who had the idea to put themes on fold-up armchairs because it's a brilliant marketing idea. People might not even buy them for practical use – they fall in love with the design then plunk down money for them. So of course there is now a Star Wars folding armchair, and R2-D2 is a logical choice for this. I suppose they could also make one in the shape of Darth Vader's helmet. (ThinkGeek also had the brilliant idea of putting Slave Leia in the above photo).
I've gotta admit that I didn't entirely understand this one when I first saw it, but even ThinkGeek admits that the embroidered symbols are something that only worshipers of the church of Boba Fett will notice. Regardless of the symbols, it's still a nice midweight track jacket, and certain to be a conversation piece when someone gets the reference (hopefully the Slave Leia in the R2-D2 chair).
Also out there (usually sold out) is the much more familiar-looking Bobba Fett hoodie. It's obviously less subtle than the track jacket above but likely won't make as many appearances out of the closet, except on those special Star Wars occasions.
Many of these items that you'd want to buy for yourself, but a large piece of chocolate in the form of Han Solo in carbonite is best given to someone on the holidays, or enjoyed for desert at a table with lightsaber candles.
Then I saw the Han Solo in Carbonite Ice Cube Tray, which not only makes ice cubes in this form, but also… chocolate and Jello!
Here's something else that makes for a great gift to a Star Wars fan/hot drink person, though I'd recommend a much large bag of the Dark Side roast for coffee drinkers. This set here comes in three small canisters which you'd want to keep around long after you've enjoyed these beverages.
Get these items, plus far more Star Wars-themed items, from ThinkGeek.com.