Lingerie Football League Player Kicked Off Survivor: South Pacific
Mikayla Wingle, 22, was the latest person sent home from the CBS reality show Survivor: South Pacific on Wednesday night.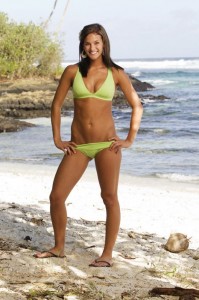 The Playboy model and former player on Tampa Breeze of the Lingerie Football League was sent to Redemption Island last week after her team voted her off in Tribal Council. Her time on the show was controversial to say the least. Since day one, Mikayla was disliked by another teammate Brandon Hantz who said  that he "didn't trust her" because he was tempted by her sexiness. We do think she's quite sexy, check out her pics from a previous time we were lucky enough to talk to Mikayla. The rest of her team actually did have a reason to feel threatened by her. The self-proclaimed "tomboy" was proving to be a true competitor, dominating the physical challenges and pulling her weight around the camp. As we've seen before, in reality television, those are the types that quickly have a target on their back. The "leader" (self-imposed) of their team, Benjamin "Coach" Wade, who is a return competitor on the show and notorious for being a total dick, butted heads with Mikayla during a challenge and that's what ultimately sealed her fate.
Returning from her time on Redemption Island, during which she tells us she got extremely sick (food poisoning while stranded on an island with no facilities…good times!) Mikayla was faced with a puzzle challenge which she lost to Christine Markoski, the very first person exiled from her tribe.
Upon her exit from the show, Mikayla said "It makes me realize how much stronger I want to be and how much better,"
She certainly is that. Having returned from the South Pacific (the show was filmed in early summer) Mikayla has been going non stop on her quest for self-improvement. She says, "This experience has focused me so much and given me time to think about what I am doing with my life and where I would like to see myself in 5, 10 even 15 years from now. Just an amazing experience." She has returned to school where she's studying psychology and marketing and has picked right back up on her modeling career with a calendar coming out next month. She even has her own Android app where she shares exclusive modeling photos and her favorite recipes.
Check her out on Facebook and follow her on Twitter where she's always bantering with the other Survivor contestants and ladies of the LFL.