A Look At The AFC Division Favorites
It's never too early to talk pro pigskin at Gunaxin, and since NFL training camps open in three weeks, now seems the right time to start previewing the upcoming season, starting with a look at the AFC Division favorites.
Broncos GM and President of Football Operations John Elway, and team owner Pat Bowlen, proved to the world they were willing to do just about anything to land Peyton Manning in Denver. From planning Manning's post-football career, to offering up their wives, their message was crystal clear — we hate Tim Tebow. Not as a person, just as a quarterback.
Along with unmatchable leadership, Manning brings nearly 55,000 career passing yards and 400 passing TDs, numbers Tebow wouldn't match unless he plays until the year 2657. Now I'm not sure I would have "fire-saled" Tebow so quickly, especially for only a 5th-round draft pick the way Broncos brass did. Considering Tebow has Jesus looking over him, I'd be more careful the way I treated him. To just dump an NFL icon with such high moral fortitude and tremendous work ethic, in a league where rape lands you a four-game suspension, should be considered blasphemy. If there is such thing as karma, Elway is going to get swallowed up in an avalanche.
It makes sense why they did it, just not how they did it. Manning is an obvious upgrade at the position, but more importantly, look at the Broncos chances of winning the AFC West.
AFC West:
Winning this division should be a cinch. But for some bizarre unknown reason, the Chargers are always considered the favorites coming out the gates by sports analysts. Then explain to me why if you google search either Norv Turner or A.J. Smith, you only get to NOR before google already knows you're searching "fire Norv Turner", or "fire A.J. Smith." In San Diego, fire has become practically synonymous with their names.
I happen to live in San Diego, so I get the weekly (dis)pleasure of seeing the Chargers play (when the games aren't blacked out because fans are abandoning ship faster than on the Titanic), and I can personally guarantee that as long as A.J., the lord of no rings, and scrotum neck Turner are calling the shots, the Padres will have a better shot at winning the World Series than the Chargers do winning the Superbowl (which is no shot at all for you non-baseball fans).
A.J. Smith's brash management style is a proven recipe for failure. Drew Brees, Michael Turner, Vincent Jackson, Marty Schottenheimer, LaDanian Tomlinson, Rodney Harrison, Antonio Cromartie, Shawne Merriman… need I say more?
What's difficult to believe is that the rest of the AFC West is even more pathetic than the Chargers. The Raiders? Enough said. The Chiefs? Well, they did win the division in 2010, so as long as they can stay healthy I suppose anything is possible. Which brings me back to Denver. If Peyton can stay healthy, even playing at 50%, it's tough not to consider the Broncos the AFC West favorites.
AFC North:
This is the best division in the AFC. I'm not even going to discuss the Bengals or Browns in this piece for obvious reasons. That brings me to…
The Pittsburgh Steelers
Big Ben plunders and rapes his way through Pennsylvania like Atilla the Hun marching through the Balkans. While he should be working out with teammates and participating in OTA's, Roethlisberger is busy crashing motorcycles, drowning himself in alcohol, and getting fatter. Fortunately for him, his natural talent and ability, combined with his size and strength, makes him a freak of nature who doesn't need to try very hard. As a two-time Superbowl winner with celebrity status, he's apparently above the law and earned a free pass in life.
You don't need a forensics detective to recognize Roethlisberger's off-season wake of destruction
I will say this, his ability to evade tackles and make something out of nothing is unrivaled by any other QB. Ben routinely escapes the pocket, flicking the ball 60 yards down field, making a highlight-reel play, all while having two 300-pound defensive lineman dangling from his waist. Could you imagine how good he could be if he actually tried?
Combine Ben's talent with Mike Tomlin's coaching and the perpetually stingy Steel-D, and the Steelers are always going to be the favorites in the AFC North.
Baltimore Ravens
The Ravens have been consistent winners for over a decade and have some nice young talent to help keep this tradition going. The division is no longer only Pittsburgh's to lose. The Ravens are legitimate contenders for the AFC North crown.
I'll be a Ray Lewis fan until the day he dies (which might be the day he retires). If first-round draft pick Courtney Upshaw is legit, and they get Ray Rice signed long-term, their future will remain bright.
I'm also a huge fan of Anquan Boldin, not only because he's a great player, but also because he looks EXACTLY like the character Avon Barksdale, from the HBO series The Wire, which happens to be my favorite show of all time.
Then there's Joe Flacco, aka, Joe Cool. There are flashes of brilliance and moments where Facco seems like the quarterback to lead the Ravens back to the promised land. And then there are other moments — terrible interceptions followed by that dumbfounded look on his face where his hideous unibrow points downward and he stares pensively at the grass. I'm not quite sure what to make of him yet. He closely resembles one of the McPoyles from It's Always Sunny in Philadelphia, which is not a good thing.
AFC East:
The New England Patriots
If I heard Tom Brady used horse semen as face moisturizer, and that was the secret to his good looks, I'd run, not walk, but run to the nearest stable and start cranking on the meat-pipes of every thoroughbred I could wrap my hands around, double-fisting of course.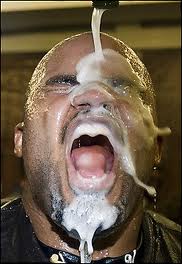 Mr. Perfect is not only the guy in high school who deflowered your prom date, dumping her before his pants were zipped back up, he's also widely considered one of the NFL's all-time greats. To make matters worse, he's probably also shattered your favorite team's playoff dreams on more than one occasion.
We all went to high school with a guy just like this. You and your pimply, gangly, teenage-akward World of Warcraft-playing friends had almost convinced yourself you were cool until this chiseled jock swaggered along. It took three months to work up the courage to ask your date to prom, followed by another two weeks of painfully anticipating her answer while she waited for someone better to come along, before reluctantly accepting.
With the opportunity of a lifetime now ahead, you had to ensure the mood would be just right on that special night she's certain to forget. You spent your last $100 on enough booze, pot and rufilin to actually make yourself look decent enough to have sex with, hoping to defy the odds and get lucky enough to not graduate a virgin.
Do I look handsome yet?
Then this pretty boy comes out of nowhere and with one glance, swoops her into the back of his '67 Camaro, ruining everything. My ride might not be as cool as yours but everything was going to be perfect. I had the ideal secluded spot, and the He-Man sleeping bag all rolled out for this momentous occasion. Damn you Brady!
The problem with the Patriots falls entirely on the defensive side of the ball. In 2011, they ranked dead-last in nearly every important defensive category. For the last few years, the "genius" Belichick has missed on a few too many players in free-agency as well as in the draft. His strategy of trading down in the draft to accumulate picks, then bringing in undervalued, aging players in free-agency has left the Pats defense old, slow and with glaring holes to fill. There is a reason the other 31 teams keep their picks in the first round — it's called TALENT. With that being said, the offense is deadly and the Patriots remain perennial AFC Conference favorites.
New York Jets
For the record, this is a team I absolutely do NOT consider contenders. But for the sake of those misguided, disillusioned fans, I'll make a few predictions about the Jets 2012 campaign.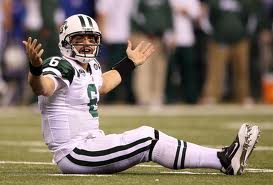 Predictions:
-The over/under for TDs/Interceptions thrown by New York Jet QBs is going to be 12/25.
-By week 4 Tim Tebow will be starting at QB.
-By week 8 Greg McElroy will be starting at QB.
-Even when sitting at 5-8 with a month to go in the season, Rex Ryan will be predicting a championship.
-Rex Ryan will hit 400 lbs., plugging himself in at nose tackle to back up Sione Pouha.
-By the end of the 2012 season, Santonio Holmes will be considered too controversial and too dysfunctional, even for the Jets. By the 2013 season, he will be wearing silver and black.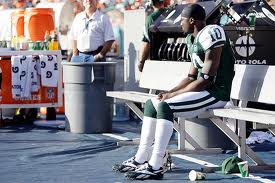 AFC South:
Who cares about the AFC South now that Manning is gone? Not me. I'm not going to waste my time giving myself carpal tunnel writing about the Jags, Colts or Titans. The Texans made the playoffs for the first time in franchise history — whoopdie-doo! Call me when Matt Schaub makes it through a full season.