A Loser's Guide to the 2011 AFC
With the NFL season upon us, each fan base believes that this is going to be their year. Listening to local and national sportswriters it almost seems like every team will have a winning record, ESPN broadcaster Colin Cowherd even predicted that NFL teams will have a winning record (268-244) against themselves. While it's good to be positive there is one essential point to remember:
For all but one team this season will end in disappointment, and the odds are good that it won't be your team.
That's right, the odds are overwhelming that your favorite team will be a loser. With that in mind we hereby present:
THE LOSER'S GUIDE TO THE 2011 NFL SEASON (Part II)
(all teams listed by division in alphabetical order)
AFC EAST
Buffalo Bills
Biggest Weakness: Offensive Line
If the heart of any team is the line then the Bills are in need of life support. The middle of the line is anchored by former top pick Eric Wood, who has been average at best his first two seasons. The tackles are manned by former Broncos cast off Kraig Urbik on the right and former 7th round pick Demetrius Bell on the left. Bell has struggled in pass protection, and last year the Bills ran behind their tackles less than any team in the last four years. Even more frustrating to Bills fans has to be their failure to address this weakness during the past offseason.
Worst Case Scenario: The Bills possess the AFC's longest streak of years finishing outside of the playoffs, having not played in the postseason since 1999. Last year they finished 4-12 after starting the season without a win in the first eight games. This year quarterback Ryan Fitzpatrick gets the team their first win sooner, with a win against the Redskins in game seven in Toronto. Unfortunately the Bills inability to run the ball or stop the run consistently leaves that as their only win, and the home fans don't get to see a single win. There is good news, as owner Ralph Wilson's refusal to play in a stadium not named after himself keeps the Bills from moving to Los Angeles.
Worst Case Record: 1-15
Miami Dolphins
Biggest Weakness: Offensive Playmakers
Outside of reliable, if troubled WR Brandon Marshall the Dolphins are counting on a collection of highly drafted disappointments to make plays on offense. This failure is a direct result of poor drafting over the last few years. From 2006 to 2010 the Dobbins have drafted the following skill position players in the first three rounds: WR Derek Hagan (2006 3rd round), WR Ted Ginn Jr. (2007 1st round), QB John Beck (2007 2nd round), RB Lorenzo Booker (2007 3rd round), QB Chad Henne (2008 2nd round), QB Pat White (2009 1st round) and WR Patrick Turner (2009 3rd round). Of them only Henne is currently a starter in the league and that is by default. The offseason addition of draft bust Reggie Bush from the Saints will do little to improve the offense if he again fails to stay upright
Worst Case Scenario: Following back to back blowout losses at home to New England and Houston the fans start calling for Henne to be benched. Matt Moore does little better, leaving coach Tony Sparano to rely on Bush and 2011 draft pick Daniel Thomas to carry the offense. Bush proves he is unable to handle the workload, winding up on injured reserve by week seven. The Dolphins struggle to score all season, wasting a solid effort by a good young offensive line. The good news for fans is they can still watch the Heat in November and December… assuming we still have basketball.
Worst Case Record: 2-14
New England Patriots
Biggest Weakness: Team Depth
It's hard to identify a single glaring weakness on what has been one of the leagues most successful squads over the last decade. After the defensive line struggled in the playoffs against the Jets last year the Patriots went out and signed Andre Carter, Shaun Ellis and Mark Anderson, and traded for Redskins malcontent Albert Haynesworth. If they play up to expectations the unit should go from one of the leagues worst to one of the best. With that taken care of the biggest remaining problem New England faces is the lack of depth behind their veteran starters. Safeties Brandon Merriweather and James Sanders were both waived, along with return specialist Brandon Tate. Perennially dinged up QB Tom Brady is backed up by a pair of passers with a combined 42 pass attempts. Their top three WRs are all over 30 and there is no young prospect waiting in the wings. The Patriots may be one of the most talented teams in the league, but they are ill-equipped to survive injuries outside of the running back position.
Worst Case Scenario: The Patriots have already experienced it in 2008, when Brady was knocked out for the season after throwing one pass. This year he last until week four, when former teammate Richard Seymour rolls up on his ankle in the second quarter. With Brady out for the year the Patriots turn to rookie QB Ryan Mallet, hoping he does his best Matt Cassel impersonation. He doesn't.
Worst Case Record: 7-9
New York Jets
Biggest Weakness: Safety
Jim Leonhard is a tackler at strong safety, but he struggles in pass coverage and can't keep up with most slot receivers. Eric Smith is ideally suited as a special teamer and backup, but is currently expected to start at Free Safety. Dwight Lowery was expected to convert from corner to provide depth, but he was dealt to Miami last week and none of the remaining players on the roster are expected to provide much in the way of depth. Corner Darrelle Revis can cover for a lot of deficiencies in pass coverage, but expect this team to give up a lot of big plays over the middle.
Worst Case Scenario: Head coach Rex Ryan has made himself a target of ridicule by being outspoken and bold, but is popular with fans and his players. There is a downside to that brashness, as it only works well when a team is winning. If third year QB Mark Sanchez fails to improve his accuracy over his first two seasons the Jets will find themselves trailing often, and with road trips to Oakland, Baltimore and New England in consecutive weeks Ryan may well find himself in an unfamiliar position of coaching a losing team. If that happens you can expect his act to wear thin very quickly, as the finger-pointing starts. None of last year's playoff teams have the same potential for implosion as the Jets.
Worst Case Record: 4-12
AFC NORTH
Baltimore Ravens
Biggest Weakness: Offensive Line
Baltimore has invested heavily in their line in recent years, using two 1st round and three 3rd round picks on the line in the last five seasons, along with bringing in high-priced free agent Matt Birk at center. While Ben Grubbs has excelled at left guard top pick Michael Oher has been unable to live up to his hype covering QB Joe Flacco's blind side. That position is expected to be filled by former Viking Bryant McKinnie, a recent addition after Minnesota released him for being overweight. Converted tackle Marshal Yanda will start at the other guard spot and another September picked, Andre Gurode, will back up the creaky kneed Birk.
Worst Case Scenario: The line fails to gel before a week one home game against arch rival Pittsburgh. Joe Flacco spends the game running for his life from an impressive Steelers pass rush. With former backup QB Marc Bulger retired, the Ravens only reserve passer is rookie Tyrod Taylor, a lightly regarded pick out of Virginia Tech. With Taylor forced into the starting lineup for a handful of games the Ravens defense suddenly shows its age while trying to hold opposing offenses under ten points a game.
Worst Case Record: 6-10
Cleveland Browns
Biggest Weakness: Run Defense
Browns fans have a reason to look forward to the season for the first time since the return of football to Cleveland, thanks to promising young QB Colt McCoy and RB Peyton Hillis. That optimism is quickly diminished when you look at the other side of the ball, where the defense gave up nearly 130 yards a game on the ground last year. Don't expect that number to improve this year, as new coach Pat Shurmur moves the defense from playing in the 3-4 to a base 4-3. Even after investing their top two picks in defensive linemen the Browns still are going to have problems stopping the élite rushers, especially with two games each against Ray Rice and Rashard Mendenhall, along with matchups with Chris Johnson, Arian Foster and Darren McFadden.
Worst Case Scenario: The consensus pick to be this years biggest disappointment is Madden cover boy Hillis, an upright runner who came out of nowhere last year. If he struggles to perform up to last years standard opposing teams will be able to control the clock and focus on McCoy and the passing game. If that happens you can expect the Browns to lose a lot games, as the young QB tries to force the ball into coverage.
Worst Case Record: 4-12
Cincinnati Bengals
Biggest Weakness: Owner Mike Brown
Carson Palmer is a former Pro Bowl QB for the Bengals, but refuses to report to the team after spending his career with a losing franchise who refuses to invest in improving. Rather then trade him for young players or future picks Brown has forced Palmer to follow through on his threat to retire. Brown is universally considered one of the worst owners in sports, along with the Orioles' Peter Angelos and the Clippers' Donald Sterling, and this is another example. His unwillingness to spend money on things like scouting and medical facilities have made the Bengals a perennial loser.
Worst Case Scenario: Ownership aside, the team is starting a rookie quarterback with no established receivers and a porous defense. The best case scenario is that they survive a horrific season relatively healthy, with 1st round pick WR AJ Green and 2nd round pick QB Andy Dalton building some chemistry. Knowing the Bengals at least one of them will wind up hurt by week seven.
Worst Case Record: 0-16
Pittsburgh Steelers
Biggest Weakness: Cornerbacks
The Steelers were the 2010 AFC Champs and fully expect to repeat, if you hear them talk about it. That might not be an easy task, as they failed to address last years biggest weakness, an inability to keep up with fast receivers. Veteran starters Ike Taylor and Bryant McFadden return along with nickel CB William Gay, and none are expected to have improved in the offseason. Rookies Chad Brown and Cortez Allen will be relied on if this unit is going to improve.
Worst Case Scenario: The Steelers have a history of drawing the ire of Commissioner Roger Goodell, both on and off the field. While he doesn't have the ability to enforce an SMU style death penalty, he decides to suspend star OLB James Harrison four games for a blow to the head of the Ravens Joe Flacco in their week one matchup. Missing the heart of their front seven, and with Troy Polamalu suffering from his usual assortment of injuries the Steelers find themselves in a series of shootouts.
Worst Case Record: 8-8
AFC SOUTH
Houston Texans
Biggest Weakness: Pass Coverage
In 2010 the Texans were the worst team in the league against the pass, giving up 281.2 yard a game, and 33 touchdowns. While they added Johnathan Joseph from the Bengals at CB and Danieal Manning from the Bears at SS they still will be counting on a collection of young players to stop opposing passers. The biggest improvement in their pass defense this season may come from the downgrade at QB elsewhere in the AFC South.
Worst Case Scenario: Kerry Collins comes into Houston, a team he has beaten before, and leads the Colts to a week one upset. Arian Foster is gimpy all season thanks to the anti-awesome in his knee, and is eventually shut down with the team only 3-7 at their bye week. Coach Gary Kubiak is already on the hot seat, and fails to survive through the end of the season as the Texans fail to take advantage of a wide open division.
Worst Case Record: 6-10
Indianapolis Colts
Biggest Weakness: Peyton Manning's Neck
This is probably the easiest weakness to pinpoint in the league. Manning has yet to miss a start in his 13 seasons, and the Colts have made the playoffs in the last nine of those years. If he misses a significant chunk of the season following surgery the Colts will be forced to rely on the nearly retired Kerry Collins under center. The running game, led by has been Joseph Addai and never was Donald Brown, will be unable to make up for Manning's absence.
Worst Case Scenario: The team loses early and often with Collins giving way to backup Curtis Painter. With a first place schedule that includes the NFC South the Colts decide not to rush Manning back, instead putting him on season ending IR. Without him the Colts play their way into the top five of the draft by playing youngsters like draft pick Delone Carter.
Worst Case Record: 4-12
Jacksonville Jaguars
Biggest Weakness: Quarterback
Three days ago the Jags were going into the season with unspectacular veteran David Garrard throwing to emerging WR Mike Williams and reliable TE Marcedes Lewis. Then, apparently to save the more than eight million dollars he would have cost this season, coach Jack Del Rio cut Garrard and put his offense in the hands of journeyman signal caller Luke McCown. McCown is expected to give way to 10th overall pick Blaine Gabbert at some point during the season, dooming the Jaguars to struggle in Del Rio's final season on the sidelines.
Worst Case Scenario: Opposing defenses show no respect for the mediocre talent that Jacksonville will trot out under center, instead focusing on superstar RB Maurice Jones-Drew, who is coming back from offseason knee surgery. With top backup Rashad Jennings already out for the season the Jaguars will have to rely on unproven back Deji Karim to take a majority of the carries through the season. This won't end well.
Worst Case Record: 2-10
Tennessee Titans
Biggest Weakness: Outside Linebacker
The Titans were among the worst teams in the league against the pass last season, giving up nearly 270 yards a game. A big part of that was their inability to stop opposing tight ends, giving up a number of 100 yard receiving games. While 39th pick Akeem Ayers represents an improvement over the talent that was there before, it is exceedingly rare for a rookie LB to excel in pass coverage.
Worst Case Scenario: Even with Kenny Britt catching balls and Chris Johnson back from his holdout this offense is not built to score quickly. If free agent QB Matt Hasselbeck's back problems flare up again the team will go to rookie QB Jake Locker, who will have a hard time keeping defenses honest. Even the All Pro Johnson will have trouble running against eight or nine defenders in the box, especially as the Titans find themselves playing from behind against a number of the league's top passers. Coach Mike Munchak is going to have a hard go of it in his rookie campaign.
Worst Case Record: 4-12
AFC WEST
Denver Broncos
Biggest Weakness: Front Seven
While the offseason attention in Denver has been on Kyle Orton and Tim Tebow, their biggest problem last year was stopping the run. Denver gave up an average of 154.6 yard per game on the ground, along with a league worst 26 rushing touchdowns. This is mainly a byproduct of neglecting the defensive line in the draft, as Denver hasn't taken a front four player earlier then the 5th round since 2007. While they finally added some young talent this year in the draft it will take players like Von Miller a few years to be up to stopping some of the elite rushers in the AFC.
Worst Case Scenario: Call it former coach's John McDaniels' parting gift, but the Tebow controversy will linger over this team all season. Kyle Orton has never dealt well with pressure, and eventually Tebow will be given a chance to prove himself as a passer. Tebow will prove something, mainly that last year was a fluke and he is not talented enough to be an NFL starter. Denver will benefit from this lesson in the long run.
Worst Case Record: 3-13
Kansas City Chiefs
Biggest Weakness: Receivers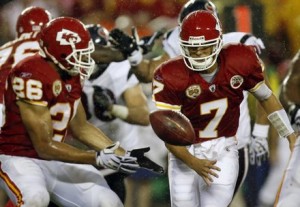 Kansas City was last year's surprise team, riding Matt Cassel's passing and a tandem of Jamaal Charles and Thomas Jones in the backfield to a surprise division title. That ride came to a screeching halt with a 30-7 drubbing at home to the Ravens in the first round of the playoffs, where the Chiefs were unable to produce any yardage through the air, ending up with only 70 passing yard. The Chiefs were expecting TE Tony Moeaki and 1st round pick WR Jonathan Baldwin to keep defenses from focusing on the running game and star WR Dwayne Bowe. Sadly, for Chiefs fans, Moeki is out for the year and Baldwin is starting the season with a broken thumb thanks to a preseason fight with Thomas Jones.
Worst Case Scenario: Teams take a lesson from the Ravens, allowing Bowe to work against single coverage while concentrating on run defense and the pass rush. Cassel is limited by his already broken rib, and Jones and Charles find it impossible to find holes in the defense. With a first place schedule there is little room for error this year for Kansas City, but those errors will be plentiful.
Worst Case Record: 5-11
Oakland Raiders
Biggest Weakness: Receivers
Darren McFadden and Michael Bush can be counted on to get their yard on the ground, but the same can't be said for the air game. While Jason Campbell has the potential to be league average as a passer, the Raiders top four receivers have a combined 135 career receptions. Draft bust Darrius Heyward-Bey remains the nominal starter for now, but only because no one better has emerged in the preseason. Last years one elite player, TE Zach Miller, now plays for Seattle, and the only major addition was late round pick WR Denarius Moore.
Worst Case Scenario: Besides of the constant threat of violence outside the stadium and zombie attack from owner Al Davis, the Raiders will suffer if Jason Campbell goes down. With Kyle Boller as his backup, Davis decides the future is now, ordering rookie head coach Hue Jackson to start recent acquisition Terrelle Pryor starting in week eight. This goes badly, both for the Raiders chances this season and the long-term development of Pryor. The good news, Oakland finds themselves in the position to draft Stanford's Andrew Luck, the bad new, Davis decides to pass on him due to poor 40 yard dash times.
Worst Case Record: 2-14
San Diego Chargers
Biggest Weakness: Norv Turner
The Chargers have been one of the most infuriating franchises to follow over the last four seasons, thanks in no small part to head coach Norv Turner. Slow starts every season force the Chargers to play catch up all season to make the playoffs, leading to early round loses to better rested teams. With a combination of Mike Tolbert and Ryan Matthews splitting carries, and Philip Rivers under center there is no excuse for San Diego to repeat the tradition, but inevitably it will happen, thanks to Turner's poor decision-making. Last year the Chargers were never able to recover from their poor start, losing the division to Kansas City.
Worst Case Scenario: Superstar TE Antonio Gates foot injury continues to bother him, limiting his effectiveness. This allows opposing linebackers to focus on the running game, and putting the game in the hands of QB Rivers. While he proves up to the task, a difficult early schedule including two east coast road trips leaves the Chargers again in the hole. Ownership decides that it has had enough, firing Turner before the end of October. The Chargers comeback again falls short of the playoffs.
Worst Cast Record: 7-9