A Loser's Guide to the 2011 NFC
With the NFL season upon us, each fan base believes that this is going to be their year. Listening to local and national sportswriters it almost seems like every team will have a winning record. ESPN broadcaster Colin Cowherd even predicted that NFL teams will have a winning record (268-244) against themselves. While it's good to be positive there is one essential point to remember:
For all but one team, this season will end in disappointment, and the odds are good that it won't be your team!
That's right, the odds are overwhelming that your favorite team will be a loser, and your Quarterback will end up crying like Tony Romo. With that in mind we hereby present The Loser's Guide to the 2011 NFL Season. All teams are listed by division in alphabetical order, starting with the NFC today, with the AFC to come soon.
NFC EAST
Dallas Cowboys
Biggest Weakness: Secondary
Dallas went into the 2011 off-season knowing that they needed to improve their defensive backfield. They aggressively, and unsuccessfully, went after free agent cornerback Nnamdi Asomugha, to upgrade what was one of the league's worst pass defenses. After passing on any of the elite corners in the draft, and waiting until the fourth round to take Buffalo's Josh Thomas, Dallas goes into 2011 with the same group of corners that gave up 33 passing TDs in 2010, the most in the league. The starters, Terence Newman and Mike Jenkins, both enter the season suffering from minor injuries and the only significant off-season addition to the defense was coordinator Rob Ryan, who led Cleveland's disappointing defense in 2010.
Worst Case Scenario: After letting Marion Barber go in free agency, the Cowboys are counting on undersized Felix Jones to be their workhorse out of the backfield. Running behind an inexperienced offensive line, Jones is unable to display his explosiveness before heading to the IR with a shoulder injury. His backup, third round pick DeMarco Murray, suffers a similar fate, allowing opposing defenses to key on Tony Romo and the passing game. Meanwhile OLB DeMarcus Ware again proves to be the only defensive player capable to rushing the opposing passer, leaving offenses plenty of time to pick apart the secondary. The offense is unable to keep up in what become high scoring shootouts.
Worst Case Record: 3-13
New York Giants
Biggest Weakness: Defensive Back
Much like Dallas, the Giants find themselves at the mercy of a group of unproven or average cornerbacks. Unlike the Cowboys though, the Giants were expecting this to be a strength, adding first round pick Prince Amukamara to a defense that allowed only 209.5 yards per game in 2010. But as the old saying goes about the best laid plans, New York has been bitten hard by the injury bug, losing emerging star Terrell Thomas and backups Bruce Johnson and Brian Witherspoon for the season and rookie Amukamara for the first part of the season.
Worst Case Scenario: The injuries just keep coming. The Giants have already lost MLB Jonathan Goff and second round pick DL Marvin Austin for the year. Osi Umenyiora, already injured and disgruntled is lost for the season week six, being unwilling to risk further injury for a team he is unhappy with. Rookies Greg Jones and Mark Herzlich fail to live up to their preseason performance in the middle, leaving the Giants defense, a team strength in 2010, unable to keep the opposition out of the end zone. Meanwhile Eli Manning is unable to keep the interceptions under control again, throwing 25 picks, leaving an undermanned defense to face poor field position every week. The offensive weapons, including star Wide Receiver Hakeem Nicks keep the Giants in games, but the defense lets them down repeatedly.
Worst Case Record: 4-12
Philadelphia Eagles
Biggest Weakness: Middle Linebacker
It's not easy to point out a glaring weakness on a team that brought in as many free agents as the Eagles, at least until you look at the middle of their defense. The Eagles are counting on rookie fourth round pick Casey Matthews to anchor their 3-4 defense. While he has the pedigree (he's the younger brother of Packers star Clay Matthews III and seemingly every male in their family has played in the NFL) he doesn't have the experience or speed required at this time. During the preseason Philly showed their lack of confidence in him, pulling him off the field in obvious passing downs for fellow rookie Brian Rolle.
Worst Case Scenario: The Eagles success last year, and hope for this year, rest squarely on the shoulders of QB Michael Vick. Sadly his gambling style leaves him exposed to season ending injuries every time he leaves the pocket. He loses the gamble when he comes up against San Francisco's Patrick Willis week four, tearing his ACL and going on season ending IR. This leaves the team in the hands of the unreliable Vince Young or professional nobody Mike Kafka. Andy Reid's shows his ability to fail to meet expectations as a coach again and is forced out after 13 seasons as head coach.
Worst Case Record: 7-9
Washington Redskins
Biggest Weakness: Passing Game
It's tempting to just put this on the quarterbacks, cast offs Rex Grossman and John Beck, but the wide receivers are hardly going to wow anyone either. Behind 32-year-old Santana Moss, the Skins will be lining up a collection of journeymen or unproven players including Donte Stallworth (6th team), Jabar Gaffney (4th team), second year player Anthony Armstrong and rookie Leonard Hankerson. Star TE Chris Cooley has battled injuries the last few years and none of the collection of running backs has any real pass catching pedigree.
Worst Case Scenario: Coach Mike Shanahan has announced that career blah Rex Grossman will open the season as the starter. This lasts two weeks before Beck replaces him behind center. Shanahan winds up spending the season doing his best Steve Spurrier impersonation, rotating his signal callers all season. The lack of production from the passing game allows teams to key on the running game, leading to a second season where Shanahan fails to produce a 1000 yard rusher. The veterans on defense play just well enough for Washington to win a handful of games though, leaving them out of the Andrew Luck Sweepstakes.
Worst Case Record: 4-12
NFC NORTH
Chicago Bears
Biggest Weakness: Offensive Line
For the last decade the Chicago line was anchored by Pro Bowl center Olin Kreutz, who went to New Orleans for less money in the off-season To replace him the Bears brought in Chris Spencer from Seattle, but he was unable to beat out the unimpressive Roberto Garza for the job. The tackles are rookie Gabe Carmini on the right and 2nd year player J'Marcus Webb on QB Jay Cutler's blind side. This was a unit that was a team weakness in 2010 and other than Carmini the Bears did little to address it.
Worst Case Scenario: Imagine you ran an NFL team. You believe that your team is a playoff contender in a division with the defending Super Bowl champion Packers and the improved Detroit Lions. Would you really put your faith in a scared for his life Jay Cutler? I didn't think so.
Worst Case Record: 3-13
Detroit Lions
Biggest Weakness: Running Back
The Lions showed their concern with the position, drafting Mikel Leshoure in the 2nd round of the draft to compete with the brittle Jahvid Best for carries. Sadly for Detroit, he's out for the year with an Achilles injury, leaving them with career backups Maurice Morris and Jerome Harrison to back up Best. If Jahvid doesn't stay healthy and improve on last years 3.2 yards per carry, teams will be able to focus on injury prone Matt Stafford and the passing game.
Worst Case Scenario: Shaun Hill has proven a capable backup to Stafford, the leader of the offense. Unfortunately there is no comparable player to back up defensive leader DT Ndamukong Suh, whose aggressive playing style hurts the team early with penalties until commissioner Roger Goodell, feeling the need to show that the league is committed to ending helmet on helmet hits, suspends him for the remainder of the season after a particularly vicious hit on Green Bay QB Aaron Rodgers in a Thanksgiving win over the Packers. Detroit is unable to recover from this loss, losing their last five games.
Worst Case Record: 5-11
Green Bay Packers
Biggest Weakness: History
Top to bottom this is arguably the most complete team in the NFL. Coming off their Super Bowl win over the Steelers, the Packers also welcome back a number of injured players who missed last year's playoff run. History tells us though that it probably won't matter, as only four teams have repeated as champs in the last thirty years, the last being the 2003-2004 Patriots. Keep in mind that the Packers did not with the NFC North last year and made the playoffs as a wild card team.
Worst Case Scenario: The Packers have a lot of faith in backup QB Matt Flynn, who has looked good in the little action he has seen. He is going to have to live up to it, after Rodgers' season is ended a by a particularly vicious hit by Suh in a Thanksgiving loss to the Lions. The Packers lose four of their last six, then lose their first round playoff game in Tampa Bay.
Worst Case Record: 10-6
Minnesota Vikings
Biggest Weakness: Quarterback
Following the (we assume) final retirement of 62-year-old QB Brett Favre the Vikings brought in two new faces behind center, former Pro Bowler Donovan McNabb, who lost his job in Washington last year to Rex Grossman and first round pick Christian Ponder, a big armed but indecisive passer out of Florida State. It is unrealistic to expect the injury plagued McNabb to last the whole season, so Ponder, whose development was delayed by the lockout, will have to learn the offense on the fly while playing in on of the deeper divisions in football.
Worst Case Scenario: McNabb's run as the starter is doomed by injuries and ineffectiveness, putting Ponder on the spot as the starter week six. The lack of a true number one WR and Ponder's inexperience lets defenses stack the line against All-Everything RB Adrian Peterson, whose fumblitis returns thanks to repeated maulings. The rest of the division takes turns beating up on the Vikings.
Worst Case Record: 4-12
NFC SOUTH
Atlanta Falcons
Biggest Weakness: Linebacker
The 13-3 Falcons were embarrassed at home by the Packers last year in the playoffs, losing 48-21, thanks in no small part to a linebacking corp that ranked among the worst in the NFL last season. So, of course to address this the Falcons invested heavily to trade up in the first round to take… WR Julio Jones. This leaves the team starting Stephen Nicholas, Curtis Lofton and Sean Weatherspoon in their base 4-3 defense. Lofton is the only one of the bunch with any history of success, and they released key backup Coy Wire over the weekend.
Worst Case Scenario: Other teams watch the tape of the Packers win and realize just how vulnerable this defense is. Matt Ryan leads an explosive offense, with Roddy White and Jones turning every game into a track meet, but Tony Gonzalez is on his last leg as a Tight End and Mike Turner has taken a lot of hits over the last few years. The Falcons lose a lot of games 38-31
Worst Case Record: 6-10
Carolina Panthers
Biggest Weakness: Cam Newton
The first overall pick in the 2011 draft, Newton has already been installed as the starter over 2nd year bust Jimmy Clausen and Journeyman Derek Anderson. While rookie quarterbacks have had success in recent years, especially when paired with a running game like the Panthers have, don't expect the same success from Newton in his first campaign. He has only played a single season against high level competition, having transferred to Auburn for his Heisman winning season from Blinn College. His development was further delayed, much like Ponder's, by the lockout. Combine all that with legitimate questions about his arm strength and ability to pass out of the pocket and you have a disaster in the making.
Worst Case Scenario: It's hard to imagine the team being worse than the 2-14 record they posted last year, but that was with veteran coach John Fox in his 9th season with the team. This year rookie coach Ron Rivera takes over the unenviable task of coaching the NFL's worst team. The Panthers two wins last year were against a now improved Arizona and a San Francisco team that's not on the schedule this year. Newton spends the year underthrowing his receivers and making poor decisions, Steve Smith has finally reached the end of the line as a stud WR and the team winds up having to decide if they want to spend another high pick on a quarterback when they wind up with the first pick again. They avoid going winless thanks to a visit by Washington week seven.
Worst Case Record: 1-15
New Orleans Saints
Biggest Weakness: Tackle
The Saints offensive machine has been among the league best for the last few years. Unfortunately this year it rest on the shoulders of LT Jermon Bushrod and RT Zach Strief. Bushrod is a returning starter on Drew Brees' blind side, but he has a history of being unable to stop elite pass rushers around the end, giving up 13.5 sacks over the last two years, and that number is only so low because of the quick reactions of Brees. Meanwhile, Strief takes over on the right side after spending five years on the bench. He won the role thanks to the lack of development by 2010 pick Charles Brown.
Worst Case Scenario: Following an opening season road loss to the Packers the Saints pick up four straight wins without much production from running backs Pierre Thomas or first round pick Mark Ingram. The failure to run the ball catches up with them week five and six, as Tampa's Adrian Clayborn and Indy's Dwight Freeney spend the day getting to know Brees up close. Lingering injuries limit his effectiveness the rest of the season, as New Orleans are passed by Atlanta and Tampa Bay for division dominance.
Worst Case Record: 8-8
Tampa Bay Buccaneers
Biggest Weakness: Defensive Line
One of last year's biggest surprises, Tampa rode three young offensive players, LaGarrette Blount, Mike Williams and QB Josh Freeman to a 10-6 record. Assuming they continue to develop the success of this years team is going to depend on a group of promising but unproven defensive linemen. 2010 draft picks Gerald McCoy and Brian Price expect to log most of the minutes at defensive tackle while 2011 draft picks Adrian Clayborn and Da'Quan Bowers are being counted on to man the ends. While all players have promise, they have a combined three sacks and 13 starts, not exactly reassuring in a division with the Saints and Falcons.
Worst Case Scenario: Freeman, Blount and Williams regress in their second year together, struggling to produce the elite numbers they did in 2010. The defensive line struggles to pressure opposing passers, allowing them time to pick on the ancient Ronde Barber. Aqib Talib does something else stupid, getting suspended by Goodell for the crucial midseason games against New Orleans, Houston and Green Bay.
Worst Case Record: 6-10
NFC WEST
Arizona Cardinals
Biggest Weakness: Running Back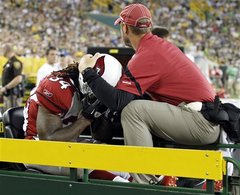 The Cardinals were so impressed with second year pro (and former first round pick) Beanie Wells and his 3.4 yard a carry that they went out and drafted Ryan Williams in the second round this year to replace him. Of course, Williams went and ruptured his patella tendon in the second preseason game and is out for the year following surgery. This leaves Wells, special teams LaRod Stephens-Howling and recently acquired Chester Taylor to keep the pressure off former Philadelphia QB Kevin Kolb.
Worst Case Scenario: Arizona invested heavily in Kolb, trading away a future second round pick and a starting CB for him, along with giving him a contract for six years and $65 million. Kolb proceeds to become the second coming of Scott Mitchell, another big name backup who never produced as a full-time starter. Even in the worst division in football the Cardinals still struggle to win games, failing to even match last years 5-11 record.
Worst Case Record: 2-12
San Francisco 49ers
Biggest Weakness: Quarterback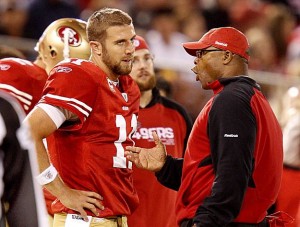 Coach Jim Harbaugh starts his first NFL season just up the road from his last job at Stanford. The group of options he has at QB might make him wish he was still on campus with Andrew Luck. The nominal starter is Alex Smith, who is coming off the best season of his career, where he posted a QB rating of 82.1 while throwing for 14 TDs and only 10 picks in his 6th year in the league. This is as good as he is going to get, and it's not very good. The backup, for now, is the 36th pick in the 2011 draft, Colin Kaepernick of Nevada, who is still learning the playbook and faced less than elite competition in college. The third QB on the roster is fellow rookie Scott Tolzien who was claimed off waivers this week from the Chargers.
Worst Case Scenario: Veteran rusher Frank Gore shows he is again unable to stay healthy for the whole season while Smith struggles against Philadelphia, Tampa and Detroit in weeks 4-6, giving way to Kaepernick during the Detroit game. With Kaepernick under center and rookie Kendall Hunter as the primary ball carrier San Francisco has no chance to improve on last years third place finish.
Worst Case Record: 1-15
Seattle Seahawks
Biggest Weakness: Quarterback
Looking at this team it is hard to believe that they actually managed to not only make the playoffs and win a playoff game last year. That won't happen this year unless they improve drastically at the quarterback position. Second year coach Pete Carroll avoids a suspension for college wrongdoing, but is penalized with having to choose between Tavaris Jackson and Charlie Whitehurt as his signal caller. Jackson, the Minnesota cast off in his sixth season, struggled in the preseason but maintained his starting position for some reason over fellow five-year veteran Whitehurt. Neither player has ever been even a mediocre starter in the NFL and have combined to throw one more touchdown then interception for their career. The third string QB is Josh Portis, a rookie out of Division II California (PA).
Worst Case Scenario: Even in the best case scenario the Seahawks should be awful.  Their worst case scenario is that one of the quarterbacks puts up just enough numbers, combined with an average performance from Marshawn Lynch, to play their way out of the top pick in the draft.
Worst Case Record: 3-13
St. Louis Rams
Biggest Weakness: Receivers/Tight Ends
Everyone loves St. Louis this season coming off their 2nd place finish in the division last year, forgetting that they still finished 7-9 and only outscored two teams in their conference. This year sophomore QB Sam Bradford is expected to break out while throwing to a collection of question marks. His top WR is free agent signing Mike Sims-Walker, who has averaged 40 receptions a year over his four years in the league and has missed time every season. The rest of the pass catchers include Brandon Gibson (87 career catches), undersized Danny Amendola (128 career receptions) and rookies Austin Pettis and TE Lance Kendricks
Worst Case Scenario: The ability to single cover the receivers will allow opposing defenses to stack the box against workhorse back Steven Jackson. With creaky kneed Cadillac Williams backing him up the Rams try to force passes into coverage to open up lanes for Jackson. Bradford throws for more interceptions than touchdowns in his second season. The good news, the Rams are still in the NFC West and can compete for a playoff spot with a losing record
Worst Case Record: 6-10