The Worst College Tailgates
We here at Gunaxin realize that for many college football fans the tailgate party is the best part of game day. Sadly some campuses just can't keep pace with the elite tailgates at schools like Georgia or LSU. Because we care about our readers we have put together a list of the ten worst campus parties on football Saturdays (or Thursdays).
10) Wisconsin
Cheese, brats and beer mixed with a rambunctious student body, a history of winning and some of the best rivalry games in college should lead to an outstanding tailgate, but the Badgers are doomed by Mother Nature. The girls start adding layers by late September and by the end of the season elaborate spreads have given way to blankets and hot cocoa. Oh, did we mention they administer breathalyzer test before allowing stadium access?
9) West Virginia University
Now don't get us wrong, the Mountaineer faithful throw one of the best parties outside of the SEC, but there are some major problems. First, there is a reluctance to bring your own gear to set up for a tailgate, as the odds are good that it will be set ablaze post game. Second, the cold weather and snow keeps the cuties bundled up by midseason. But really, the biggest problem is that the fans don't seem to care that there is a game going on that day, the party seems to be completely independent of the main event.
8) University of Miami
Based on the weather, women and location you would assume Miami could throw one of the best tailgates in the country, but it's sadly not the case. Playing at a professional stadium means less parking and stricter rules. A rule against setting up the night before keeps the RVs away and a 2010 policy change made it harder to set up group tailgates. Sadly, most fans just opt to bar hop their way to Sun Life stadium.
7) Boise State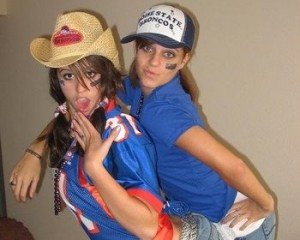 A newcomer to big time football, BSU still lags behind on throwing a great tailgate. Their biggest problem is the Byzantine alcohol regulations around the stadium. The city of Boise bans all open containers and strictly enforces this policy on the fields and sidewalks around Bronco Stadium, which keeps all tailgating on stadium lots. This would normally be a good thing, except that Boise State is officially a dry campus which keeps the partying in check until October, when the Idaho winters and night games keep the fans from coming out in force.
6) United States Military Academy
The young men and women of Army might be able drive a tank and carry more weapons than any school outside of Miami, but they just can't pull off a good tailgate. The food might be good, and the fans are some of the most dedicated around, but any tailgate without roaming bands of attractive coeds has to go on this list. A constant fear of a commanding officer walking by keeps everyone on their best behavior, even alumni. Navy and Air Force could be on this list too, but at least they win occasionally.
5) Notre Dame
Notre Dame Fans are surprisingly apathetic about their tailgate. While they show up in force hours before the game they just don't have the same enthusiasm you see on other Midwest campuses. Between patrolling campus police and elitist alumni, the no fun police is out in force. The ladies are fired up for the game, but just can't match the quality at most of their rivals. At least they have the all time great fight song, not that most fans could be bothered to sing it.
4) Duke
Take everything we just said about Notre Dame and apply it to Duke, minus the numbers, the enthusiasm and the fight song. To make it worse, the administration has implemented some of the strictest tailgate rules in the country. Duke receives a small bit of forgiveness only because it's hard to get fired up for a team that has been as historically bad as the Blue Devils.
3) Brigham Young University
BYU has all the ingredients to have a miserable tailgate. A strict honor code forbidding wild behavior and alcohol consumption, whether that turns cold in late October, and a fanbase that seems not to care about tailgating. While you will find small pockets of students and alumni partying around the parking lot, the majority of the fans show up for the game only. Plus every cute girl on campus is married, engaged or pre-engaged.
2) Rutgers
Rutgers fans are enthusiastic, and maybe they are new to tailgating, but they just don't seem to get it. The beers tend to be the cheapest on the shelf, the food selection is limited to burgers and hot dogs, and fights seem to break out randomly across the parking lot. Not surprisingly the girls tend to run more toward Jersey Shore than campus cuties. The worst part is even if you can overlook all of those flaws, you are still in New Jersey.
1) Boston College
Boston College manages to combine many of the worst aspects of the other nine tailgates on this list. The fans are just as likely to be sporting a mix of Celtics, Red Sox and Patriots gear as the Eagles' Maroon and Gold. There is little knowledge or excitement among the student body and alumni, with few Eagles jerseys visible other than Doug Flutie or Matt Ryan. The stadium lots are tiny, extremely expensive and only open 2-3 hours prior to kickoff, which forces most tailgaters to take public transport or shuttles from off-campus parking. In a city known for craft beers and microbrews you are more likely to see Budweiser and Miller Lite cans, as glass bottles are banned. Tailgating during the game is forbidden for those without tickets, as the police clear out the lot 30 minutes before game time, and allow very little tailgating after the game is over. Not even the coeds can redeem this campus, as only Wake Forest and Georgia Tech have a less attractive student body in the ACC.
---
Disagree with the list? That's your right, let us feel your wrath via social media. Want us to take your team off the list? Then you'll have to send us enough photographic proof to change our mind.