Magic Hat Odd Notion Fall '09
Magic Hat – Odd Notion * Fall '09
Magic Hat Brewing Company, South Berlington, VT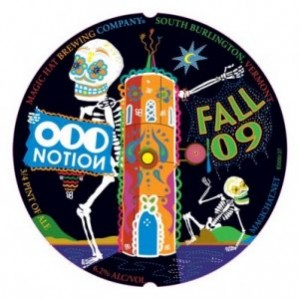 Info: "A fitting beer for the Night of the Living Dead, this Black Stout is chock full of roasty goodness with an amazing complexity that can come from the addition of five different types of malts. The flavors of dark crystallized malts and roasted barley."
Oh what a glorious day! I went to my local beer and other-whatnot purveyor all goosed-up about buying another sixer of Great Lakes Brewing beverages when what to my wandering eyes should appear: The Magic Hat Fall 2009 Variety Pack! Sweet beer gods have shined upon me! Wait, full reverse. Let's rethink this for just a second. The last mix-box of Magic Hat I got was lackluster to say the very least. Great, now I'm questioning my purchase. Crap.
Well, I reached in anyway. Perhaps it's the simple fact that it's actually called the Night of the Living Dead pack, and that alone ought to do it for me – after all, I am a huge horror buff. Maybe it's the joy in assuming that if this is a nice collection, and I do mean 'if', I have a few months to enjoy it as it's technically not even fall yet. Okay, so out comes the hand with, what? Odd Notion Fall '09. And away we go.
I have just officially hit Nirvana! As soon as I cracked the top, and the little misty smell attacked my nose, I knew this was a stout. Oh and the pour is absolutely stunning: rich, dark, creamy, heavy, chocolaty, java-ish… it's all there and it's so, so beautiful. See, for those of you who have been following by reviews ought to know that the previous Odd Notion was an incredible let-down. It appears the good folks at Magic Hat have finally wised up and dropped a superb stout in our laps. Thank goodness I am a huge stout fan, because this is so wonderful.
The flavor is a finely complex amalgam of bitter coffee, tangy chocolate, dark and caramely malts, and a nice hoppy finish. It has a bitter-sweet mouth-feel, a creamy texture that marks the approval stamp of a fine stout. And yes, there is that defining hint of black licorice right in the back. It is, however, slightly heavier than the last few stouts I've had, but that isn't necessarily a bad thing, it just means that this is a sipping beer and not something you chug just to get rid of it. For those who are proud touters of the stout, this proves to be a fine example of the genre. Match it with meat: redder; better. Also likely tasty with a huge piece of chocolate birthday cake… cuz that's what I had it with. I'm naughty.
Rating: * * * * *
It's an Odd Notion and it's a stout. There's really nothing more to say. Okay, except this: delicious.