Mario: Twenty-Five Years In Pop Culture
Ah, birthdays. Aren't they the greatest? Folks getting a year older and celebrating with presents and cake… just spectacular. So, what do ya do if you're a little Video Game Plumber in a red shirt and blue overalls with perhaps the greatest mustache in history who just so happens to be turning 25? Well, you celebrate with a look at 25 instances he's infiltrated pop culture, that's how! Well, just to be perfectly frank here, Mario himself has been around since 1981 when he was affectionately named after what he did, JUMPman. Then, in 1983 he was first called Mario when he appeared in Donkey Kong, Jr. (incidentally the one and only time he was the antagonist rather than the protagonist) and then, in 1985 he finally earned the moniker "Super". This is the actual birthday we're celebrating here. Hey, why not? People get Knighted, others get Doctorates, an still others achieve Military Titles, so why not an anniversary for being called Super? Regardless of what you think, this is what's happening here. So grab a can of Mario Pepsi and check out the myriad ways Mario has garnered his Pop Culture Icon status.
In Comic Strips
Yes there are about a thousand different Mario-related comics out there making folks laugh into their cereal, but I chose three of the more laid back, slightly less pornographic of the ilk. Still pretty funny though.
As Grub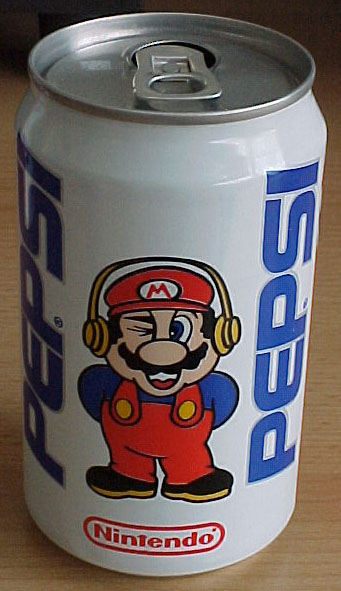 Yes, that's right, you can EAT Mario! A cookie, cake, fruit snacks… it's all there. You could conceivably create an entire meal -albeit really unhealthy- out of nothing but Mario! Delicious!
As Wearables
From ties to costumes to buttons to socks, you, too can show off your love for Mario! Yes, I realize a few of those don't specifically show the chunky Italian, but they do represent bits of the games he's made famous!
Around the House?
Wow, a professionally knitted Super Mario Brothers blanket? Yes please! And what better way to scare away the evil dreams of those maniacal Shy Guys than with Mushroom night lights! I can finally sleep!
And Everything Else
A Mario NASCAR race car? And who could possibly forget the old Super Mario Brothers Super Show? It just goes to show, and in only 25 different way, how a little Nintendo Video Game character can take over Pop Culture. Here's to 25 more! Years, not stuff. Some of this crap is ridiculous.