Mark Cuban Calls NBA Product a Scam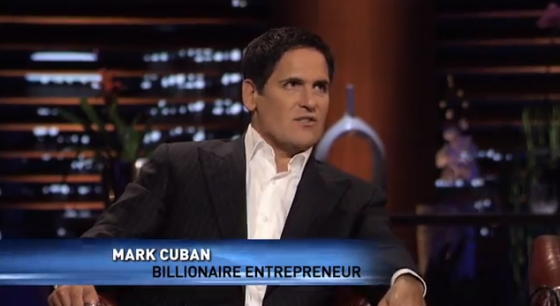 Dallas Mavericks' owner Mark Cuban has a reputation for being outspoken, and taking on the NBA over decisions he disagrees with. Thanks to his appearance on the television show "Shark Tank", Cuban also has a reputation for being a shrewd investor. Those traits combined Monday when Cuban went on a tirade in the Mav's locker room before tossing a display of NBA merchandise in the garbage.
The product in question is the Power Balance Bracelet, an NBA licenced silicone wrist band. The bracelet, which purports to help athletes with their performance, is endorsed by high profile athletes including Clay Matthews, Drew Brees and Matt Kemp. In the NBA, they started appearing on players' wrists as early as 2010, and now carry official team logos and a nominal league endorsement.
This isn't the first time that Cuban has taken on Power Balance type products. When a contestant on "Shark Tank" appeared selling similar watches, Cuban called it a scam and refused to even consider the product. In an interview in September, Cuban again called out the product, calling it the worst pitch they had on the show. While some players continue to wear the product, it appears that their popularity is on the wane. While the Power Balance bracelet is the first product (that we know of) to claim to use holograms, it is hardly the first fad accessory that has made unsubstantiated claims about helping performance. Previous products included magnetized bracelets, special necklaces and any number of supplements and pharmaceuticals. Though we aren't able to weigh in on their efficacy as medical experts or athletic trainers, we can't help but notice the lack of details in the company's own FAQ.
What does this wristband Do?
The Power Balance band is a performance technology wristband with a distinctive hologram worn by millions of consumers and athletes worldwide. It is based on eastern philosophies of health and wellness.

What is Power Balance Hologram Technology?
Power Balance holograms are created using a proprietary process featuring cutting edge three-dimensional technology, which makes the hologram truly unique.

How can you prove it works? Will the wristbands work for everyone?
While we have received testimonials and responses from around the world about how Power Balance has helped people, there is no assurance it can work for everyone. We make no claims and let the consumer decide based on their experience.