Marshmallow Guns
I am a kid at heart. That might be one of the reasons I went to the NYC Toy Fair this past month, where I got to check out the Marshmallow Fun Company. Who doesn't love marshmallows? Hell, that was the first thing Ray Stantz thought about before fighting Gozer. And who doesn't love guns?…well toy guns in this case. The Marshmallow Fun Company will have any marshmallow gun you would want to build an arsenal. I was able to check out three guns from their stockpile. They are the Bow and Mallow, The Blaster, and the Double Shooter. For more guns check our their website.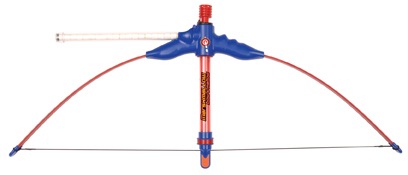 The first is the Bow and Mallow.  The Bow and Mallow is very accurate whether you are shooting at someone or taking target practice. The Bow & Mallow shoots at a range of up to 30 feet and holds 25 miniature marshmallows in one magazine to take on your enemies. This is a fun gun since you have to shoot it like you were shooting a real bow and arrow, but you don't have to worry if you miss your target and with the 25 marshmallows in a clip reloading is not an issue. Maybe you can take a page out of Rambo's style and shoot some marshmallows on fire on a plate of chocolate and graham crackers. It sells for $29.95 and can be purchased at their site.
The next is the heavy hitter Double Shooter. This pump-action Double Shooter fires miniature marshmallows approximately 30 feet on a line. This shooter has two magazines that hold 25 marshmallows each, so you got 50 marshmallows to take down your opponents. The magazines are easy to load and reload in the the gun. Shooting this one is awesome. The pump-action is great and the marshmallows fly! It sells for $35.00.
The last one is the Blaster. This is one is a beast. It shoots up to forty feet and uses the big boys….yea that right, I'm talking about the large marshmallows. You load the marshmallow right above the first handle. Once the marshmallow is in the Blaster, you pump the handle in the back. The more times you pump the Blaster the farther the marshmallow travels. You only have one marshmallow per shot, but with the large and in charge marshmallow that is all you need. The classic Blaster sells for $27.95!