Masters of None – Episode 3.12- Kevin Smith Movies – Worst to First

Kevin Smith movies are the topic dujour, ranked Worst to First in true Masters Of None style.  It's our present to you by way of Roberty from the Simply Syndicated forum, who suggested it.  We'll also delve in to our colossal failure of a Kevin Smith Fest, Mike getting humiliated by the man himself and a whole lot more. Time to kick back, drink some beers and shmoke some weed…

Bonus Material- Check out our ill-fated con at www.myspace.com/kevinsmithfest.  For the record, the complete Food Menu was: Veronica's Homemade Lasagna, Egg-a-Mooby Muffins, (Not Free) Gatorade, Milk, Soda (in Brodie Style Dixie Cups), Chocolate Covered Pretzels, New Cookie From The Cookie Stand, & Pringles.  Drink specials- Holy Bartenders & Swallowable Tequila. The contest we left out was Magic Eye Art Speed Seeing.  Here's some pics.
[podcast]http://www.podtrac.com/pts/redirect.mp3/media.libsyn.com/media/mastersofnone/MON_3_12.mp3[/podcast]
Masters of None -3.12 – Kevin Smith movies – Worst to First.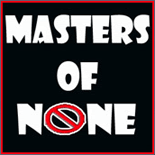 Gunaxin is proud to be partnering with Masters of None, and featuring their content here on our site. Masters of None are former radio guys Mike, Art & Jay, who debate and answer mankind's most important questions each week. Along the way you'll encounter unsustainable amounts of movie quotes, horribly tasteless jokes, TV references, offensive comments, old radio bits, biting insults, tall tales, unsportsmanlike conduct, raping and pillaging of all things pop culture. It's a comedy podcast that doesn't suck.
---