Masters of None – Episode 3.13 -The 00's – Sucked or Ruled?

Why bother adding to the clutter of the "Year End List Shows" or in this case, the "Decade End List Shows" during the new year when you can stand alone atop Mount Listmore after the rush is over. Our patented "Sucks or Rules" debate asks the question… the 00's… Sucked or Ruled. This is part 1 of 2.
[podcast]http://www.podtrac.com/pts/redirect.mp3/media.libsyn.com/media/mastersofnone/MON_3_13.mp3[/podcast]
Masters of None – 3.13 – The 00's – Sucked or Ruled?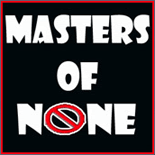 Gunaxin is proud to be partnering with Masters of None, and featuring their content here on our site. Masters of None are former radio guys Mike, Art & Jay, who debate and answer mankind's most important questions each week. Along the way you'll encounter unsustainable amounts of movie quotes, horribly tasteless jokes, TV references, offensive comments, old radio bits, biting insults, tall tales, unsportsmanlike conduct, raping and pillaging of all things pop culture. It's a comedy podcast that doesn't suck.
---