Masters of None – Episode 3.14 – Happy Filthy Birthday

It's our 1 year birthday show and, for one reason or another, also our dirtiest and most wrong show yet.  It's birthday beer tasting, dueling Buffalo Bills, international strip club comparisons, tales of the squirt, Vegas Dad Depravity and a whole lot more.  Come to think of it, it was you guys who joined us on the live video and audio that called in and started it.  Blame reflected.  Seriously though, not for kids.  Happy Birfday indeed.  Also, if you'd like to leave us a message of any kind on our new Skype voicemail, hit us up anytime at mastersofnone.  Kudos to Brad for having the first message played on the show.
[podcast]http://www.podtrac.com/pts/redirect.mp3/media.libsyn.com/media/mastersofnone/MON_3_14.mp3[/podcast]
Masters of None – 3.14 – Happy Filthy Birthday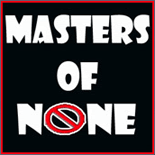 Gunaxin is proud to be partnering with Masters of None, and featuring their content here on our site. Masters of None are former radio guys Mike, Art & Jay, who debate and answer mankind's most important questions each week. Along the way you'll encounter unsustainable amounts of movie quotes, horribly tasteless jokes, TV references, offensive comments, old radio bits, biting insults, tall tales, unsportsmanlike conduct, raping and pillaging of all things pop culture. It's a comedy podcast that doesn't suck.
---