Masters of None – Episode 3.17 Freestyle

Occasionally a Freestyle show is in order and this is just one of those occasions. We make fun of stupid baby names, the Leno/Conan fiasco, and the Irish… All in one sitting! The calls come in and we're amazed how late some people will stay up in other countries just to listen to our stupid show.  Two out of three of us are having kids and we're starting to arrive as our YouTube videos are now getting banned.
Bonus Material:
Brad's Banned MoN Video From YouTube
St. Patty's Day in Mobile, Alabama

[podcast]http://media.libsyn.com/media/mastersofnone/MON_3_17.mp3[/podcast]
Masters of None – 3.17 Freestyle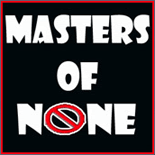 Gunaxin is proud to be partnering with Masters of None, and featuring their content here on our site. Masters of None are former radio guys Mike, Art & Jay, who debate and answer mankind's most important questions each week. Along the way you'll encounter unsustainable amounts of movie quotes, horribly tasteless jokes, TV references, offensive comments, old radio bits, biting insults, tall tales, unsportsmanlike conduct, raping and pillaging of all things pop culture. It's a comedy podcast that doesn't suck.
---