Masters of None – Episode 3.7

It's our first ever round of "Ask The Masters," taped in front of a live internet audience, where we opened up the phone lines and answered all of your important questions. We also did some post-Halloween catching up, talked about our past celebrity encounters, find out who turned Mike into a 4-year-old, we pulled back curtains, heard our first ever listener-submitted MoN Song, gave up our Bottom 1 and Top 5 Directors (sort of) and made a big announcement.
[podcast]http://www.podtrac.com/pts/redirect.mp3/media.libsyn.com/media/mastersofnone/MON_3_7.mp3[/podcast]
Masters of None – 3.7 – Ask The Masters
Bonus Material: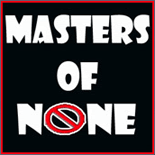 Gunaxin is proud to be partnering with Masters of None, and featuring their content here on our site. Masters of None are former radio guys Mike, Art & Jay, who debate and answer mankind's most important questions each week. Along the way you'll encounter unsustainable amounts of movie quotes, horribly tasteless jokes, TV references, offensive comments, old radio bits, biting insults, tall tales, unsportsmanlike conduct, raping and pillaging of all things pop culture. It's a comedy podcast that doesn't suck.
---