Masters of None – Pod Soup

We play clips from other podcasts and comment on them in this episode.  Some are great and some are…not-so-great. We release this show with sincere apologies to Joel McHale and Chris Hardwick, hosts of The Soup and Web Soup.  We may as well also apologize to the Campbell's people and Soupy Sales while we're at it. Special thanks to GAB, Graham and Bucho for submitting clips.
[podcast]http://www.podtrac.com/pts/redirect.mp3/media.libsyn.com/media/mastersofnone/MON_6_7.mp3[/podcast]
Masters of None – #6.7 – Podcast Soup – DOWNLOAD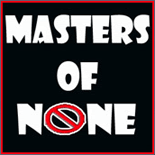 Gunaxin is proud to be partnering with Masters of None, and featuring their content here on our site. Masters of None are former radio guys Mike, Art & Jay, who debate and answer mankind's most important questions each week. Along the way you'll encounter unsustainable amounts of movie quotes, horribly tasteless jokes, TV references, offensive comments, old radio bits, biting insults, tall tales, unsportsmanlike conduct, raping and pillaging of all things pop culture. It's a comedy podcast that doesn't suck.
---