Megan Fox in the Year of 2009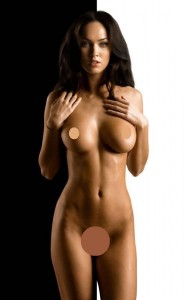 This year, in 2009, we'll get to see Megan Fox fighting alongside Autobots once again to protect our world from the invasion of Decepticons in the upcoming "Transformers" sequel, "Transformers: Revenge of the Fallen". The movie is said to be much more realistic than the original, so realistic that it had 22-year-old actress "genuinely terrified". She recalled,
"It makes you run fast because you are genuinely terrified. And you still feel blanks – with that many guns going off, you never really know. During filming I've got 75 military officers firing at me, shrapnel falling on my head that's bigger than my arms. It's hard to be normal. Even an eyelash flying at you at 700 miles an hour will cut you. You're running past them, and your clearance is only about 10 feet. These dudes are moving, and if one trips or falls and we run into the muzzle of a blank, that could blow your chest open or burn you."
If this is not sexy enough, she'll also play a possessed cheerleader turns into a killer in "Jennifer's Body", who specializes in offing her male classmates. I know it sounds like a generic cheesy horror movie that we've seen too much in the past, but if this is a product of the creator of "Juno", we should expect nothing less.
If you are a fan of Megan Fox, you've probably seen the topless pictures below, which were shot in last summer when filming "Jennifer's Body" in Vancouver. The sad thing is she had flesh-colored pasties on, but those could do little to nothing to cover up her perfect breasts. Since she already burned up the Golden Globes, and her two anticipated movies will be out in a few months, we think it makes perfect sense to heat you guys up with our gallery of Megan Fox before they hit the theaters this summer.
And before you start wondering if the naked picture of Megan Fox on the top left is real, let me assure you that it is not, but you've got to love how nicely it's done.