Michael Phelps Makes 159 Foot Putt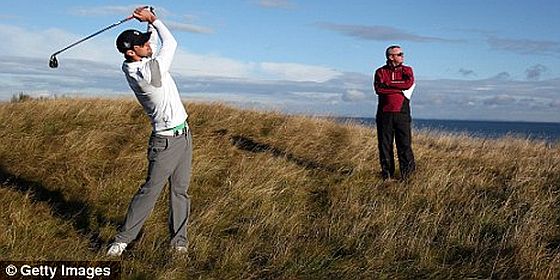 It might be fair to say that swimmer Michael Phelps is living life better than you are. When last we checked in on Phelps he was dating the gorgeous Megan Rossee. Prior to that he was busy finishing off a swimming career that netted him a record-breaking 18 gold medals, a handful of world and Olympic records and millions of dollars in endorsements.
The now retired Phelps has spent his recent free time making cameos at sports events around the world, including throwing out the first pitch for his hometown Baltimore Orioles. This week he is paired up with European golfer Paul Casey for the Dunhill Links celebrity pro-am at Scottland's famed Kingsbarns course. Following a rough opening day, Phelps and Casey recorded a nine under par second round, thanks in no small part to this 159-foot eagle putt at the par-4 sixth hole.
And don't think that Phelps is a ringer; he reportedly only started playing golf recently.