Michael Vick Has Become Allen Iverson
Stay with us here, the parallels are more numerous than you would think. Michael Vick stared at Homer L. Ferguson High School in Newport News, Virginia. Allen Iverson starred a Bethel High School in Hampton, Virginia. That is not simply being from the same state. According to mapquest, the two schools are less than thirty minutes drive from one to the other. Vick then moved to Warwick High School which is still in Newport News. Incidentally, Iverson was also a high school football star as well as being a high school basketball star.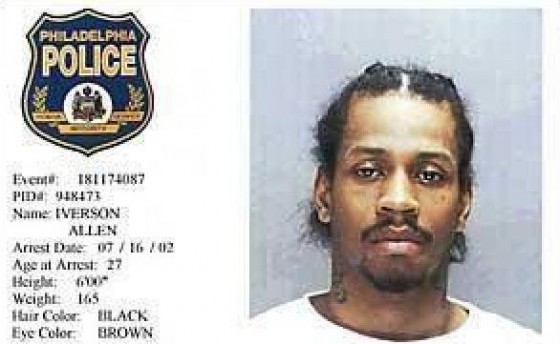 Iverson and Vick both could commiserate over time behind bars. Iverson and Vick were both convicted of felonies as a result of activities in the state of Virginia. Iverson was convicted of assault. Vick was convicted of charges stemming from dogfighting. The location of the bowling alley in which Iverson was involved the altercation and Vick's Bad Newz Kennels were less than forty-five minutes apart.
Iverson was, of course, drafted by the Philadelphia 76ers. Michael Vick came to the Philadelphia Eagles later in his career. The interesting part of the parallel is that neither athlete went to play professionally in Philadelphia until they had actually served jail time. Iverson was incarcerated before he went to Georgetown University. Vick was already with the Falcons when he went to jail.
Both men were caught with marijuana. Iverson's arrest came in 1997. Vick was found to have the wacky weed on his person in 2004.
Michael Vick has now stated that he does not want to be a backup to anyone. Allen Iverson made a similar statement about not wanting to come off of the bench for anyone. Both men were born in June almost exactly five years apart. Iverson was born on June 7th, 1975. Michael Vick was born on June 22nd, 1980. Iverson's last game in the NBA came on February 22nd, 2010 when he was 35 years, 8 months, and 15 days old. If things get too eerie, Michael Vick's last appearance in the NFL would come on November 6th, 2015 playing on his fourth professional team in the league. That would put Vick on two different teams in the next two years. It also means that he would not finish the 2015 season. It will be interesting to see how closely everything plays out.