20 Breakout MLB Prospects for 2020
Major League Baseball is the only professional sport where a player's impact is not felt the day after he is drafted. In fact, it can take between two to three seasons before a player can make it through the farm system and make a MLB roster.
Last year, the New York Mets Pete Alonso became the first rookie to ever hit 53 home runs in his first season. He also added 120 RBIs and went on to win the NL Rookie of the Year award.
Over in the American League, the Astros unveiled their future when they called up Yordan Alvarez on June 9th. He played in just 87 games but still managed to hit 27 home runs while owning a .313 batting average.
So what is going to happen with the latest group of rookies as they enter Spring Training for the 2020 season? Below we have listed the top 20 prospects that we expect to breakout during the 2020 MLB Season. Their performance in Spring Training could determine whether they make the Opening Day roster, or have to wait until later in the season to make their impact.
20) Brusdar Graterol, RHP, LA Dodgers
During one of their stops on the Twins Winter Caravan, GM Thad Levine and pitching coach Wes Johnson agreed that it would be best to keep Brusdar Graterol on the roster as a reliever, for now.
But then they decided to acquire Kenta Maeda and $10 million in cash from the Los Angeles Dodgers as part of a blockbuster trade involving many teams. Brusdar moving to LA could mean another year before he is unleashed.
19) Dylan Carlson, OF, St. Louis Cardinals
As these prospects continue to develop in the farm systems, they tend to also grow in size. Dylan Carlson is a prime example as he has hit the weight room hard since joining the Cardinals in 2016.
That increase turned into power last summer when he blasted 21 home runs in Double-A, a power increase that shocked everyone. He could become their next big star but it might have to wait until June.
18) Mitch Keller, RHP, Pittsburgh Pirates
Last year, Mitch Keller finally got called up and ended up pitching in 11 games. He finished with a 7.13 ERA after throwing 48 innings and giving up 38 earned runs. But do not let the ERA fool you, he was still able to carry over his outstanding strikeout ability by finishing with a 12.2 strikeout rate.
Mitch is a strikeout pitcher that does not give up home runs in a pitcher friendly park for a team that is desperately looking for their future Ace in the pitching rotation. By the end of this season, do not be shocked to see Mitch Keller as one of the strikeout leaders in the National League.
17) Sixto Sanchez, RHP, Miami Marlins
Sixto Sanchez has the talent to be a very special athlete for the Miami Marlins but needs to add more consistency to his slider before they will even consider him a starter.
That is why Spring Training is so important this year. Sixto is going to have a chance to prove to the team that he is ready for the next step by showing his big time arm and nasty changeup.
If he stays healthy throughout Spring Training, and he shows off his pitches, he could become a starter closer to the All-Star break, or sooner.
16) Michael Kopech, RHP, CHI White Sox
People seem to have forgotten about Michael Kopech after he went down in 2018 and 2019 with Tommy John surgery. But he is fully healthy now and it now comes down to what the White Sox think for 2020.
His workload could cause his ability to return to be hampered as he has not pitched in nearly two years. He should start the season in the minors but that would be just to get him back into the feel of the game.
Chicago knows he has the talent and already have a fairly good rotation that could use a stud prospect such as Michael Kopech at some point in 2020.
15) Carter Kieboom, 3B, WSH Nationals
Anthony Rendon traded the East Coast for the sunny West Coast and beautiful Los Angeles, where he will be the starting third baseman for the Angels. That left a giant hole in the defending World Series champs hot corner.
So be prepared for a platoon of infielders that should get equal playing time in both Spring Training and the start of the season until one emerges as a legit starter. Carter Kieboom has the tools and he would be a great addition to their lineup but he will have to earn it first.
If he can showcase his talents in Spring Training, he could wind up starting off the season at third rather than having to wait until a few months into the year.
14) Alec Bohm, 3B, Philadelphia Phillies
After being drafted third overall in 2018, it has not taken long for Alec Bohm to raise his game to the point where he will be in a battle to start at third, or even first, base for the Phillies.
But it appears that his biggest issue could cost him his starting role at third. He might not be strong enough defensively to hold down the corner and become an All-Star. If he has to be moved to another spot, it could slow down his arrival in 2020.
13) Nico Hoerner, INF/OF, Chicago Cubs
The Chicago Cubs are not going to wait very long before Nico Hoerner becomes a starting second baseman but they will be cautious, especially after being forced to use him late last year. He shocked everyone by playing far above average and could have earned his roster spot in just 20 games.
But knowing he is still young and never even played in Triple-A, starting the season as the starting second baseman could be something they want to steer away from for now. Instead, they could start him in Triple-A and then eventually call him up sometime this year.
12) Deivi Garcia, RHP, New York Yankees
Now that James Paxton is going to be out for the first few months of the season, and Domingo German is suspended until June, the Yankees are going to need someone to step up and make a few starts for the first two months of the season.
Deivi Garcia was all set to be an easy choice to make the rotation in 2020. But when he got to Triple-A last season, he struggled and that scared the Yankees enough to keep him down in the minors for 2020, at least to start the year.
He would need to have an incredible Spring Training, especially against the big hitters, to prove he is ready. If he can do that, he could get a temporary shot while their other starters remain out.
11) Nate Pearson, RHP, Toronto Blue Jays
According to scouting reports, Nate Pearson's fastball can touch 104 miles per hour and he normally touches close to 100 while also throwing a nasty slider that can bite pretty quickly. He has also been developing a curveball and changeup to add to his pitches and make himself a legit Ace.
Because of the ridiculous player control rule, he is not likely to start the year with Toronto, regardless of how he pitches in Spring Training. So expect him to make the roster by June, at the latest.
10) Jose Urquidy, RHP, Houston Astros
Forrest Whitley is just 22 years old but it feels as though he is a lost cause after his 50 game suspension in 2018 and his very underwhelming 2019. So this has given way to other prospects like Jose Urquidy, who became famous for his World Series appearance in which he started game four and pitched five scoreless innings, earning the victory.
That, combined with his few relief appearances in 2019, could mean he becomes a member of the Astros rotation to start 2020. Unless he struggles in Spring Training, he should be their fifth starter, at worst.
9) Joey Bart, C, San Francisco Giants
Buster Posey is 33 years old now and over the past two years, he has missed significant playing time and has seen his hitting numbers take a dive. His decline has come at the perfect time as 23 year old Joey Bart has quickly risen through the minors to be the top prospect.
His time is coming but for it to be in 2020, he will have to show the staff during Spring Training. We know he can hit, so if he comes out smashing the ball, it will be tough to ignore his talent. However, he would still need a catcher to go down before he will get that shot right away this year.
He should see playing time by June and could even wind up holding onto the spot for the rest of the year.
8) Cristian Pache, OF, Atlanta Braves
The center field position is going to be Cristian Pache's spot once he gets called up. The Braves are going to give their veterans a chance to hold down the spot in the meantime so it could keep Pache from getting his shot right away in 2020.
That is what makes Spring Training so important for him. If he can come out showing up all the veterans on the roster, he will be placed on the opening day roster and be the starter because talent is tough to pass on. He has the defensive skills to be one of the best in the game too.
7) Brendan Rodgers, INF, COL Rockies
Last season, Brendan Rodgers got his chance and was called up to the big leagues but it only lasted a couple months before he went down with a shoulder injury that would put him down for the rest of 2019.
But after going through rehab and looking to be healed, Brendan could still run into an issue finding a spot on the roster because there simply is not one. This could lead to the Rockies sending him to Triple-A until someone gets hurt or struggles. They won't be waiting too long if they can simply find a place to put him.
6) Jesus Luzardo, LHP, Oakland A's
Last year, Jesus Luzardo was called up in early September in a relief role. During that brief time, he still managed to showcase his greatest assets.
Over the six games he did pitch, he finished with a combined ERA of 1.50, 16 strikeouts, and just three walks. He even managed to nab two saves and two holds.
This year, he should return to the A's rotation and could even become their Ace.
5) Casey Mize, RHP, Detroit Tigers
Back in 2018, Casey Mize was taken first overall at the MLB draft by the Detroit Tigers. In his two seasons in the minors, he sports a shiny 2.71 ERA after pitching 123 innings and striking out 120 hitters. He also finished with a 8-4 record.
The Tigers plan on sending him to Triple-A for the start of the 2020 season. That can only mean one thing, they are testing him one more time before calling him up. With a tremendously talented arm, Casey starting in 2020 is almost a certainty, especially when the Tigers start to struggle.
4) Brendan McKay, LHP, Tampa Bay Rays
As he came up thru the Tampa Bay farm system, Brendan McKay was almost unhittable. Before being called up last year, he was holding a 1.10 ERA over 73.2 innings in both double and triple A. He also had 102 strikeouts and just 18 walks.
But when he debuted, it was anything but disappointing. It did not take long for hitters to figure him out in the majors. That should not discourage fans from believing all the hype, Brendan McKay is a future All-Star and could be one in 2020.
3) Luis Robert, OF, Chicago White Sox
Luis Robert started playing professional baseball in Cuba for Ciego de Avila when he was just 15 years old. By the time he was 18 years old, he defected from Cuba and signed with the White Sox as a free agent.
Since then, scouts have been drooling over what this kid can do on the playing field. He was set to debut in 2018 but battled thumb injuries and wound up bouncing around the minors.
He is finally healthy and is set to debut this season as the stud of the White Sox young roster. Do not be shocked if he starts off slow but heats up a month into the season and finishes with 20 or more home runs, steals, and walks. He very well could win the AL Rookie of the Year award by a landslide.
2) Jo Adell, OF, Los Angeles Angels
If not for injury issues, Jo Adell would have been a no-doubt opening day starter for the Angels this year. So he comes in as number two on our list for the same reason. Imagine if he does not get hurt last year.
He is a truly talented future star with size, speed, power, and all the tools needed to become one of the best prospects in baseball and a Rookie of the Year candidate heading into 2020. With all the other talent on the Angels roster this year, calling him up would give him time to develop without being the main star.
1) Gavin Lux, INF, Los Angeles Dodgers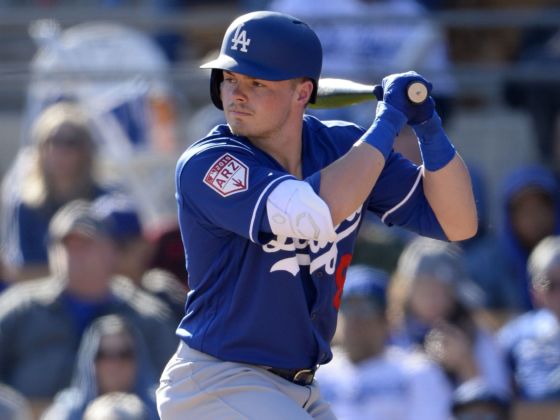 Every single season, since joining the Dodgers in 2016, Gavin Lux has gotten tremendously better. All across the board, his numbers have nearly doubled every year since 2017 and it resulted in a call-up towards the end of 2019.
He teased us with his ability to hit the ball with both finesse and power in just 23 games in the majors. Many analysts expect him to be ready to go in 2020 and should see a massive production year that should result in a Rookie of the Year award.