The Most Unbreakable Career MLB Records
Major League Baseball has been around since 1876. From the moment professional baseball began, statistics were being tracked. There are so many records in baseball that it is tough to even begin naming them all. Since baseball has been around over 100 years, it is safe to say there are thousands of official MLB records in the books.
There are always going to be records in sports that are tough to reach. Records that have been around for a very long time and are always looked upon as the measure of greatness. Cy Young had the award given to the best pitchers in both the AL and the NL because he was truly the greatest pitcher ever to play the game. In relation to his time period, Cy Young dominated the sport and set records that are almost hard to reach on a video game.
Here are some of the MLB records that we have decided to call the toughest and most difficult to reach. (Thanks to the Dead Ball Era, we had to exclude any records prior to 1900 otherwise no record would ever be broken based on the ridiculous numbers put up back in the 1800s)
Career Records – Hitting
Hits: Pete Rose – 4,256
The closest active MLB player to Pete Rose's Career Hits record is Alex Rodriguez with 3,070. He is 39 years old and would have to average almost 400 hits a season, the MLB record is 262, to surpass the record in 4 years. That would also make him 44 years old. Miguel Cabrera is 32 and is sitting at 2,331. He is the one person that could possibly get close.
At Bats: Pete Rose – 14,053
Second place is not even close. Any active player would have to play until he was 45 years old to come within arms length of this record.
Walks: Barry Bonds – 2,558
After hitting the most Home Runs in MLB history, Barry Bonds retired the same year. One of his more impressive records is the amount of times he has been walked in his 22 year career. In 2004 alone, he was intentionally walked 120 times. There was not a single MLB pitcher that wanted to face him. He wasn't just a HR threat, he was a great hitter.
Doubles: Tris Speaker – 792
Barry Bonds came close but still fell short by almost 900 doubles. A-Rod is next in line but there is simply no way he reaches that mark before he hangs up the cleats. This might be a record that will never be broken.
Triples: Sam Crawford – 309
This is the one record we can safely say will never be broken. The last person to chase it was Roberto Clemente. He retired in 1972 with 166. Carl Crawford has 122 currently and is only 33 years old however, he has not hit more than 3 in a season since 2011.
Stolen Bases: Rickey Henderson – 1,406
There are plenty of guys that are good at stealing bases but not a single one of them were as consistently great at it like Rickey Henderson. He also owns several other records for steals. He owns the record for Most Seasons with 70 or more Steals with 7, Most Seasons with 100 or more Steals with 3, Most Seasons with 40 or more Steals with 16, etc…
Consecutive Games : Cal Ripken –
2,632
Lou Gehrig's record of 2130 consecutive games player was once considered untouchable, until Cal Ripken came along. Ripken not only broke the record, he added another 500 games to his total before finally taking a day off. He is Baseball's Iron Man.
Career Records – Pitching
Wins: Cy Young – 511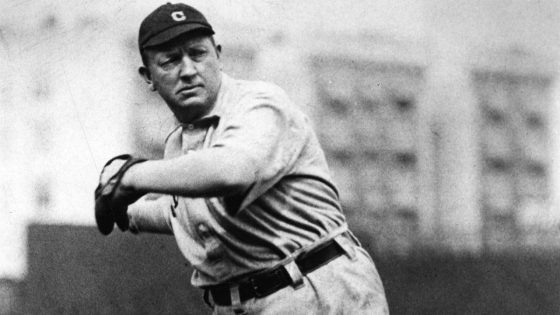 Does anyone think that this record can be touched, ever? Baseball was a different sport when Cy Young was active and he would pitch anywhere between 45 and 55 games a season for 22 years. Greg Maddux is the most recent pitcher to come anywhere close to it. He pitched for 23 seasons and finished with 355 wins.
Saves: Mariano Rivera – 652
This is one of those records that can be broken one day, it just won't be anytime soon. Mariano Rivera is a one of a kind closer that no one in MLB history can compare to. His 652 saves took 19 seasons of averaging 34 saves a year.
ERA: Ed Walsh – 1.82
This is over the course of a career, not one season. Clayton Kershaw has been the best pitcher in baseball for quite some time now and compared to Ed Walsh, he has a career ERA of 2.42 and is 29 spots behind Mr.Walsh.
Strikeouts: Nolan Ryan – 5,714
Randy Johnson and Roger Clemens were two of the best strikeout pitchers in MLB history and neither of them touched 5,000 in their career. So it shows you just how special Nolan Ryan's record is when compared to the rest of the league.
Complete Games: Cy Young – 749
There is a reason the award for the best pitcher each year is named after Cy Young. He was the greatest pitcher in the history of the game.
Shutouts: Walter Johnson – 110
Nolan Ryan finished with 61 but other than that, not a single active player has 15 in a career, let alone 100. Bartolo Colon has 13 and he is the only active leader that we could find without breaking out the league statistics book.
Innings Pitched: Cy Young – 7,356
If you pitch almost 55 games a season for 22 seasons, you have to also be the leader in innings pitched, right?
Walks: Nolan Ryan – 2,795
It isn't a pretty statistic, but it is still an unbreakable record. If a pitcher is throwing this many walks, chances are he isn't playing beyond a couple seasons in the majors. That is, unless they are elite like Nolan Ryan and they can make up for it with the ability to strikeout batters and throw no-hitters. Speaking of which…
No-Hitters: Nolan Ryan – 7
When a pitcher throws one no-hitter, it becomes a beautiful moment. But when he throws two, three, or even four, it becomes legendary. So when Nolan Ryan retired with 7 under his belt, it became untouchable.
Seasons w/ 100+ Ks: Nolan Ryan – 24
Did you expect anyone else to be in this slot? Greg Maddux had 21 seasons and Roger Clemens finished with 19. Even if Greg and Roger pitched another 5 seasons, we seriously doubt they could maintain that level of play in their 40's like Nolan Ryan did.
Seasons w/ 200+ Ks: Nolan Ryan – 15
As we said before, Nolan Ryan is the single greatest strikeout pitcher in MLB history. He played nearly 30 years and dominated almost every single season.
Games w/ 15+ Ks: Randy Johnson – 29
The Big Unit was so dominant, he averaged 221 strikeouts per season and owns another MLB record, 10.6098 strikeouts per 9 innings pitched. When he was pitching, left-handed batters were faking injuries to stay off the lineup card that day.