The Most Unbreakable Single Season MLB Records
The 2016 MLB season is underway and it has already given us plenty of reasons to enjoy baseball again. Trevor Story and Tyler White are two rookies who started the season historically hot, making many people question if they were going to set records in their rookie seasons. There are some records that are almost completely out of reach, and those are the unbreakable ones that have stood the test of time. Only the best of the best have owned these records and then locked them so far out of reach, the league can only dream of them now.
(To keep things fair, we are going to eliminate the deadball era and only include records from 1900 to present day.)
Single Season – Hitting (1900 – Present)
Batting Average: Nap Lajoie – 0.426 (1901)
As good of a hitter that Jose Altuve and Dee Gordon are, finishing the season with a .426 batting average isn't something they will ever do. It would be nice but with the advancements in technology and the pinpoint accuracies of the pitchers in the majors, it will be tough to break .400.
Runs: Babe Ruth – 177 (1921)
It doesn't make sense to have a list of unbreakable records and not include Babe Ruth. He was the most dominating run scorer in MLB history. He finished in the top 20 all-time in single season runs four times. It would take a really big power hitter with some speed to accomplish this these days.
Doubles: Earl Webb – 67 (1931)
Todd Helton had 59 and Carlos Delgado had 57 in 2000. But not a single hitter has reached 60 doubles in a season since 1936. The numbers might not look intimidating but when you think about how many games they play and hits they get, 67 doubles is amazing.
Triples: Chief Wilson – 36 (1912)
A triple in baseball is the toughest thing a batter can do. Home Runs are about timing and hitting the baseball just right but the average MLB player hits 5 or more home runs a season while a majority of the league doesn't hit even one triple. Curtis Granderson had 23 back in 2007.
Runs Batted In: Hack Wilson – 191 (1930)
For the sake of baseball, let's hope someone breaks this record in 2016. It would not only be an exciting season for them, it will be a great one for fans. Hack Wilson hit 191 back in 1930 and the only player to come close recently was Manny Ramirez in 1999 when he had 165.
Walks: Barry Bonds – 232 (2004) 
The top three single-season records for walks is owned by Barry Bonds. He hit 73 home runs in 2001 and was walked a MLB record at that time 177 times. He then broke that record the following season before finally having pitchers completely give up on him and walk him an insane 232 times in 2004.
Singles: Ichiro Suzuki – 225 (2004)
It would be a long shot but if Jose Altuve could continue hitting like he started the season this year, he might get to 200. But to reach 225? That is something only a player like Dee Gordon could do.
Hitting Streak: Joe DiMaggio – 56 (1941)
The one record in the history of baseball that everyone knows is untouchable is the 56 game hitting streak that Joe DiMaggio had in 1941. Since then, Chase Utley and Jimmy Rollins came close with 35 and 38 respectively.
Single Season – Pitching (1900 – Present)
Wins: Jack Chesbro – 41 (1904)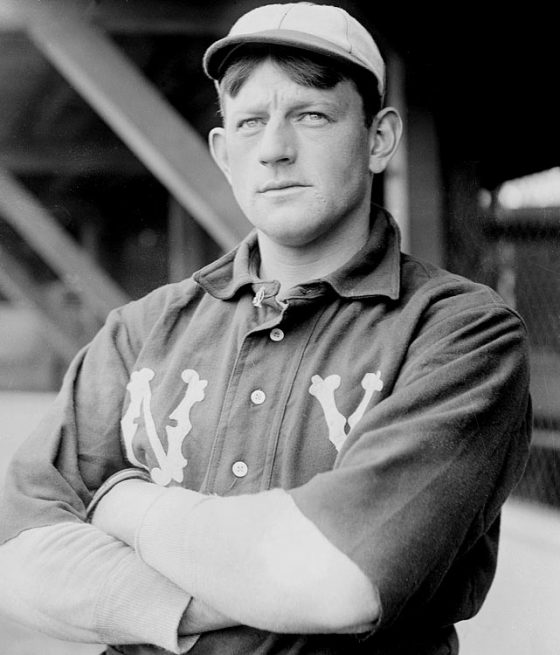 It will be tough for a MLB pitcher to get to 41 wins anytime soon, even if they win every single game they pitch. The most games started last season was 34 by Chris Archer. That is about the most you will get out of an ace on a team with a five man rotation.
Losses: Vic Willis – 29 (1905)
The only reason you could expect a pitcher to reach 29 losses in 2016 would be if the team he pitched for gave up and were pulling a move from the movie Major League, trying to lose. The pitcher would have to go 5-29, if he pitched 34 games like Chris Archer did last season. No pitcher would remain in the big leagues with a record that poor.
ERA: Dutch Leonard – 0.96 (1914)
Last season, Zack Greinke finished an amazing season with a 1.657 earned run average and that still wasn't even close to what Dutch Leonard accomplished in 1914. To reach that feat a pitcher would have to have less than 30 earned runs given up in a season.
Strikeouts: Nolan Ryan – 383 (1973) 
Good luck reaching this dominating number. It has taken a very long time for anyone to come even within arm's length of the single-season strikeouts record. Randy Johnson had 372 back in 2001. Clayton Kershaw nabbed 301 in 2015 and it was the first time since 2002 that anyone reached that many strikeouts in a season.
Innings Pitched:  Jack Chesbro – 454 (1904)
It took us a long time to figure out this one because almost all the players on this list were pitchers from pre-1900. The innings pitched record is going to be almost impossible for anyone to reach thanks to the changes that the game has gone through in the past 100 years. It would take an amazing amount of strength for one player to get to 300, so it's safe to think 454.2 isn't going anywhere.
Complete Games: Jack Chesbro – 48 (1904)
It wouldn't be a complete list without Jack Chesbro's unreal 48 complete games in a single-season record from 1904. This is one of those records that deserves to be unbroken and will remain so until someone turns into genetic robot that has a perfectly built arm.