Muppet Bust Winners and Losers
Several years ago, Sideshow Collectibles released 20 limited edition Muppet polystone busts. Originally costing between $40 and $60, they're sold out and now collectibles. They made between 3000 and 5000 of each.
Now, we present the current winners and losers in this collection.
Most Valuable
Limited to 3000 for $50 each, Dr. Teeth is now worth $250. Seriously. Why? No idea.
Least Valuable
Tie: Lew Zealand and Beauregard. Both were limited to 5000 for $55. Their current value? $40.
You'd Think They'd Be Worth the Same
Statler originally cost $41.25 (seriously), and Waldorf, $45, both limited to 5000. Their value today? $110 for Statler, and $140 for Waldorf. Seriously, there is a $30 difference in value between two guys who virtually belong together? Do some collectors have one and not the other? If there are any two busts that need to sell as a pair, it's these.
Check out Gunaxin's Tribute to Statler and Waldorf.
One That Should Be Worth More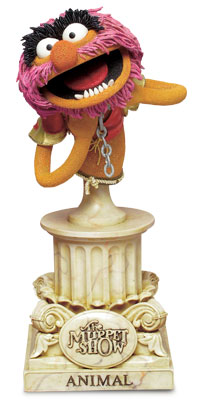 Animal was limited to only 3000 for $50 each. He is one of the most popular Muppets, so I have no idea why this is only worth $135 while Dr. Teeth is $250.
See Gunaxin's Tribute to Animal.
Most Essential
Limited to 5000 for a high $60, the Swedish Chef is one of the Muppet Show's funniest characters. This item doesn't even need to go on the mantle in the living room. It would look much better on the mantle in the kitchen. It's currently worth $135.
See Gunaxin's Tribute to the Swedish Chef.
Most Essential #2
Also limited to 5000 for $60, Beaker is now worth $170 and works fine on a mantle without Dr. Bunsen Honeydew. That guy is worth a high $90 from a pool of 5000 at $55 each.

All of these numbers are subject to change and are based on the information given by toytracker.net, which compiles and averages auctions. See the prices here.