The Greatest NBA All-Star Game Starting Line-ups

In 1951, New York City District Attorney Frank Hogan shocked the world of basketball when he had seven college basketball superstars arrested on charges of conspiring to fix games. They arrested City College of New York All-American forward Ed Warner, center Ed Roman, and guard Al Roth to begin what would end up being a total of 32 players from seven colleges who had fixed 86 games between 1947 and 1950. The scandal featured the mafia paying off players to shave points on certain games, in other words, fixing games so they would win large sums of cash on betting on the outcomes.
The entire scandal nearly destroyed the future of the NBA because of how many fans lost faith in the game and did not want anything to do with it at the time. In order to get the fans back, and regain the spotlight on the league, NBA President Maurice Podoloff, NBA publicity director Haskell Cohen, and Boston Celtics owner Walter Brown came up with an exhibition game that would feature the best players in the NBA and give the fans a break from the season. This became known as the NBA All-Star game.
The first one was held at the Boston Garden, which was also the home of the Boston Celtics, in 1951. The teams were selected by various sportswriters and sportscasters until 1975 when they changed the format, allowing fans to vote for their favorite players to help select each league's starting lineup. The game has grown into one of the most popular All-Star games in all of professional sports because of the entertaining nature of basketball when the greatest players in the world come together to have a little fun for one weekend.
After a few recent years of poor viewership and less competition or excitement, the 67th NBA All-Star game in 2019 was the first time in NBA history that wasn't contested by conferences, but instead became a draft-style format after the voting. The voting featured 50% from fans, 25% from NBA players, and 25% from the media. Once the teams were created from the voting, the leading vote getters from each conference, were designated captains and selected their teams. The new format was declared a success, and thus will be utilized again in 2019.
As we enjoy this exciting new era for the NBA All-Star game, we wanted to go back and take a look at the 25 greatest All-Star game starting line-ups from the old format of years past. Enjoy.
25) 1956 Eastern Conference
Final Score: 108-94, West
All-Star Game MVP: Bob Pettit
Starting Five

G: Dick McGuire
G: Bob Cousy
F: Dolph Schayes
F: Paul Arizin
C: Neil Johnston
24) 2008 Eastern Conference
Final Score: 134-128, East
All-Star Game MVP: LeBron James
Starting Five

G: Jason Kidd
G: Dwyane Wade
F: LeBron James
F: Kevin Garnett* Did Not Play due to Injury
C: Dwight Howard
23) 1958 Eastern Conference
Final Score: 130-118, East
All-Star Game MVP: Bob Pettit
Starting Five

G: Bill Sharman
G: Bob Cousy
F: Dolph Schayes
F: Willie Naulls
C: Bill Russell
22) 1975 Eastern Conference
Final Score: 108-102, East
All-Star Game MVP: Walt Frazier
Starting Five

G: Walt Frazier
G: Earl Monroe
F: John Havlicek
F: Elvin Hayes
C: Bob McAdoo
21) 2011 Western Conference
Final Score: 148-143, West
All-Star Game MVP: Kobe Bryant
Starting Five

G: Chris Paul
G: Kobe Bryant
F: Kevin Durant
F: Carmelo Anthony
C: Yao Ming *Did Not Play due to injury
20) 1960 Eastern Conference
Final Score: 125-115, East
All-Star Game MVP: Wilt Chamberlain
Starting Five

G: Richie Guerin
G: Bob Cousy
F: Dolph Schayes
F: Wilt Chamberlain
C: Bill Russell
19) 1997 Western Conference
Final Score: 132-120, East
All-Star Game MVP: Glen Rice
Starting Five

G: John Stockton
G: Gary Payton
F: Shawn Kemp
F: Charles Barkley *Did Not Play due to injury
C: Hakeem Olajuwon
18) 1979 Eastern Conference
Final Score: 134-129, West
All-Star Game MVP: David Thompson
Starting Five

G: George Gervin
G: Pete Maravich
F: Julius Erving
F: Rudy Tomjanovich
C: Moses Malone
17) 1998 Western Conference
Final Score: 135-114, East
All-Star Game MVP: Michael Jordan
Starting Five

G: Gary Payton
G: Kobe Bryant
F: Kevin Garnett
F: Karl Malone
C: Shaquille O'Neal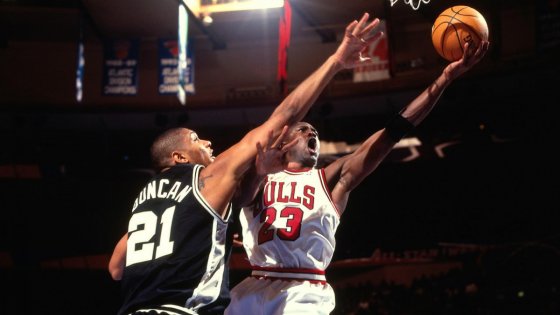 16) 1975 Western Conference
Final Score: 108-102, East
All-Star Game MVP: Walt Frazier
Starting Five

G: Tiny Archibald
G: Gail Goodrich
F: Rick Barry
F: Spencer Haywood
C: Kareem Adbul-Jabbar
15) 2000 Western Conference
Final Score: 137-126, West
All-Star Game MVP: Tim Duncan & Shaquille O'Neal
Starting Five

G: Jason Kidd
G: Kobe Bryant
F: Kevin Garnett
F: Tim Duncan, Spurs
C: Shaquille O'Neal
14) 2016 Western Conference
Final Score: 196-173, West
All-Star Game MVP: Russell Westbrook
Starting Five

G: Stephen Curry
G: Russell Westbrook
F: Kobe Bryant
F: Kawhi Leonard
C: Kevin Durant
13) 1996 Eastern Conference
Final Score: 129-118, East
All-Star Game MVP: Michael Jordan
Starting Five

G: Anfernee Hardaway
G: Michael Jordan
F: Grant Hill
F: Scottie Pippen
C: Shaquille O'Neal
12) 1984 Western Conference
Final Score: 154-145, East
All-Star Game MVP: Isiah Thomas
Starting Five

G: Magic Johnson
G: George Gervin
F: Adrian Dantley
F: Alex English
C: Kareem Abdul-Jabbar
11) 1996 Western Conference
Final Score: 129-118, East
All-Star Game MVP: Michael Jordan
Starting Five

G: Jason Kidd
G: Clyde Drexler
F: Shawn Kemp
F: Charles Barkley
C: Hakeem Olajuwon
10) 1974 Eastern Conference
Final Score: 134-123, West
All-Star Game MVP: Bob Lanier
Starting Five

G: Pete Maravich
G: Walt Frazier
F: Lou Hudson
F: John Havlicek
C: Dave Cowens
9) 1966 Eastern Conference
Final Score: 137-94, East
All-Star Game MVP: Adrian Smith
Starting Five

G: Oscar Robertson
G: Sam Jones
F: John Havlicek
F: Jerry Lucas
C: Wilt Chamberlain
8) 1989 Eastern Conference
Final Score: 143-134, West
All-Star Game MVP: Karl Malone
Starting Five

G: Isiah Thomas
G: Michael Jordan
F: Dominique Wilkins
F: Charles Barkley
C: Moses Malone
7) 2005 Eastern Conference
Final Score: 125-115, East
All-Star Game MVP: Allen Iverson
Starting Five

G: Allen Iverson
G: LeBron James
F: Vince Carter
F: Grant Hill
C: Shaquille O'Neal
6) 1962 Western Conference
Final Score: 150-130, West
All-Star Game MVP: Bob Pettit
Starting Five

G: Oscar Robertson
G: Jerry West
F: Elgin Baylor
F: Bob Pettit
C: Walt Bellamy
5) 1969 Eastern Conference
Final Score: 123-112, East
All-Star Game MVP: Oscar Robertson
Starting Five

G: Oscar Robertson
G: Earl Monroe
F: John Havlicek
F: Jerry Lucas
C: Bill Russell
4) 1992 Western Conference
Final Score: 153-113, West
All-Star Game MVP: Magic Johnson
Starting Five

G: Magic Johnson
G: Clyde Drexler
F: Chris Mullin
F: Karl Malone
C: David Robinson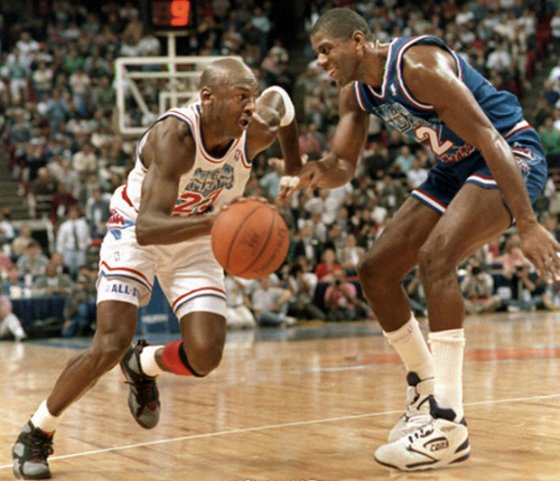 3) 1987 Eastern Conference
Final Score: 154-149, West
All-Star Game MVP: Tom Chambers
Starting Five

G: Michael Jordan
G: Julius Erving
F: Dominique Wilkins
F: Larry Bird
C: Moses Malone
2) 1965 Western Conference
Final Score: 124-123, East
All-Star Game MVP: Jerry Lucas
Starting Five

G: Lenny Wilkens
G: Jerry West
F: Elgin Baylor
F: Bob Pettit
C: Wilt Chamberlain
1) 1985 Eastern Conference
Final Score: 140-129, West
All-Star Game MVP: Ralph Sampson
Starting Five

G: Michael Jordan
G: Isiah Thomas
F: Julius Erving
F: Larry Bird
C: Moses Malone