NBA Playoffs: First Round Preview and Predictions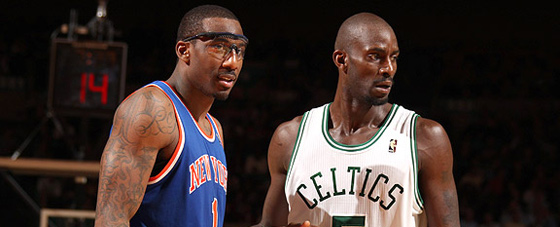 Finally…finally, the NBA Playoffs are ready to get started after one of the best regular seasons in recent memory. The league is stacked right now with young superstars, compelling storylines, and fascinating rivalries. Heading into this weekend, both conferences have multiple teams who are very viable championship contenders, along with lower seeds capable of stealing a series or two. Let's start in the Eastern Conference :
1) Chicago Bulls vs. 8) Indiana Pacers
Derrick Rose has willed Chicago to the top seed in the East and now finally has a healthy roster around him. The Bulls are deep, know how to play defense under first year head coach Tim Thibodeau and have enough weapons on offense to be the favorite in the East as the playoffs start. It is a nice story that the Pacers finally made it back to the playoffs but the reality is that they are a sub .500 team by a wide margin, who would be a 11 seed in the Western Conference.
Prediction – Chicago in 4.

2) Miami Heat vs. 7) Philadelphia 76ers
Philadelphia has exceeded everyone's expectations this year and has a quality collection of young athletic players. However, this team is far from ready to knock off Dwayne Wade, his sidekick, and Chris Bosh in the first round of the playoffs. They will play them tough in a few games and steal a win, or maybe two but simply do not have the firepower to compete throughout an entire seven game series.
Prediction – Miami in 5.

3) Boston Celtics vs. 6) New York Knicks
A series that features a great city rivalry but not necessarily a great basketball rivalry, since the Knicks have been awful the past decade. Regardless, there is more star power in this series than any in the rest of conference by a long shot. Boston has struggled heavily since trading Kendrick Perkins and looked sluggish ending the regular season. Regardless, they are led by four battle-tested All-Stars who have won a championship together.
The Knicks can score with the best of them, led by Carmelo Anthony and Amare Stoudemire. Chauncey Billups is also a seasoned point guard who provides championship experience and the ability to hit a big shot. However, the rest of the roster has plenty to prove and let's be honest, the Knicks can't stop anybody. The energy in Madison Square Garden and the intensity from the bad blood between these two teams will only carry New York so far. This will be the most entertaining first round series in the East by a wide margin, but the Knicks aren't ready yet to take down the Celtics.
Prediction – Boston in 6.

4) Orlando Magic vs. 5) Atlanta Hawks
The Hawks have a running tradition the past two years of sneaking out of the first round only to be swept in the second round in embarrassing fashion. Last year it was the Magic who completely humiliated them in one of the most pathetic efforts ever seen in a seven game series. Atlanta lost game one by 43 points and game three by 30 points if you happened to forget. Honestly, there is no reason to think much is going to change this year. Atlanta paid Joe Johnson like the franchise player that he isn't and basically returns with the same team, minus Mike Bibby but plus Kirk Hinrich. I am sorry but that isn't making a difference. The Magic have had an up and down year, but are still a much better, deeper team. I will give Atlanta one game, but mostly out of pity.
Prediction – Orlando in 5.
On to the West…

1) San Antonio Spurs vs. 8) Memphis Grizzlies
This could be a dangerous series for San Antonio, who began to wear down at the end of the season. Memphis is an athletic team who has the size to compete around the basket with the Spurs. Regardless, the Grizzlies lack the experience to do enough to pull this big of an upset in a seven game series. They will give the Spurs all they can handle but will ultimately fall a little short.
Prediction – San Antonio in 6.

2) Los Angeles Lakers vs. 7) New Orleans Hornets
The Lakers are ecstatic they avoided Portland in the first round and got the most favorable match-up possible by facing the Hornets. This series will give the defending champs a nice chance to tune up for the second round. Chris Paul did a great job getting this team back to the playoffs, but has nowhere near enough help to pull this upset, especially without David West.
Prediction – Los Angeles in 4.

3) Dallas Mavericks vs. 6) Portland Trail Blazers
A rough draw for the Mavericks in round one, who are going to continue their habit of disappointing playoff runs by getting knocked out in the first round. Portland is loaded up front, especially after acquiring Gerald Wallace mid-season and is the most dangerous lower seed in these playoffs, with the ability to steal a series or maybe two. Unless Dirk Nowitzki has a series for the ages, Portland is taking this one.
Prediction – Portland in 6.

4) Oklahoma City Thunder vs. 5) Denver Nuggets
This is a very evenly matched series that should go the distance. Oklahoma City has improved their rotation and identity by trading for Kendrick Perkins and is led by two superstars in Kevin Durant and Russell Westbrook. The Nuggets have looked great since the Carmelo Anthony trade, by developing a balanced approach and a relentless offensive attack. In the end though, Denver will miss having a big time player like Anthony or Chauncey Billups to hit a shot in a big spot and fall short.
Prediction – Oklahoma City in 7.