Baseball Hall of Fame Projections
On April 8th, 1991, the Houston Astros faced the Cincinnati Reds at Riverfront Stadium in front of nearly 60,000 screaming and amped up Reds fans, fresh off the 1990 World Series championship their team won the previous summer. Unfortunately for the Astros, they lost 6-2 and would go on to finish the season with a 65-97 record, the second worst in baseball that year. But that is not why the Astros remember the 1991 season.
They remember it because, during that opening weekend, they debuted a skinny young first baseman from Connecticut, Jeff Bagwell. He wound up playing in 156 games in 1991 and finished with a .294 batting average, 163 hits, 15 home runs, 82 runs batted in, 79 runs, and 26 doubles. It was the beginning of an amazing 15-year career with the Astros that would lead to the first baseman's induction into the 2017 Baseball Hall of Fame.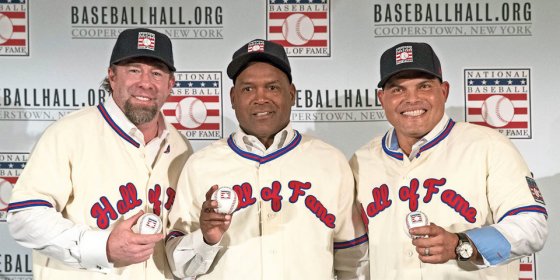 Jeff Bagwell, Tim Raines, and Ivan Rodriguez today became just three of the 249 former MLB players who have been inducted into the National Baseball Hall of Fame and Museum in Cooperstown, New York. The first class of players was introduced in 1936 when Honus Wagner, Babe Ruth, Christy Mathewson, Walter Johnson, and Ty Cobb were inducted.
So on Hall of Fame Induction Day, we'd like to take the time to admire those who have not been voted in just yet but should be very soon by predicting the next five Hall of Fame classes. Enjoy.
2018: Trevor Hoffman, RHP
Seasons: 17 (1993-2010)
Year Eligible: 2016
Years on Ballot: 3rd Time
Teams: Florida Marlins, San Diego Padres, Milwaukee Brewers
Awards

7x All-Star, 2x Rolaids Relief Man Award

Pitching Stats

Games: 1,035
Record: 61-75
Saves: 601
ERA: 2.87
Strikeouts: 1,133
Walks: 307
SO/9: 9.4
WHIP: 1.059
2018: Vladimir Guerrero, OF
Seasons: 15 (1996-2011)
Year Eligible: 2017
Years on Ballot: 2nd
Teams: Montreal Expos, Los Angeles Angels of Anaheim, Texas Rangers, Baltimore Orioles
Awards

9x All-Star, AL MVP, 8x Silver Slugger

Hitting Stats

Avg: 0.318
OBP: 0.379
Runs: 1,328
Hits: 2,590
2B: 477
HR: 449
RBI: 1,496
Strikeouts: 985
Stolen Bases: 181
2018: Chipper Jones, 3B
Seasons: 19 (1993-2012)
Year Eligible: 2018
Years on Ballot: 1st
Team: Atlanta Braves
Awards

8x All-Star, 2x Silver Slugger, NL MVP, World Series Champion

Hitting Stats

Avg: 0.303
OBP: 0.401
Runs: 1,619
Hits: 2,726
2B: 549
HR: 468
RBI: 1,623
Walks: 1,512
Stolen Bases: 150
2019: Mariano Rivera, RHP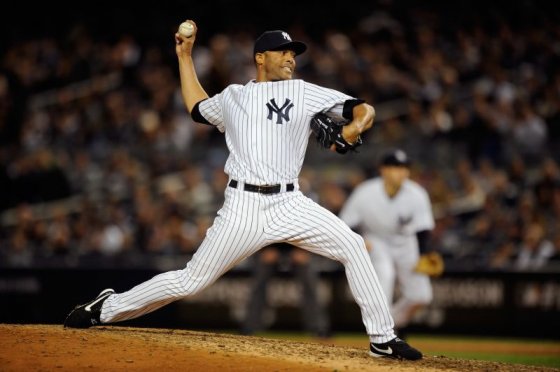 Seasons: 18 (1995-2013)
Year Eligible: 2019
Years on Ballot: 1st
Team: New York Yankees
Awards

13x All-Star, 5x Rolaids Relief Man Award, 3x Delivery Man of the Year, AL Comeback Player of the Year, 5x World Series Champion, World Series MVP, ALCS MVP

Pitching Stats

Games: 1,115
Record: 82-60
Saves: 652
ERA: 2.21
Strikeouts: 1,173
Walks: 286
SO/9: 8.2
WHIP: 1.001
2019: Jim Thome, 3B/DH
Seasons: 21 (1991-2012)
Year Eligible: 2018
Years on Ballot: 2nd
Teams: Cleveland Indians, Philadelphia Phillies, Chicago White Sox, Los Angeles Dodgers, Minnesota Twins, Baltimore Orioles
Awards

5x All-Star, Silver Slugger, AL Comeback Player of the Year

Hitting Stats

Avg: 0.276
OBP: 0.402
Runs: 1,583
Hits: 2,328
2B: 451
HR: 612
RBI: 1,699
Walks: 1,747
2019: Edgar Martinez, DH
Seasons: 17 (1987-2004)
Year Eligible: 2010
Years on Ballot: 10th
Team: Seattle Mariners
Awards

7x All-Star, 5x Silver Slugger

Hitting Stats

Avg: 0.312
OBP: 0.418
Runs: 1,219
Hits: 2,247
2B: 514
HR: 309
RBI: 1,261
Walks: 1,283
2019: Todd Helton, 1B
Seasons: 16 (1997-2013)
Year Eligible: 2019
Years on Ballot: 1st
Teams: Colorado Rockies
Awards

5x All-Star, 3x Gold Glove, 4x Silver Slugger

Hitting Stats

Avg: 0.316
OBP: 0.414
Runs: 1,401
Hits: 2,519
2B: 592
HR: 369
RBI: 1,406
Walks: 1,335
2019: Mike Mussina, RHP
Seasons: 17 (1991-2008)
Year Eligible: 2014
Years on Ballot: 6th
Teams: Baltimore Orioles, New York Yankees
Awards

5x All-Star, 7x Gold Glove

Pitching Stats

Starts: 536
Record: 270-153
Complete Games: 57
Shutouts: 23
ERA: 3.68
Strikeouts: 2,813
Walks: 785
SO/9: 7.1
WHIP: 1.192
2020: Derek Jeter, SS
Seasons: 19 (1995-2014)
Year Eligible: 2020
Years on Ballot: 1st
Teams: New York Yankees
Awards

14x All-Star, 5x Gold Glove, 5x Silver Slugger, 5x World Series Champion, World Series MVP, AL Rookie of the Year

Hitting Stats

Avg: 0.310
OBP: 0.377
Runs: 1,923
Hits: 3,465
2B: 544
HR: 260
RBI: 1,311
Walks: 1,082
Stolen Bases: 358
2020: Barry Bonds, LF
Seasons: 21 (1986-2007)
Year Eligible: 2013
Years on Ballot: 8th
Teams: Pittsburgh Pirates, San Francisco Giants
Awards

14x All-Star, 8x Gold Glove, 7x NL MVPP, 12x Silver Slugger, 3x Hank Aaron Award, MLB Home Runs Career Leader

Hitting Stats

Avg: 0.298
OBP: 0.444
Runs: 2,227
Hits: 2,935
2B: 601
HR: 762
RBI: 1,996
Walks: 2,558
Stolen Bases: 514
2020: Larry Walker, 1B/RF
Seasons: 16 (1989-2005)
Year Eligible: 2011
Years on Ballot: 10th
Teams: Montreal Expos, Colorado Rockies, St.Louis Cardinals
Awards

5x All-Star, 7x Gold Glove, 3x Silver Slugger, NL MVP

Hitting Stats

Avg: 0.313
OBP: 0.400
Runs: 1,355
Hits: 2,160
2B: 471
HR: 383
RBI: 1,311
Walks: 913
Stolen Bases: 230
2020: Roy Halladay, RHP
Seasons: 15 (1998-2013)
Year Eligible: 2019
Years on Ballot: 2nd
Teams: Toronto Blue Jays, Philadelphia Phillies
Awards

8x All-Star, 2x Cy Young, Perfect Game (2010), Postseason No-Hitter (2010)

Pitching Stats

Starts: 390
Record: 203-105
ERA: 3.38
Strikeouts: 2,117
Walks: 592
SO/9: 6.9
WHIP: 1.178
2021: Curt Schilling, RHP
Seasons: 19 (1988-2007)
Year Eligible: 2013
Years on Ballot: 9th
Teams: Baltimore Orioles, Houston Astros, Philadelphia Phillies, Arizona Diamondbacks, Boston Red Sox
Awards

6x All-Star, 3x World Series Champion, World Series MVP, NLCS MVP

Pitching Stats

Starts: 436
Record: 216-146
Saves: 22
ERA: 3.46
Strikeouts: 3,116
Walks: 711
SO/9: 8.6
WHIP: 1.137
2021: Gary Sheffield, RF
Seasons: 21 (1988-2009)
Year Eligible: 2015
Years on Ballot: 7th
Teams: Milwaukee Brewers, San Diego Padres, Florida Marlins, Los Angeles Dodgers, Atlanta Braves, New York Yankees, Detroit Tigers, New York Mets
Awards

9x All-Star, 5x Silver Slugger, World Series Champion

Hitting Stats

Avg: 0.292
OBP: 0.393
Runs: 1,636
Hits: 2,689
2B: 467
HR: 509
RBI: 1,676
Walks: 1,475
Stolen Bases: 253
2021: Jeff Kent, 2B
Seasons: 16 (1992-2008)
Year Eligible: 2014
Years on Ballot: 8th
Teams: Toronto Blue Jays, New York Mets, Cleveland Indians, San Francisco Giants, Houston Astros, Los Angeles Dodgers
Awards

5x All-Star, 4x Silver Slugger, NL MVP

Hitting Stats

Avg: 0.290
OBP: 0.356
Runs: 1,320
Hits: 2,461
2B: 560
HR: 377
RBI: 1,518
Walks: 801
2021: Billy Wagner, LHP
Seasons: 15 (1995-2010)
Year Eligible: 2016
Years on Ballot: 6th
Teams: Houston Astros, Philadelphia Phillies, New York Mets, Boston Red Sox, Atlanta Braves
Awards

7x All-Star, NL Rolaids Relief Man Award

Pitching Stats

Games: 853
Record: 47-40
Saves: 422
ERA: 2.31
Strikeouts: 1,196
Walks: 300
SO/9: 11.9
WHIP: 0.998
2022: Alex Rodriguez, SS/3B
Seasons: 22 (1994-2016)
Year Eligible: 2022
Years on Ballot: 1st
Teams: Seattle Mariners, Texas Rangers, New York Yankees
Awards

14x All-Star, 3x AL MVP, 2x Gold Glove, 10x Silver Slugger, World Series Champion, 4x AL Hank Aaron Award

Hitting Stats

Avg: 0.295
OBP: 0.380
Runs: 2,021
Hits: 3,115
2B: 548
HR: 696
RBI: 2,086
Walks: 1,338
Stolen Bases: 329
2022: David Ortiz, DH
Seasons: 19 (1997-2016)
Year Eligible: 2022
Years on Ballot: 1st
Teams: Minnesota Twins, Boston Red Sox
Awards

10x All-Star, 7x Silver Slugger, 3x World Series Champion, World Series MVP, ALCS MVP, 2x AL Hank Aaron Award

Hitting Stats

Avg: 0.286
OBP: 0.380
Runs: 1,419
Hits: 2,472
2B: 632
HR: 541
RBI: 1,768
Walks: 1,319
2022: Roger Clemens, RHP
Seasons: 24 (1984-2007)
Year Eligible: 2013
Years on Ballot: 10th
Teams: Boston Red Sox, Toronto Blue Jays, New York Yankees, Houston Astros
Awards

11x All-Star, 7x Cy Young, 2x Triple Crown, 2x World Series Champion, 7x ERA Leader, 5x AL Strikeouts Leader, 4x MLB Wins Leader

Pitching Stats

Starts: 707
Record: 354-184
ERA: 3.12
Strikeouts: 4,672
Walks: 1,580
SO/9: 8.6
WHIP: 1.173
2022: Ichiro Suzuki, OF
Seasons: 16 (2001-2017)
Year Eligible: 2022
Years on Ballot: 1st
Teams: Seattle Mariners, New York Yankees, Miami Marlins
Awards

10x All-Star, All-Star Game MVP, 10x Gold Glove, 3x Silver Slugger, AL MVP, AL Rookie of the Year

Hitting Stats

Avg: 0.312
OBP: 0.355
Runs: 1,408
Hits: 3,055
2B: 358
HR: 116
RBI: 769
Walks: 632
Stolen Bases: 508