NFL Assholes of the Week : Week 4
I've spent the last two weeks pondering a more creative name for what I hope will be a semi-weekly contribution from yours truly, and the Joe Theismann Awards are an option I cannot escape. It only seems proper to honor an award for the assholes of the NFL with the name one of the greatest the league has ever known… but I don't want to give him the satisfaction. We'll give him the symbolic honors this week as a show of respect.
Let's review the horrors of Sunday and put blame on the douchebags that ruined your dreams of fantasy football supremacy for the week.
Gary Kubiak, Head Coach, Houston Texans
STATS: One useless disciplinary message ruined after one quarter of play
There are realities we all must face in life. This week coach Gary Kubiak faced the reality of a running back with no interest in showing up for every meeting on the schedule. This Sunday fantasy owners faced a headline noting Kubiak, without warning or advance notice of any kind, would be sitting that running back as a result of "the coach's decision." And then they faced the agony of the unknown until Kubiak came back to reality.
That running back was Arian Foster, one of the most potent fantasy commodities we've seen through the early weeks of the 2010 season, and after Kubiak sat him down for one quarter he faced the reality of an offense working without Andre Johnson, an Oakland defense giving up over 130 rushing yards per game, and a Texan defense struggling to keep the Raiders off the scoreboard.
Kubiak faced that reality and suddenly Foster was back in good graces, taking 16 carries for 131 yards and a touchdown. Add the 56 yards earned via three receptions and Foster nearly matched the 192 yards collected by the arm of quarterback Matt Schaub. Add the additional touchdown Foster posted on one of those receptions and his point total matches the number tallied by Schaub, and in a game won by seven points, you are faced with the same reality Kubiak faced earlier in the week, again on Sunday at 9:55am Pacific, and again with 23 seconds left on the clock when Schaub finally connected with tight end Joel Dreessen to get seven points of distance from the Raiders.
The Texans need Arian Foster, and when Andre Johnson isn't on the field, "need" isn't doing the situation justice… and neither is some lame-ass attempt to distribute the perception suggesting the same rules apply to all. These are grown men Gary… they can live with Foster taking advantage of his stardom, just like they'll deal with his release when he's no longer of use to the franchise.
Kassim Osgood, Wide Receiver, Jacksonville Jaguars
STATS: 1 reception, 3 yards, 1 pistol-whip beat down followed by 1 inconsequential gun fight
(Ed.Note: I had every intention of using the Ray Liotta pistol-whip scene from "Goodfellas" – the obvious clip of choice for such an occasion – but the embedding for ALL of the clips of that scene from YouTube is disabled… assholes.)
Not that Osgood is of any use to fantasy owners… but he has it coming. He represents the National Football League, a community built on control in the midst of chaos and performance in the midst of violence. Osgood put a dent in the armor by letting some 20-year-old douche pistol whip his ass until he ran like a bitch, jumping out of the second-story window only to get in a gunfight with the kid downstairs where Osgood proved as accurate as his quarterback.
Why is Osgood (30-years of age) puttin' wood to some 19-year-old with lunatic, Ice Cube wanna-be boyfriend? Why is he carrying a gun he can't use unless he takes a two-story leap and gets lucky with the lack of aim brought by said boyfriend? Why is this Mensa member in the league (not like he's earning it on the field)?
Who cares… this is the only wave he's made in the NFL to date and he's had plenty of time to make more. In the end that wave is his ass getting beat by some kid, every stupid-ass decision that came before and after, and another name added to the list of mentally-challenged athletes who can't figure the value of a reliable, discreet escort service.
Donovan McNabb, Quarterback, Washington Redskins
STATS: 8/19, 125 yards, 1 touchdown, 1 interception, 5 carries, 39 yards, 60.2 QB Rating
Since the day McNabb was traded from the Philadelphia Eagles, where he spent 11 seasons cultivating an identity and career some would say is worthy of Hall of Fame honors, to the division-rival Washington Redskins, this Week 4 match-up between the two franchises was tabbed as one of the most anticipated games of the season and more than a few fantasy owners were counting on the "up your ass" effort from McNabb as a result. According to Yahoo, McNabb was listed as a starting quarterback on almost 80% of the rosters bearing his name, all counting on the motivation of revenge and the arm that posted over 400 passing yards against Houston followed by 236 yards against St. Louis.
Instead, McNabb posted his worst performance in nearly two years, completing eight passes on 19 attempts for 125 yards, balancing one touchdown with one interception. The 'Skins still got the win but they needed an injury for Mike Vick, two Philadelphia turnovers, and a surprising contribution from rusher Ryan Torain to get it done.
The 'Skins didn't pull the win because of McNabb. They got the W despite him. Let's hope a few fantasy owners out there can say the same.
Chris Johnson, Running Back, Tennessee Titans
STATS: 19 carries, 53 yards, 3 receptions, 11 yards
There isn't a fantasy owner alive who saw "vs. Denver" listed next to CJ's name this week without smiling… the Broncos have become known for their lackluster efforts in stopping the run. Last season, the first with coach Josh McDaniels at the helm, the Broncos surrendered nearly 130 rushing yards per game (4.5 yards per carry), and while their numbers through three weeks of the 2010 schedule have been solid (ranked 10th in the league in rushing defense, allowing 94.3 yards per game on the ground before meeting Johnson), they have faced only one rusher of worth thus far and he wasn't too shabby (98 yards on 23 carries for Maurice Jones-Drew in the Week 1 loss to Jacksonville… not bad at all when you consider the Jags have no support system to keep defensive efforts from focusing on MJD).
There was no true reason to believe the Broncos would put the clamps on CJ and thus the fantasy universe for those plagued with the first pick in their fantasy drafts had at least one contributor they could count on for the week.
So much for that… Broncos linebacker D.J. Williams had CJ's number all day long, and when he wasn't beating him around, veteran safety Brian Dawkins was. Backup rusher Javon Ringer topped CJ's yardage total on one carry (posting one 54-yard run only to -4 on the only other carry he earned), the Titans averaged 5.5 yards per carry as a team, they put 11 hits on Denver quarterback Kyle Orton (six of them for sacks), and they took the six-point loss.
If CJ had shown up at all, the results for the Titans would have been different, and we're betting most fantasy owners can say the same.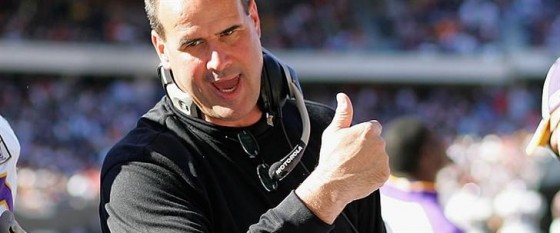 Mike Tice, Offensive Line Coach, Chicago Bears
STATS: 10 sacks surrendered, 2 quarterbacks lost to injury, 1 talented rusher wasted
Jay Cutler was sacked NINE TIMES in the first half.
NINE TIMES.
Not only is it a new NFL record, but it's the primary reason the Bears suffered the loss. Despite averaging 2.0 yards per pass attempt, despite losing not one but TWO quarterbacks to injury (Cutler to concussion in the early third quarter, then losing primary backup Todd Collins to the same shortly after), despite 11 tackles for a loss of yards leading to a box score that reads 110 yards of total offense for the Bears… despite ALL of that, the Bears were down by only seven until Giants stuck a fork in 'em with a Brandon Jacobs touchdown made with four and a half minutes left in the game.
To be fair, Tice didn't hire these guys. He didn't draft Chris Williams to play at left tackle, he didn't hire Orlando Pace to fail at supporting him, and he didn't take a pass on the various tackles available for hire this offseason that may have improved the situation. This isn't "his" line, but it is… and if that line had performed in any way, shape, or form, the Bears might have jacked another win and fantasy owners might not be wondering if Cutler and his 42-yard performance will be available for Week 5.
Eli Manning, Quarterback, New York Giants
STATS: 18/30, 195 yards, 0 TD, 0 INT, 3 carries, -2 yards, 79.2 QB Rating
Know how Chicago stayed in the game?
The defense did their part, holding Chicago to an 0-for-13 mark in third downs, to 2.1 yards per offensive snap, and to three points on the scoreboard.
The rushers did their part with Ahmad Bradshaw posting 129 yards on 23 carries with one touchdown, spiced with 62 yards on six carries for an additional touchdown. The Giants averaged 5.9 yards per carry and posted 12 of their 17 total points via the run.
Chicago was in the hunt despite an atrocious performance thanks to the lack of contribution from Eli. The Bears came in with the 28th-ranked pass defense in the land, giving up nearly 280 passing yards per game (and they were winning those games). This week the Bears never got a whiff of offensive production and the Giants struggled to take advantage as Eli failed to produce. He lacked accuracy, he lacked poise, and he lacked the production many fantasy owners were counting on for success this week.
Next week he's set to face the worst passing defense in the league (Houston)… Eli should reverse fortunes, but for now, he's one of the biggest assholes of the week.
The Michael Jackson Kid
STATS: One viral video
No one likes  a showoff… little fucker.
So there ya' go… have a good one.