Which NFLers Would You Want to Punch in the Face?
More Athletes to Punch: MLB | NBA | NFL | NHL | Tennis


At this point, it seems like you can't go a week without hearing about some NFL player making headlines for acting like an entitled jackass, getting suspended and costing you a much needed fantasy victory. And don't even get us started on the attention seeking tools who wind up on the cover of Us Weekly dating models and, well, living the exact life we all wish we had. Who do they think they are, anyway? Sometimes, you wish you just had the chance to punch those assbags square in the grill. So tell us, which NFL player would you most like to punch in the face?
Ben Roethlisberger
You want to punch him in the face because…well, how about the fact that there's something a little rape-y about Big Ben? When he's not putting his career at risk by wrecking motorcycles, he's cornering young drunk coeds in bathrooms and, allegedly, having his way with them. Sure, he led the Steelers to the Super Bowl in only his second year and became a freakin' hero in the Steel City, but with his current antics it's not hard to see why class act Troy Polamalu has quickly become the beloved face of the franchise.
Terrell Owens
You want to punch him because…he's Terrell freakin' Owens. Arguably the biggest prima donna to ever play the wide receiver position, throughout his career he's submarined his own success and popularity over and over again by throwing every quarterback he's ever played with under the bus. Well, except for Trent Edwards, but we're guessing that's because he never took the time to actually learn his name.
Michael Vick
You want to punch him because…he's really, really mean to dogs. The guy who was once labeled as the future of the quarterback position is now notoriously the most famous dog fight enthusiast in the world, with the prison time to prove it. He seems to have changed his ways, but if you were ever out walking your dog and came across Vick, you can't tell us you'd take one look at little Rosco and want to hurl the QB into traffic.
Randy Moss
You want to punch him because…defore there was TO, before there was Ochocinco, before there was…well, just think of any douchey, ego driven wide receiver, and before him, there was Randy Moss. Those other guys are just pretenders to the throne of talented but assholish receivers with me first attitudes. Moss is, was and always will be the king. He's failed drug tests and been accused of being lazy in games, which may go hand in hand since, ya know, he tested positive for weed. Every now and then he gets his act together and proves he's one of the best ever, but soon enough he implodes. You know, like recently with his whole bitter act toward the Patriots.
Tom Brady
You want to punch him because…man, is he ever smug. The pretty boy leader of the Patriots is one of the most successful quarterbacks in history, on and off the field. Damn those rugged good looks! Oh yeah, and also damn him for leaving the super hot (and pregnant) Bridget Moynahan for the even super hotter Giselle. We really, really hate Tom Brady. And seriously, look at that picture. More like Tom Gay-dy, right? Eh? Eh?
Tony Romo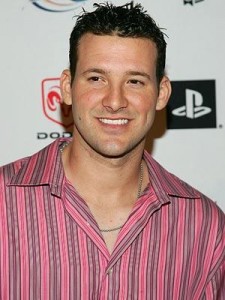 You want to punch him because…he so desperately wants to be the next Tom Brady or Broadway Joe. When he's not running through every single hot blonde country singer to ever take the stage, he's running the offense for the Dallas Cowboys. And as we all know, there are two types of fans in the world: those who love the Cowboys, and everyone else in the world. And everyone else really, really hates the Cowboys.
Chad Ochocinco
You want to punch him because…if TO were the Emperor, Ochocinco would be his Sith apprentice. He's cocky, he's arrogant, and he refers to himself in the third person. Oh, and his hobbies include ridiculous touchdown celebrations and butchering the Spanish language. Seriously, the dude can take the time to legally change his last name to match his uniform number, but he can't take the time to learn what the actual spanish word for 85 is?
Brett Favre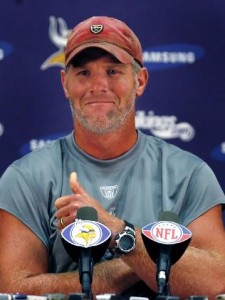 You want to punch him because…he's worse at retiring than an over the hill boxer. Seriously, we used to appreciate Brett Favre until he started to decide to make every single offseason primarily about him. Who would have guessed when he was trying to win Mary back from Ben Stiller than he was such an egotistical douchebag who also likes to show his junk to hot sideline reporters?
Jeremy Shockey
You want to punch him because…while he hasn't done time like Vick or waffled every offseason like Favre, Shockey is largely considered one of, if not the, biggest jerks in the NFL. The brash, abrasive tight end with a ton of talent is also a guy who, just because he was injured and couldn't participate in the Super Bowl with the Giants, decided it wasn't worth his time to attend the parade or the team's trip to the White House. Sounds to us like Jeremy's got some sour grapes in his mouth that might need to be punched right out of there.
Pacman Jones
You want to punch him because…he's let such an awesome nickname go to waste, especially now that he wants to go by "Adam." Oh, and there's the whole "make it rain" incident, in which he allegedly slammed a stripper's head on the stage, which led to shots being fired by someone in Pacman's posse. Seriously, Pacman, if you're going to make it rain, you can't be pissed off when a stripper tries to actually collect the money.
Albert Haynesworth
You want to punch him because… He once tried to stomp on Andre Gurode's head. He signed a seven-year, $100 million contract with the Redskins, but threw fits and missed camp because he didn't like the new defensive scheme under Coach Mike Shanahan. Then when he agreed to come to practice, he failed the conditioning test multiple times. He was routinely criticized by coaches for not playing to his potential, and was caught on camera standing away from the defensive huddle on the sidelines during a game against the Cowboys.
So, you tell us…which NFLer would you want to punch in the face?
[poll id="138″]