NFL vs. College Football – Masters of None

We all love football, especially if you are a true blooded American. But the questions remains what day of the week do you hold most sacred, Saturday or Sunday? Mike and Jay debate which is better, the NFL or College Football. I am the moderator and some might say that I have a more screwed up system of scoring than the BCS, but you will enjoy the heated debate as Jay defends the pros and Mike shows off his college pride.  Who wins the debate? To find out listen to show while you set up a tailgate party and listen in to see which team wins.
[podcast]http://www.podtrac.com/pts/redirect.mp3/media.libsyn.com/media/mastersofnone/MON_5_12.mp3[/podcast]
Masters of None – 5.12 – NFL vs. College Football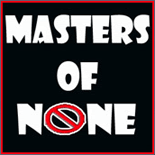 Gunaxin is proud to be partnering with Masters of None, and featuring their content here on our site. Masters of None are former radio guys Mike, Art & Jay, who debate and answer mankind's most important questions each week. Along the way you'll encounter unsustainable amounts of movie quotes, horribly tasteless jokes, TV references, offensive comments, old radio bits, biting insults, tall tales, unsportsmanlike conduct, raping and pillaging of all things pop culture. It's a comedy podcast that doesn't suck.
---