No Time To Die : Review
Not counting the non-Eon production Never Say Never Again, Daniel Craig is the longest-tenured James Bond at 15 years (which would have been 14 had it not been for the COVID-19 pandemic). With each of the five films in this era, we experienced a fresh take on the character, largely devoid of the pithy one-liners delivered by an overly self-assured Lothario who cakewalked his way through daring espionage and scores upon scores of women. Craig's human, vulnerable portrayal of the legendary character injected genuine emotion into this portion of the canon, taking us through his rough growing pains and the reluctant maturation into the agent he was destined to become.
In my review for preceding film Spectre, I stated it was "the first of a two-part film – a 148-minute establishing shot, if you will." Taken as both a direct follow-on sequel to Spectre and the closing film of the Daniel Craig Bond pantheon, No Time To Die fulfills every expectation and demand placed upon it by its creators and fans. It is the ultimate expression of the character created with close continuity shepherding over these five films by the writing team of Neal Purvis and Robert Wade (joined in this outing by Phoebe Waller-Bridge and director Cary Joji Fukunaga), dovetailing back around to the laser-focused drive of Casino Royale's plot, disposing of fripperies and distractions to keep the film moving forward.
Well, you kind of have to at 163 minutes, but there's not an ounce of fat on this film's frame. This slow-boiling cauldron hooks us right from the modified opening gunbarrel sequence, which takes us into a snow-covered field where a masked man strides with an assault rifle at his side. His target? A woman and her daughter, occupants of the remote farmhouse he's walking toward. Cinematographer Linus Sandgren's visual poetry starts here, with Fukunaga and the editing team opting for lingering shots to seat us in the proceedings and to visually orient us for the almost slasher film-type home invasion that follows.
No Time To Die glories in these long shots (especially a stunning gun battle captured in a single take), almost the opposite of every action film we've seen since Michael Bay's 1995 debut Bad Boys. Partly because what's at hand is a drama film with action elements, the bulk of the story centering on a new player in the world domination game: Lyutsifer Safin (Rami Malek), whose designs upon an MI6-developed bioweapon would give him ultimate power over every living man, woman, and child on Earth. His past with Dr. Madeleine Swann (Léa Seydoux) – a surviving Bond Girl is an anomaly in the filmed Bond universe, further making the case that this is the second of a two-part film – has come full circle and is being used to damaging extents.
Bond himself, having left MI6 at the end of the previous film to pursue a life with Swann, is brought back into the fray by his "brother from Langley," Felix Leiter (Jeffrey Wright) to find the doctor responsible for the bioweapon, a mission on which Bond runs into the new 007, known only as Nomi (Lashana Lynch), cementing his expendable and outsider status. The rapport created between Bond and Nomi is electric, but not in the sexually-tinted way we're used to; she's every bit as dangerous as Bond is, and is just as ruthless when it comes to carrying out her task, whether everything goes as planned or if she has to brute-force her way through obstacle after obstacle. Lynch has a lot of fun with the role, with a physicality and humor she wields upon every scene partner, from overt verbal daggers and action scenes to more subtle power-shifting blocking of her scenes where she's made to almost dominate the frame and anyone opposite her.
No Time To Die relishes in Fukunaga's languid, elegiac style which mines every possible bit of humanity and emotion in a gargantuan effort to keep us grounded. There aren't too many outlandish shenanigans to disrupt how real-world this film feels (well, maybe not the bit about the folding glider, but chalk it up to "Thank you, Q Branch!"), and a lot of this has to do with the fact that Fukunaga takes his time in making each location and setup count. Even a scene in Q's flat – where Phoebe Waller-Bridge's punchy contributions are definitely noticed – bears tremendous heft and meaning. There are no location intertitles to speak of, nothing to tell us where each bit of action is taking place, showing that Fukunaga trusts his audience; there's only a "Five Years Later" title seen after the opening credits to give any definition to when and where we're supposed to be.
(Author's note: Speaking of the opening credits, I'm going to be frank and admit I'm not a fan of Billie Eilish's music. When I heard her theme song a year ago, I lamented it as another energy-sapping, joyless "Writing's On The Wall" clone – there are some similarities in the chorus motifs and there's absolutely no life to it. But hearing it in context after the exciting, emotionally powerful cold open and how we're left after it, I will admit another thing: I was wrong. Eilish's tune – which she co-wrote – fits absolutely perfectly, putting to rest any doubts I had about this song. The lack of life I inferred is completely appropriate for what the song has to follow, which is a perfectly-shot, heartbreaking separation for Swann's safety. Context counts, kids. Don't let anyone tell you different.)
Don't be put off by the film's running time, as it moves at a quick pace, even during its exposition scenes. As said before, it's a drama film with action elements, and it rides high on the personal interplay between scene partners, bouncing dialogue back and forth with clarity and purpose. It's not dumbed down, leaving room for inference and nuance, again trusting the audience's intelligence to fill in the gaps. Some of this is actually brilliant work for a James Bond film, let alone any film; one landmark sequence features Ana de Armas reuniting with her Knives Out co-star for a thrilling Cuba-based extraction that balances comedy and balls-to-the-wall combat, whether armed or hand-to-hand. The team of Purvis, Wade, Waller-Bridge, and Fukunaga give so much to this film, combining altruism, honor, and cleverness to make No Time To Die a standout in the 25-film James Bond canon.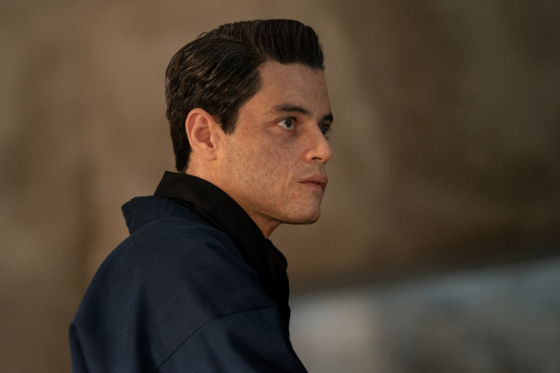 The film isn't without its shortcomings, though. Try as Rami Malek might to create a chilling character in Safin, there's just not enough to make him a fully formidable villain. Even though controlling the bioweapon should be substantial, it's not truly played up to "evil" levels. It's more of the kind of grudging "hero in his/her own mind" modus operandi, similar to Thanos in Avengers: Infinity War and Endgame, someone who wants to make the world safer by mass eliminations of those deemed dangerous to society. Safin has a God complex, and his spooky, detached demeanor lends credence to the belief that he's above it all; he wants to be the ultimate arbiter of who gets to live and die in his world, having access to a DNA-based weapon capable of pinpoint targeting and execution of those he considers unfit. Malek gives Safin a coldness that comes along with someone who has no need for anything but wants everything, dispensing with anything and anyone on his way to achieving his goal. His scarred appearance is merely hinted at, left to the audience's imagination (it might have something to do with the poison which killed his entire family) and glossed over, never to be fully understood.
But we're here to see Daniel Craig in his last ride as Bond as he makes this final portrayal an amalgamation of everything he and the character have learned over the last fifteen years. His swings from pointedly barbed to frightfully confused to playful jest to confidently decisive feel like he's playing the best version of Bond, someone who's incorporated the painful and the pleasurable of his history into who he is, emerging as a complete and whole person who knows his capabilities and is comfortable with who he is and what he can do. This is why Craig's Bond has meant more than any other actor's. Before, we were just saddled with the same person in a different situation, with lessons learned in previous films thrown by the wayside and dismissed as soon as the opening logos of the new film started. With Craig's films, we see the toll taken on his body and spirit, each previous installment serving as a springboard for the reasons behind his thoughts and actions he chooses to undertake going forward. Craig informs this film's portrayal with the weight of his entire canon, forging a timeless, unforgettable version of the character which resonates with selfless heroism, fully knowing the sacrifice he and others have to make in order to save the world from an intolerable future.
The film's cold opening features a (literally) shattering moment where Bond tries to reconcile his past with his present and future, a theme running throughout the movie and its principals. A famous line from one of the more criminally underappreciated Bond films comes into play in this cold open, the delivery of which sets us upon a knife's edge; it's almost like saying the word "shutout" before a hockey game's over. The film is littered with quite a few of these callbacks or Easter Eggs in homage to the 24 films which precede it, but this one stands out most effectively as it not only lays reference to a prior installment, it also comes with a sense of sadness in knowing the next two hours and change will bring you to the end of the Daniel Craig era. Five films over 15 years weren't enough; Craig's iteration of James Bond was undoubtedly the most enjoyable, the most real, and the most human of them all. No Time To Die doesn't compromise the emotional throughline which these five films have carried as torches to light their way, and Craig's time as James Bond comes to an epic finish, an explosive statement film which leaves it all on the screen and walks away unrepentant.
MPAA Rating: PG-13 for sequences of violence and action, some disturbing images, brief strong language and some suggestive material.
Running time: 163 minutes.
Released by Metro-Goldwyn-Mayer.
In theaters October 8, 2021.
No Time To Die
Daniel Craig's time as James Bond comes to an epic finish, an explosive statement film that leaves it all on the screen and walks away unrepentant.