Off-Road in the Snow with Jeep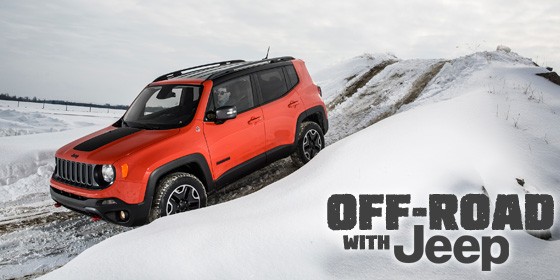 We've driven plenty of amazing vehicles on the road and track over the years, but nothing excites us more than an opportunity to venture off the tarmac and into the dirt. Covering that dirt with several inches of Canadian snow and providing the entire 2015 Jeep lineup for us to play with made it one of the best days we've ever had behind the wheel.
Jeep is known for making some of the most capable utility vehicles on the planet, and their "Go Anywhere, Do Anything" mantra is often proven to potential customers on short off-road courses. Last month we ventured to ICAR Mirabel in Quebec for the FCA Winter Driving Event, and encountered such a course, covered in snow. The folks at ICAR remarked that Jeep was the first to ever ask them to use their off-road course during the winter, and that they were unsure at first of how it would go.
After taking every Jeep available around the course for multiple runs, we can tell you that they made short work of every obstacle. The vehicles didn't just prove themselves capable, they delighted at the prospect of getting to play in the snow like a red panda jumping for joy in fresh powder. Check out some awesome footage in the clip below for the variety of obstacles encountered and conquered with ease.

Check out the run down below for more details and photos on each vehicle that we drove off-road in the snow of Montreal.
Jeep Renegade Trailhawk 4X4
The newest addition to the Jeep lineup is a fun little head turner with a fresh design inside and out that appeals to younger buyers. Some doubted that it would be a real Jeep, but the Trailhawk edition packs plenty of off-road might.
FWD-based Subcompact Crossover
4WD with automatic rear-axle disconnect system.
Jeep Active Drive Low with Selec-Terrain traction-control system.
Jeep Renegade Trailhawk 4×4 MSRP starts at

$25,995
Providing the all-new Renegade Trailhawk with best-in-class off-road capability, Jeep Active Drive Low builds on the Jeep Active Drive system and affords a 20:1 crawl ratio for 4×4 Trail Rated capability. Selec-Terrain allows the driver to dial in the desired on- or off-road setting for optimum performance. Up to five customized settings are offered: Auto, Snow, Sand, Mud, and exclusively on the Trailhawk model's Jeep Active Drive Low system, Rock mode. For even greater Trail Rated offroad capability, Selec-Terrain includes Selec-Speed Control with Hill-descent Control.
Jeep Patriot Latitude 4X4
The Jeep Patriot is a lower cost alternative to the Cherokee and sacrifices some on styling, features and capability. It's considered a budget utility but with the Freedom Drive II Off-Road Package it proves plenty capable of tackling the trail.
FWD-based Compact Sport Utility Vehicle
Freedom Drive II 4×4
Jeep Patriot Latitude 4×4 MSRP starts at $25,145 with Freedom Drive II

The Jeep Freedom Drive II 4×4 Off-road Package is an available four-wheel-drive system that delivers Jeep Trail Rated capability in Patriot form. The Freedom Drive II Off-road Package includes a second-generation continuously variable transaxle with low range (CVT2L) that engages when the off-road mode is activated, 17-inch all-terrain tires and aluminum wheels, a one-inch raised ride height, a full-size spare tire, skid plates, tow hooks, fog lamps and manual seat height adjuster. The available Freedom Drive II Off-road Package is recommended for off-road situations that include steep grades, occasional wheel lift and rock or log climbing.
Jeep Wrangler Unlimited X Edition 4X4
The Jeep Wrangler's capability and popularity is legendary to off-roaders around the world. This badass Wrangler Unlimited X Edition is inspired by X Games athletes with eye-catching styling and condition-conquering capability.
RWD-based Sport Utility Vehicle
4×4 with live axles and electronic lockers.
Command-Trac NC241, part-time, two-speed transfer case.
Jeep Wrangler Unlimited X Edition 4×4 MSRP starts at

$37,095
Engineered to take on the most challenging trails, the Wrangler Unlimited X model includes a standard Dana 30 front axle and Heavy Duty Dana 44 rear axle. Legendary Jeep capability is achieved through the Command-Trac transfer case with 2.72:1 ratio. Making Wrangler Unlimited X even more capable for off-road adventures, the new Wrangler Unlimited X is equipped with a standard Trac-Lok limited-slip rear differential and 3.21 axle ratio and optional 3.73 axle ratio, Rubicon Rock Rails and Goodyear Silent Armor all-terrain tires with 17-inch polished Gloss Black aluminum wheels.
Jeep Cherokee Trailhawk 4X4
The Jeep Cherokee was all-new for 2014 and stunned with its completely new styling. We've never seen the new design look more gorgeous than this Trailhawk in Mango Tango Pearl Coat did on the snow of Montreal.
FWD-based Sport Utility Vehicle
4WD with rear-axle disconnect.
Jeep Active Drive Lock with Selec-Terrain traction-control system.
Jeep Cherokee Trailhawk 4×4 MSRP starts at

$30,095
Jeep Active Drive Lock includes all the features of Jeep Active Drive II and adds a locking rear differential for superior low-speed power for rock crawling or severe off-road conditions. The locking rear differential is selectable in any low-range terrain mode, but will lock automatically when in certain modes, such as "Rock," to maximize tractive effort, which the tire patch can support. Jeep Active Drive Lock is standard on all Trailhawk models.

Selec-Terrain traction control allows the driver, with a push of a button, to choose the appropriate on- or off-road setting for optimum performance. It electronically coordinates and optimizes up to 12 systems on any terrain, providing enhanced vehicle control through the drivetrain control module, electronic brake controller, ESC, transmission controller, powertrain controller and Selec-Speed Control (Hill-ascent and Hill-descent Control).
Jeep Grand Cherokee Overland 4X4
The pinnacle of the Jeep lineup is no doubt the Grand Cherokee. When you need to "Go Anywhere, Do Anything" with style and comfort, this is the Jeep for you. The Grand Cherokee makes short work of any off-road conditions with its advanced 4WD and traction control systems. 
RWD-based Sport Utility Vehicle
Full-Time 4×4 Quadra-Drive II system with Selec-Terrain traction-control.
Jeep Grand Cherokee Overland 4×4 MSRP starts at

$46,295
Legendary Jeep vehicle capability improves with the available Selec-Terrain traction control system, giving you five modes to tackle weather conditions, including snow. Traction is also enhanced through the Quadra-Drive II 4WD system. The Jeep Quadra-Lift air suspension features five height settings for optimum ride performance.

Quadra-Drive II, with a rear Electronic Limited-slip Differential (ELSD), delivers industry-leading tractive capability. The system instantly detects tire slip and smoothly distributes engine torque to tires with traction. In some cases, the vehicle will anticipate low traction and adjust in order to proactively limit or eliminate slip.
Overview
Jeep offers a variety of off-road capable vehicles to suit any style or budget. The pricing and features we've highlighted above were configured as driven and pictured from the FCA Winter Driving event. Those configurations provided the optimal off-road experience with each model, and thus typically included top of the line options. While there is still plenty of fun to be had wheeling in an old Cherokee XJ or Wrangler TJ, the Jeep brand has come a long way in developing advanced 4WD and Traction Control systems that make it even easier to go anywhere or do anything, even in the snow.